Albania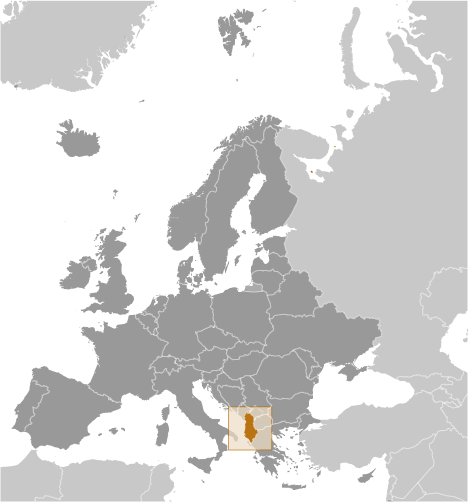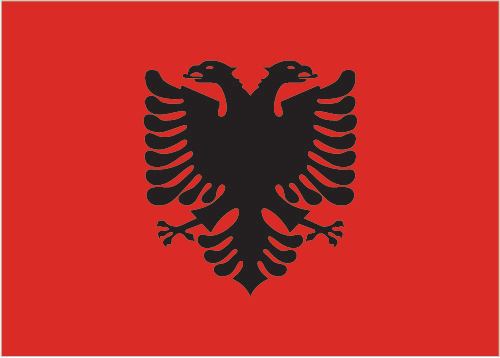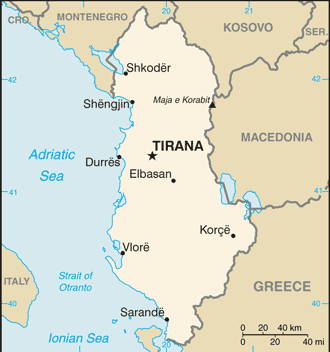 Military: Albania
Military branches:
Land Forces Command, Navy Force Command, Air Forces Command (2013)
Military service age and obligation:
19 is the legal minimum age for voluntary military service; 18 is the legal minimum age in case of general/partial compulsory mobilization (2012)
Manpower available for military service:
males age 16-49: 731,111
females age 16-49: 780,216 (2010 est.)
Manpower fit for military service:
males age 16-49: 622,379
females age 16-49: 660,715 (2010 est.)
Manpower reaching militarily significant age annually:
male: 31,986
female: 29,533 (2010 est.)
Military expenditures:
country comparison to the world:  104   
Transnational Issues: Albania
Disputes - international:
none
Trafficking in persons:
current situation: Albania is a source country for men, women, and children subjected to sex trafficking and forced labor; Albanian victims of sexual exploitation are trafficked within Albania and in Greece, Italy, Macedonia, Kosovo, Belgium, the Netherlands, Germany, Switzerland, Ireland, and the UK; some Albanian women become sex trafficking victims after accepting offers of legitimate jobs; Albanian children are forced to beg or perform other forms of forced labor; Filipino victims of labor trafficking were identified in Albania during 2012
tier rating: Tier 2 Watch List - Albania does not fully comply with the minimum standards for the elimination of trafficking; however, it is making significant efforts to do so; the government decreased its trafficking investigations, prosecutions, and convictions over the last year and, because of inconsistent implementation of operating procedures, continues to punish victims for unlawful acts that are a direct result of being subjected to sex trafficking; the high turnover rate of law enforcement personnel prevents progress at the local level in identifying and protecting trafficking victims; removal of the national anti-trafficking coordinator hinders efforts to implement the 2011 national action plan against trafficking; the government provides limited funding to NGO shelters (2013)
Illicit drugs:
increasingly active transshipment point for Southwest Asian opiates, hashish, and cannabis transiting the Balkan route and - to a lesser extent - cocaine from South America destined for Western Europe; limited opium and expanding cannabis production; ethnic Albanian narcotrafficking organizations active and expanding in Europe; vulnerable to money laundering associated with regional trafficking in narcotics, arms, contraband, and illegal aliens.