Beechcraft T-6 Texan II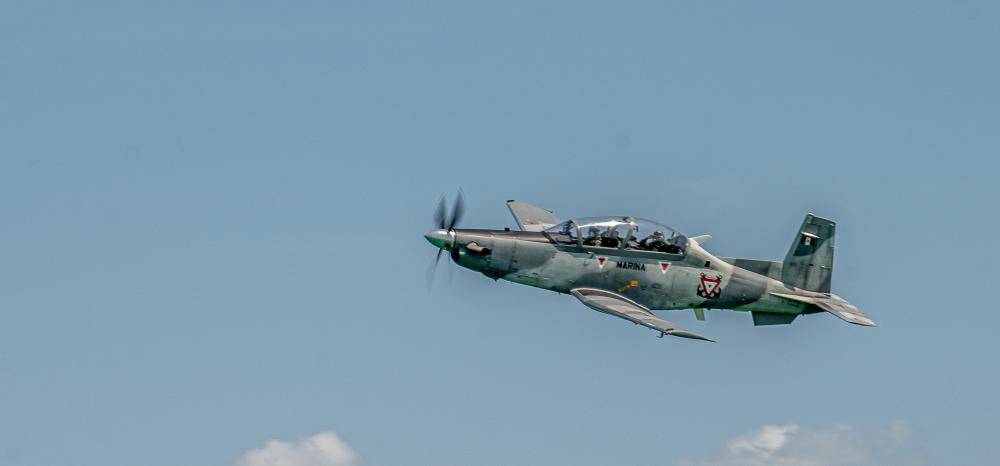 The Beechcraft T-6 Texan II is a single-engined turboprop aircraft built by the Raytheon Aircraft Company (which became Hawker Beechcraft and is now Beechcraft Corporation). Based on the Pilatus PC-9, the T-6A is used by the United States Air Force for basic pilot training and by the United States Navy for Primary and Intermediate Joint Naval Flight Officer (NFO) and Air Force Combat Systems Officer (CSO) training. It has replaced the Air Force's T-37B Tweet and is replacing the Navy's T-34C Turbo Mentor. The T-6A is also used as a basic trainer by the Royal Canadian Air Force (CT-156 Harvard II), the German Air Force, the Greek Air Force, the Israeli Air Force(Efroni), and the Iraqi Air Force. The T-6C is used for training by the Royal Moroccan Air Force and the Mexican Air Force.
Role
Trainer aircraft
Manufacturer
Raytheon Aircraft Company
Hawker Beechcraft
First flight
2000
Introduction
2001
Status
In production (2012)
Primary users
United States Air Force
United States Navy
Royal Canadian Air Force
Hellenic Air Force
Produced
2000–present

Number built

636

Developed from

Pilatus PC-9
Design and development
The T-6 is a development of the Pilatus PC-9, modified significantly by Beechcraft in order to enter the Joint Primary Aircraft Training System (JPATS) competition in the 1990s. A similar arrangement between Pilatus and British Aerospace had also been in place for a Royal Air Force competition in the 1980s, although this competition selected the Short Tucano. The aircraft was designated under the 1962 United States Tri-Service aircraft designation system and named for the decades-earlier T-6 Texan.
The JPATS competition winning design was based on a commercial off the shelf Pilatus PC-9, with minor modifications. Additional requirements and conflicts between the Air Force and the Navy resulted in delays, cost increases (from initial estimates of $3.9 to roughly $6 million per aircraft) and a completely new aircraft that is 22% or 1,100 lbs heavier than the Pilatus.

On April 9, 2007 the U.S. Department of Defense released their Selected Acquisition Reports, which reported that the T-6 JPATS program was one of only eight programs cited for Congressional notification for 25–50% cost overrun over initial estimates, which is referred to as a "Nunn-McCurdy Breach" after the Nunn-McCurdy Amendment. It is unusual for a program so far into full rate production to experience significant enough cost overruns to trigger this Congressional notification.

Specifications (T-6A)
Data from Global Security, USAF and USN

General characteristics
Crew: one
Capacity: one passenger
Length: 33 ft 4 in (10.16 m)
Wingspan: 33 ft 5 in (10.19 m)
Height: 10 ft 8 in (3.25 m)
Aspect ratio: 6.29:1
Empty weight: 4,707 lb (2,135 kg)
Gross weight: 6,300 lb (2,858 kg)
Max takeoff weight: 6,500 lb (2,948 kg)
Fuel capacity: 149.0 Imp gal (677.5 liters, 1200lbs)
Powerplant: 1 × Pratt & Whitney Canada PT6A-68 turboprop, 1,100 shp (820 kW)
Propellers: 4-bladed Hartzell Propeller
Performance
Cruise speed: 320 mph (278 kn; 515 km/h)
Never exceed speed: 364 mph (316 kn; 586 km/h)
Range: 1,036 mi; 1,667 km (900 nmi)
Service ceiling: 31,000 ft (9,449 m)
G limits: +7.0g -3.5g
The information contained on this page is unclassified, approved for public dissemination and is released under CC-BY-SA Licensing Agreement.