Bell Boeing V-22 Osprey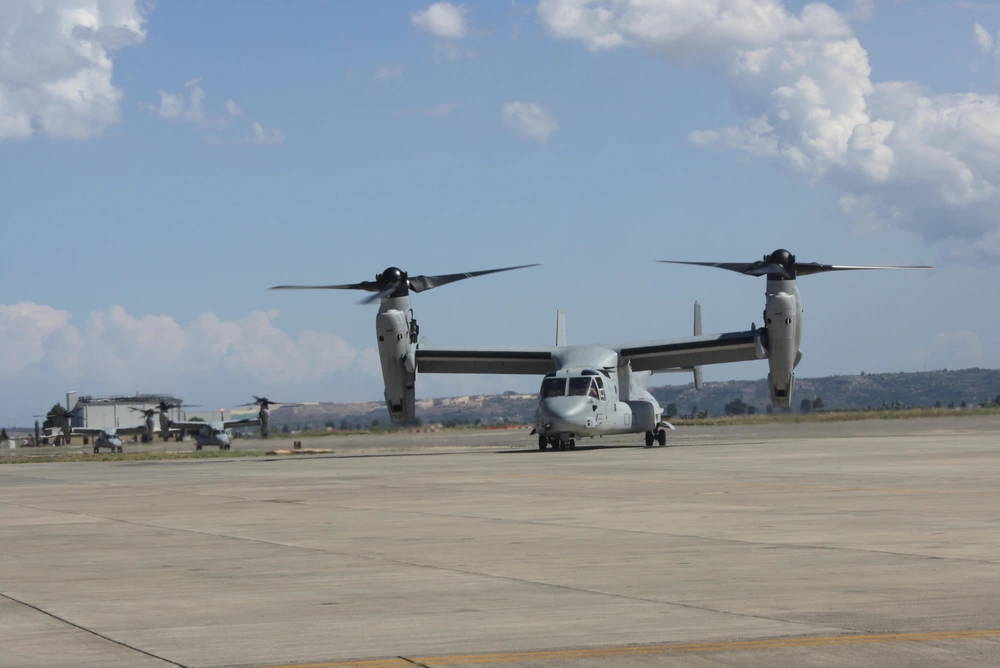 The Bell Boeing V-22 Osprey is an American multi-mission, military, tiltrotor aircraft with both a vertical takeoff and landing (VTOL), and short takeoff and landing (STOL) capability. It is designed to combine the functionality of a conventional helicopter with the long-range, high-speed cruise performance of a turboprop aircraft.
The V-22 originated from the United States Department of Defense Joint-service Vertical take-off/landing Experimental (JVX) aircraft program started in 1981. The team of Bell Helicopter and Boeing Helicopters was awarded a development contract in 1983 for the tiltrotor aircraft. The Bell Boeing team jointly produce the aircraft. The V-22 first flew in 1989, and began flight testing and design alterations; the complexity and difficulties of being the first tiltrotor intended for military service in the world led to many years of development.
The United States Marine Corps began crew training for the Osprey in 2000, and fielded it in 2007; it is supplementing and will eventually replace their CH-46 Sea Knights. The Osprey's other operator, the U.S. Air Force, fielded their version of the tiltrotor in 2009. Since entering service with the U.S. Marine Corps and Air Force, the Osprey has been deployed in both combat and rescue operations over Iraq, Afghanistan and Libya.
Role
V/STOL transport

National origin

United States
Manufacturer
Bell Helicopter
Boeing Rotorcraft Systems
First flight
19 March 1989
Introduction
13 June 2007

Status
In service
Primary users
United States Marine Corps
United States Air Force
Produced
1988–present

Number built

160


Program cost

US$35.6 billion after planned procurement of 408 aircraft


Unit cost

MV-22: US$69.3 million (flyaway cost for FY2012)


Developed from

Bell XV-15
Design
The Osprey is the world's first production tiltrotor aircraft, with one three-bladed proprotor, turboprop engine, and transmission nacelle mounted on each wingtip. It is classified as a powered lift aircraft by the Federal Aviation Administration. For takeoff and landing, it typically operates as a helicopter with the nacelles vertical and rotors horizontal. Once airborne, the nacelles rotate forward 90° in as little as 12 seconds for horizontal flight, converting the V-22 to a more fuel efficient, higher speed turboprop aircraft. STOL rolling-takeoff and landing capability is achieved by having the nacelles tilted forward up to 45°. Composite materials make up 43% of the V-22's airframe. The proprotors blades also use composites.

For compact storage and transport, partly on Marine launch ships, the V-22's rotors fold in 90 seconds and its wing rotates to align, front-to-back, with the fuselage. Due to the requirement of folding the rotors their 38 feet diameter is 5 feet less than optimal for vertical takeoff, resulting in high disk loading. Most Osprey missions use fixed wing flight 75 percent or more of the time, reducing wear and tear on the aircraft and reducing operational costs. This fixed wing flight is higher than typical helicopter missions allowing longer range line-of-sight communications for improved command and control.

Propulsion
The V-22's two Rolls-Royce AE 1107C engines are connected by drive shafts to a common central gearbox so that one engine can power both proprotors if an engine failure occurs. However, if a proprotor gearbox fails that proprotor cannot be feathered, and both engines must be stopped before an emergency landing. The aircraft's autorotation characteristics are poor partly because the rotors have low inertia. Boeing has stated the V-22 design loses 10% of its vertical lift over a Tiltwing design when operating in helicopter mode because of airflow resistance due to the wings, but that the Tiltrotor design has better short takeoff and landing performance. The rotorwash usually prevents usage of the starboard door in hover, and the rear ramp is used for rappelling and hoisting.

Avionics
The V-22 is equipped with a glass cockpit, which incorporates four Multi-function displays (MFDs, compatible with night-vision goggles) and one shared Central Display Unit (CDU), allowing the pilots to display a variety of images including: digimaps centered or decentered on current position,FLIR imagery, primary flight instruments, navigation (TACAN, VOR, ILS, GPS, INS), and system status. The flight director panel of the Cockpit Management System (CMS) allows for fully coupled (autopilot) functions that take the aircraft from forward flight into a 50 ft (15 m) hover with no pilot interaction other than programming the system. The glass cockpit of the canceled CH-46X was derived from the V-22. The fuselage is not pressurized, and personnel must wear on-board oxygen masks above 10,000 feet.

The V-22 has triple-redundant fly-by-wire flight control systems. With the nacelles pointing straight up in conversion mode at 90° the flight computers command the aircraft to fly like a helicopter, with cyclic forces being applied to a conventional swashplate at the rotor hub. With the nacelles in airplane mode (0°) the flaperons, rudder, and elevator fly the aircraft like an airplane. This is a gradual transition and occurs over the rotation range of the nacelles. The lower the nacelles, the greater effect of the airplane-mode control surfaces. The nacelles can rotate past vertical to 97.5° for rearward flight. The aircraft also has computerized damage control that automatically isolates damaged elements.

Armament
The Osprey can be armed with one 7.62x51mm NATO (.308 in caliber) M240 machine gun or .50 in caliber (12.7 mm) M2 machine gun on the loading ramp, that can be fired rearward when the ramp is lowered. A .50 in GAU-19 three-barrel gatling gun mounted below the V-22's nose was studied for future upgrade. BAE Systems developed a belly-mounted, remotely operated gun turret system for the V-22, named the Interim Defense Weapon System. This system is remotely operated by a gunner inside the aircraft, who acquires targets with a separate pod using color television and forward looking infrared imagery. The belly gun system was installed on half of the first V-22s deployed to Afghanistan in 2009, but found limited use due to its 800 lb (360 kg) weight and restrictive rules of engagement.

As of February 2012, eight Interim Defense Weapon Systems were available to the Marine Corps, with 24 more fielded by June 2012. At the time, the IDWS had not yet been used in combat. The reason was because Ospreys worked with supporting helicopter gunships and close air support aircraft that engaged threats before V-22s could, allowing them to focus on their transport role. Squadrons often flew without the belly gun, as the added weight reduced its cargo-carrying capacity. The Marines continue to support the IDWS, despite its limitations and lack of use, as the Corps emphasizes small-scale expeditionary operations in post-Afghanistan conflicts. The Osprey's speed means it can outrun supporting conventional helicopters, requiring it to be able to defend itself on long-range missions and operate independently at times. Even though the gun had not been used, the infrared camera on the system has proven valuable for reconnaissance and surveillance. Other weapons are being studied to provide an all-quadrant defensive weapon system, including nose guns, door guns, and nonlethal countermeasures to work with the current ramp-mounted machine gun and the IDWS.

Refueling capability
Boeing is developing a roll-on/roll-off aerial refueling kit for the V-22 because of interest expressed by the Marines and Special Forces. The kit would give the V-22 the ability to refuel other aircraft, including the F-35 Lightning II. Having an aerial refueling capability that can be based off Wasp-class amphibious assault ships would increase the striking power of Marine F-35Bs, as they would not rely on refueling assets that could only be based on full-sized Nimitz-class aircraft carriers. The roll-on/roll-off kit can also applicable to intelligence, surveillance, and reconnaissance functions, which can include an aerial surveillance radar. The aerial refueling kit has been tested in a windtunnel, and Boeing intends to flight test the system on a government-owned V-22 during summer 2013. Boeing is paying for the demonstration on a VMX-22 aircraft. The system is a non-functional aerodynamic demonstrator consisting of a high-speed aerial refueling drogue, hose, and reel mechanism using off-the-shelf parts. Because there are few F-35B test assets, an F/A-18 Hornet was used in the demonstration. One concept being examined is the deployment of a squadron of 16 F-35Bs on an amphibious assault ship with six MV-22s. The MV-22s would be equipped with a roll-on/roll-off aerial refueling kit, which would greatly extend the range of the F-35B.

On 29 August 2013, an F/A-18 Hornet conducted proximity tests of an MV-22's drogue chute, flying within 30 ft of the Osprey in a lateral offset position. The two aircraft were traveling at 210 kn (240 mph; 390 km/h). The high-speed version of the hose/drogue refueling system is designed to be deployed at 185 kn (213 mph; 343 km/h) and function at up to 250 kn (290 mph; 460 km/h). The refueling system uses onboard tanks as well as a roll-on/roll-off bladder. The hose extends 90 ft total and 80 ft from the ramp of the aircraft. The operator must open the ramp to extend the refueling hose, then raise the ramp back up once it is extended, with the top ramp door left open. The system can offload up to 12,000 lb (5,400 kg) of fuel. No significant wake turbulence was reported coming from the MV-22. In following tests, the hose will extend and retract and low-speed proximity tests will be conducted with no contact between the refueler and receiver. The Osprey could refuel rotary-wing aircraft, but it would require a separate drogue used specifically by helicopters and a partially converted nacelle, with operation at around 105 kn (121 mph; 194 km/h). Bell and Boeing are hoping for funding for additional testing to include contact between the refueler and receiver, and eventually the passage of fuel between the two aircraft.
Specifications (MV-22B)
Data from Norton, Boeing, Bell guide, Naval Air Systems Command, and USAF CV-22 fact sheet

General characteristics
Crew: Four (pilot, copilot and two flight engineers/crew chiefs)
Capacity:

Length: 57 ft 4 in (17.5 m)
Rotor diameter: 38 ft 0 in (11.6 m)
Wingspan: 45 ft 10 in (14 m)
Width with rotors: 84 ft 7 in (25.8 m)
Height: 22 ft 1 in/6.73 m; overall with nacelles vertical (17 ft 11 in/5.5 m; at top of tailfins)
Disc area: 2,268 ft² (212 m²)
Wing area: 301.4 ft² (28 m²)
Empty weight: 33,140 lb (15,032 kg)
Loaded weight: 47,500 lb (21,500 kg)
Max. takeoff weight: 60,500 lb (27,400 kg)
Powerplant: 2 × Rolls-Royce Allison T406/AE 1107C-Liberty turboshafts, 6,150 hp (4,590 kW) each
Performance
Maximum speed: 275 knots (509 km/h, 316 mph) at sea level / 305 kn (565 km/h; 351 mph) at 15,000 ft (4,600 m)

Cruise speed: 241 knots (277 mph, 446 km/h) at sea level
Stall speed: 110 knots (126 mph) in airplane mode
Range: 879 nmi (1,011 mi, 1,627 km)
Combat radius: 390 nmi (426 mi, 722 km)
Ferry range: 1,940 nmi (2,230 mi, 3,590 km) with auxiliary internal fuel tanks
Service ceiling: 25,000 ft (7,620 m)
Rate of climb: 2,320 – 4,000 ft/min (11.8 m/s)
Disc loading: 20.9 lb/ft² at 47,500 lb GW (102.23 kg/m²)
Power/mass: 0.259 hp/lb (427 W/kg)
Armament
1× 7.62 mm (0.308 in) M240 machine gun or 0.50 in (12.7 mm) M2 Browning machine gun on ramp, removable
1× 7.62 mm (.308 in) GAU-17 minigun, belly-mounted, retractable, video remote control in the Remote Guardian System [optional]
The information contained on this page is unclassified, approved for public dissemination and is released under CC-BY-SA Licensing Agreement.