Benelli M4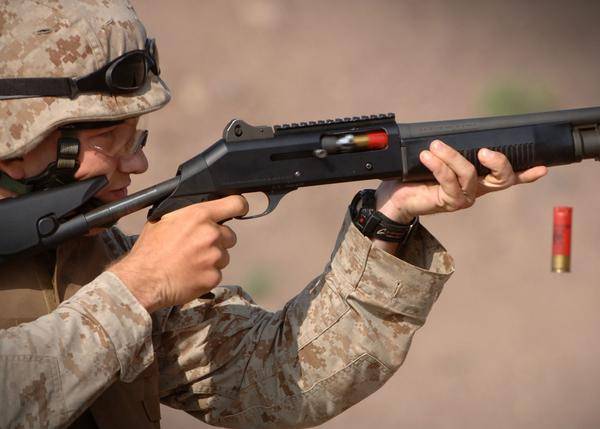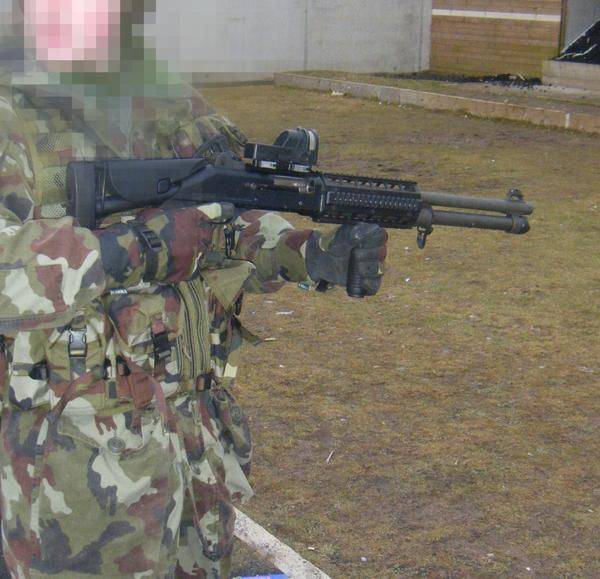 The Benelli M4 Super 90 is an Italian semi-automatic shotgun manufactured by Benelli Armi SpA.
The M4 was the first gas-operated shotgun produced by Benelli. Its function is designed around an entirely new method called the "auto regulating gas operated" (ARGO) system. The ARGO system on the M4 opened the door for Benelli's development of the R1 rifle line. The design uses two stainless-steel self-cleaning pistons located just ahead of the chamber to function opposite the rotating bolt, thereby eliminating the need for the complex mechanisms found on other gas-actuated automatics. Benelli accomplishes this level of reliability through the simplicity of the mechanism. The ARGO is a short-stroke system that incorporates only four parts. It consists of two symmetrical shrouds containing two small steel gas pistons.
It is also self-regulating for cartridges of varying length and power levels. It can fire 2.75 and 3-inch (76 mm) shells of differing power-levels without any operator adjustments and in any combination. Low-power rounds, such as less-lethal rubber pellets, must be cycled manually.
The sights are military-style ghost ring and are adjustable in the field using only a cartridge rim. The MIL-STD-1913 Picatinny sight rail on top allows use of both conventional and night-vision sights, while retaining use of the original sights.
Specifications
Weight
3.82 kg (8.42 lb)
Length
885 mm (34.8 in)
Barrel length
470 mm (18.5 in)
Caliber
12 gauge
Action
Gas operated
Effective range
55 yards (50.2 m),(164 ft)
Feed system
5+1 (civilian) or 7+1 (Military, LE) internal tube (Using 2.75 shells) magazine
Sights
Ghost ring sight, Picatinny rail for sights
The information contained on this page is unclassified, approved for public dissemination and is released under CC-BY-SA Licensing Agreement.