Boeing AH-64 Apache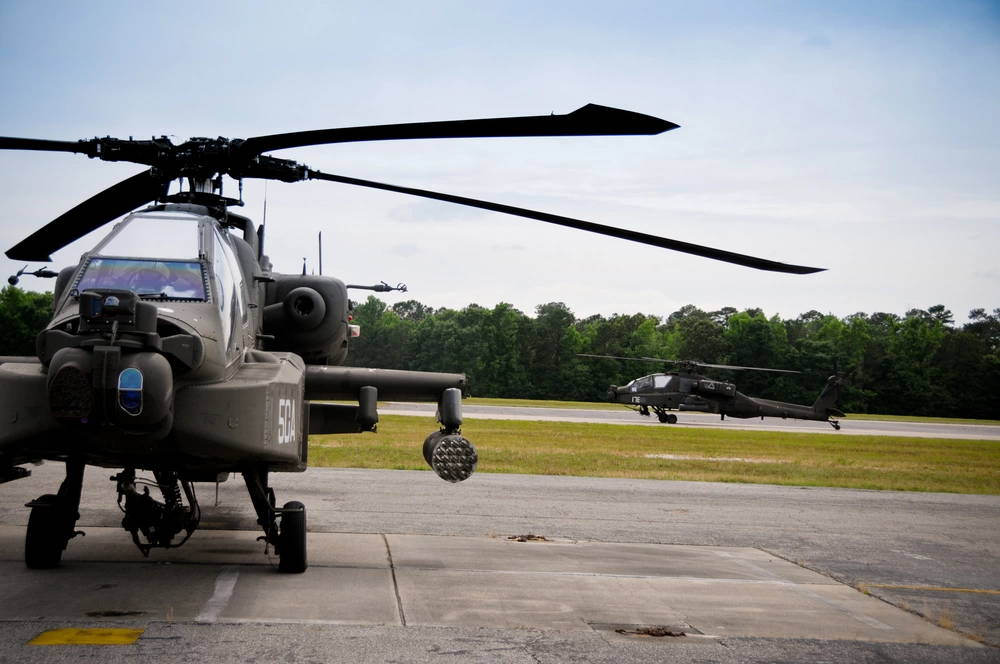 The Boeing AH-64 Apache is a four-blade, twin-engine attack helicopter with a tailwheel-type landing gear arrangement, and a tandem cockpit for a two-man crew. Originally, the Apache started life as the Model 77 developed by Hughes Helicopters for the United States Army's Advanced Attack Helicopter program to replace the AH-1 Cobra, and was first flown on 30 September 1975. The AH-64 was introduced to U.S. Army service in April 1986.
The AH-64 Apache features a nose-mounted sensor suite for target acquisition and night vision systems. It is armed with a 30-millimeter (1.2 in) M230 Chain Gun carried between the main landing gear, under the aircraft's forward fuselage. It has four hardpoints mounted on stub-wing pylons, typically carrying a mixture of AGM-114 Hellfire missiles and Hydra 70 rocket pods. The AH-64 has a large amount of systems redundancy to improve combat survivability.
The U.S. Army selected the YAH-64, by Hughes Helicopters, over the Bell YAH-63 in 1976, and later approved full production in 1982.McDonnell Douglas continued production and development after purchasing Hughes Helicopters from Summa Corporation in 1984. The first production AH-64D Apache Longbow, an upgraded version of the original Apache, was delivered to the Army in March 1997. Production has been continued by Boeing Defense, Space & Security; over 1,000 AH-64s have been produced to date.
The U.S. Army is the primary operator of the AH-64; it has also become the primary attack helicopter of multiple nations, including Greece, Japan, Israel, the Netherlands and Singapore; as well as being produced under license in the United Kingdom as the Agusta Westland Apache. U.S. AH-64s have served in conflicts in Panama, the Persian Gulf, Kosovo, Afghanistan, and Iraq. Israel used the Apache in its military conflicts in Lebanon and the Gaza Strip; both British and U.S. Apaches have seen deployments in Afghanistan and Iraq.
Role
Attack helicopter

National origin

United States
Manufacturer
Hughes Helicopters (1975–1984)
McDonnell Douglas (1984–1997)
Boeing Defense, Space & Security(1997–present)
Designer
Hughes Helicopters
First flight
30 September 1975

Introduction
April 1986

Status
In service
Primary users
United States Army
Israel Air Force
Egyptian Air Force
Royal Netherlands Air Force
Produced
1983–present

Number built

1,174 as of February 2010


Unit cost

AH-64A: $20M (2007)
AH-64D: $18M (2007)

Variants
AgustaWestland Apache
Design
Overview
Apache
version
Engine version
Engine power
AH-64A
General Electric T700-701
1,696 shp (1,265 kW)
AH-64A+/D
General Electric T700-701C
1,890 shp (1,410 kW)
AH-64E Block III
General Electric T700-701D
2,000 shp (1,500 kW)
WAH-64D
Rolls-Royce Turbomeca RTM322
2,100 shp (1,600 kW)
The AH-64 Apache has a four-blade main rotor and a four-blade tail rotor. The crew sits in tandem, with the pilot sitting behind and above the copilot/gunner. Both crew members are capable of flying the aircraft and performing almost all methods of weapon engagements independently. The AH-64 is powered by two General Electric T700 turboshaft engines with high-mounted exhausts on either side of the fuselage. Various models of engines have been used on the Apache, those in British service use engines from Rolls-Royce instead of General Electric. In 2004, General Electric Aviation began producing more powerful T700-GE-701D engines, rated at 2,000 shp (1,500 kW) for AH-64Ds.

The crew compartment has shielding between the cockpits, such that at least one crew member can survive hits. The compartment and the rotor blades are designed to sustain a hit from 23-millimeter (0.91 in) rounds. The airframe includes some 2,500 pounds (1,100 kg) of protection and has a self-sealing fuel system to protect against ballistic projectiles. The aircraft was designed to meet the crashworthiness requirements of MIL-STD-1290, which specifies minimum requirement for crash impact energy attenuation to minimize crew injuries and fatalities. This was achieved through incorporation of increased structural strength, crashworthy landing gear, seats and fuel system. Up to six AH-64 Apaches can be safely fitted inside the cargo hold of a USAF Lockheed C-5 Galaxy.

Avionics and targeting
One of the revolutionary features at the introduction of the Apache was its helmet mounted display, the Integrated Helmet and Display Sighting System (IHADSS); among other abilities the pilot or gunner can slave the helicopter's 30 mm automatic M230 Chain Gun to his helmet, making the gun track head movements to point at where he looks. The M230E1 can be alternatively fixed to a locked forward firing position, or controlled via the Target Acquisition and Designation System (TADS). The AH-64's standard of performance for aerial gunnery is to achieve at least 1 hit for every 30 shots fired at a wheeled vehicle at a range of 800–1,200 m (870–1,300 yd).

The AH-64 is designed to endure front-line environments and to operate during the day or night and in adverse weather via its avionics and onboard sensor suites. These systems include the Target Acquisition and Designation System, Pilot Night Vision System (TADS/PNVS), passive infrared countermeasures, GPS, and the IHADSS. A newer system that is replacing TADS/PNVS is Arrowhead (MTADS); it is manufactured by Lockheed Martin, a contract was issued in February 2005 to begin equipping all U.S. Apaches.

In August 2012, 24 AH-64D were equipped with the Ground Fire Acquisition System (GFAS); intended to detect and target ground-based weapons fire sources. The GFAS consists of two small sensor pods which home in on muzzle flashes; working with the AH-64D's own sensors, an infrared camera precisely locates present ground-based threats and relevant distance. The GFAS has a 120° field of vision and is effective in all-light conditions.

Armaments and configurations
Mission

Hellfire
30 mm
rounds
Hydra 70
Maximum
speed (knots)
Rate of climb
(feet/min)
Endurance
(hours)
Anti-Armor
16
1,200
0
148
990
2.5
Covering Force
8
1,200
38
150
860
2.5
Escort
0
1,200
76
153
800
2.5
The AH-64 is adaptable to numerous different roles within its context as Close Combat Attack (CCA), it has a customizable weapons loadout mounted on stub-wings for the role desired. In addition to the 30-mm M230E1 Chain Gun, the Apache carries a range of external stores on its stub-wing pylons, typically a mixture of AGM-114 Hellfire anti-tank missiles, and Hydra 70 general-purpose unguided 70 mm (2.76 in) rockets.

Starting in the late 1980s, the Stinger and AIM-9 Sidewinder air-to-air missiles and the AGM-122 Sidearmanti-radiation missile were evaluated for use upon the AH-64. The Stinger was initially selected over the AIM-9, but the U.S. Army is considering the Starstreak air-to-air missile instead. External fuel tanks can also be carried on the stub wings to increase range and mission time. The stub-wing pylons have mounting points which make maintenance easier; these mountings can be used to secure personnel to the wings for transport for emergencies.

Specifications (AH-64A/D)
Data from Jane's Information Group, Bishop

General characteristics
Crew: 2 (pilot, and co-pilot/gunner)
Length: 58.17 ft (17.73 m) (with both rotors turning)
Rotor diameter: 48 ft 0 in (14.63 m)
Height: 12.7 ft (3.87 m)
Disc area: 1,809.5 ft² (168.11 m²)
Empty weight: 11,387 lb (5,165 kg)
Loaded weight: 17,650 lb (8,000 kg)
Max. takeoff weight: 23,000 lb (10,433 kg)
Powerplant: 2 × General Electric T700-GE-701 and later upgraded to T700-GE-701C (1990–present) & T700-GE-701D (AH-64E) turboshafts, -701: 1,690 shp, −701C: 1,890 shp, −701D: 2,000 shp (-701: 1,260 kW, −701C: 1,409 kW, −701D: 1,490 kW) each
Fuselage length: 49 ft 5 in (15.06 m)
Rotor systems: 4 blade main rotor, 4 blade tail rotor in non-orthogonal alignment
Performance
Never exceed speed: 197 knots (227 mph, 365 km/h)
Maximum speed: 158 knots (182 mph, 293 km/h)
Cruise speed: 143 knots (165 mph, 265 km/h)
Range: 257 nmi (295 mi, 476 km) with Longbow radar mast
Combat radius: 260 nmi (300 mi, 480 km)
Ferry range: 1,024 nmi (1,180 mi, 1,900 km)
Service ceiling: 21,000 ft (6,400 m) minimum loaded
Rate of climb: 2,500 ft/min (12.7 m/s)
Disc loading: 9.80 lb/ft² (47.9 kg/m²)
Power/mass: 0.18 hp/lb (0.31 kW/kg)
Armament
Guns: 1× 30 mm (1.18  in) M230 Chain Gun with 1,200 rounds as part of the Area Weapon Subsystem
Hardpoints: Four pylon stations on the stub wings. Longbows also have a station on each wingtip for an AIM-92 Stinger twin missile pack.

Rockets: Hydra 70 70 mm, and CRV7 70 mm air-to-ground rockets
Missiles: Typically AGM-114 Hellfire variants; AIM-92 Stinger may also be carried.
Avionics
Lockheed Martin / Northrop Grumman AN/APG-78 Longbow fire-control radar (Note: can only be mounted on the AH-64D)
The information contained on this page is unclassified, approved for public dissemination and is released under CC-BY-SA Licensing Agreement.