Boeing C-40 Clipper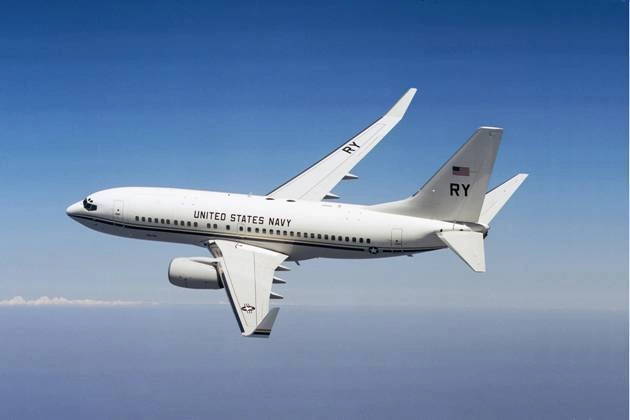 The Boeing C-40 Clipper is a military version of the Boeing 737-700C airline transport. It is used by both the United States Navy and the United States Air Force.
Role
Military transport aircraft
Manufacturer
Boeing
Introduction
21 April 2001
Status
Active service
Primary users
United States Navy
United States Air Force
Produced
2001-present

Number built

19

Unit cost

US$70 million

Developed from

Boeing 737
The United States Air Force selected the C-40B, a military version of the 737-700 Boeing Business Jet, to replace the aging fleet of C-137 aircraft for U.S. combatant commanders. The Air Force awarded the medium lift contract in August 2000. The 89th Airlift Wing acquired its first C-40B aircraft in December 2002. Both units are based at Andrews Air Force Base, Maryland. The 15th Airlift Wing, Hickam AFB, Hawaii, acquired its C-40B for U.S. Pacific Command in February 2003. The 86th Airlift Wing, Ramstein AB, Germany, acquired its C-40B for U.S. Air Forces in Europe in December 2004.
The cabin area is equipped with a crew rest area, distinguished visitor compartment with sleep accommodations, two galleys and business class seating with worktables.
The C-40B is designed to be an "office in the sky" for senior military and government leaders. Communications are paramount aboard the C-40B which provides broadband data/video transmit and receive capability as well as clear and secure voice and data communication. It gives combatant commanders the ability to conduct business anywhere around the world using on-board Internet and local area network connections, improved telephones, satellites, television monitors, and facsimile and copy machines. The C-40B also has a computer-based passenger data system.
Specifications (C-40A)
General characteristics
Crew: 5 (two pilots, one crew chief, one loadmaster and one transport safety specialist)
Capacity:


Passenger configuration: 121 passengers
Cargo configuration: 8 pallets of cargo
Combination configuration: 3 pallets of cargo, 70 passengers.

Payload: 40,000 lb (18,000 kg)
Length: 110 ft 4 in (33.63 m)
Wingspan: 112 ft 7 in (34.32 m)
Height: 41 ft 2 in (12.55 m)
Empty weight: 126,000 lb (57,150 kg)
Loaded weight: 134,000 lb (61,000 kg)
Max. takeoff weight: 171,000 lb (78,000 kg)
Powerplant: 2 × CFM International CFM56-7 SLST turbofans, 27,300 lbf (121 kN) each
Performance
Maximum speed: 534 knots (615 mph, 990 km/h)
Range: 3,000 nm (3,500 mi, 5,600 km)
Service ceiling: 41,000 ft (12,500 m)
Thrust/weight: 0.407
The information contained on this page is unclassified, approved for public dissemination and is released under CC-BY-SA Licensing Agreement.