Boeing CH-47 Chinook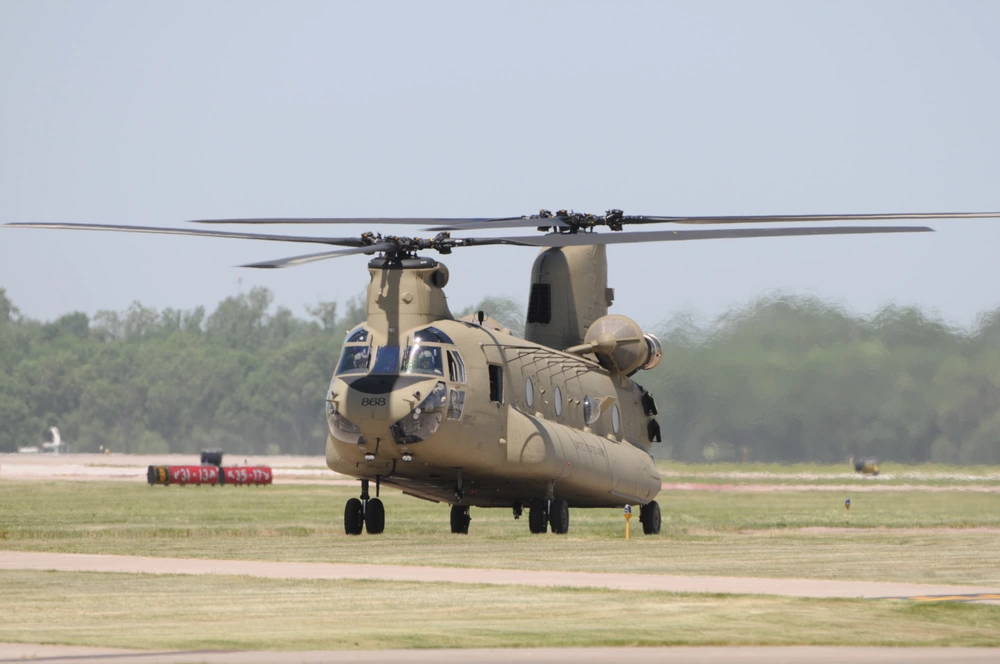 The Boeing CH-47 Chinook is an American twin-engine, tandem rotor heavy-lift helicopter. Its primary roles are troop movement, artillery placement and battlefield resupply. It has a wide loading ramp at the rear of the fuselage and three external-cargo hooks. With a top speed of 170 knots (196 mph, 315 km/h) the helicopter is faster than contemporary utility and attack helicopters of the 1960s. The CH-47 is among the heaviest lifting Western helicopters. Its name is from the Native American Chinook people.
The Chinook was designed and initially produced by Boeing Vertol in the early 1960s; it is now produced by Boeing Rotorcraft Systems. It is one of the few aircraft of that era – along with the fixed-wing Lockheed C-130 Hercules cargo aircraft – that remain in production and front-line service, with over 1,179 built to date. The helicopter has been sold to 16 nations with the U.S. Army and the Royal Air Force its largest users.
Role
Transport helicopter

National origin

United States
Manufacturer
Boeing Rotorcraft Systems
First flight
21 September 1961
Introduction
1962
Status
In service
Primary users
United States Army


Japan Ground Self-Defense Force


Royal Netherlands Air Force
Produced
1962–present

Number built

over 1,179


Unit cost

$35 million (2008) average


Developed from

Vertol Model 107
Variants
Boeing Chinook (UK variants)
The CH-47 is powered by two turboshaft engines, mounted on each side of the helicopter's rear pylon and connected to the rotors by driveshafts. Initial models were fitted with Lycoming T-53 jet engines with a combined rating of 2,200 shaft horsepower. Subsequent versions of the Chinook were configured with improved Lycoming engines and later with General Electric turbines. The counter-rotating rotors eliminate the need for an anti-torque vertical rotor, allowing all power to be used for lift and thrust. The ability to adjust lift in either rotor makes it less sensitive to changes in the center of gravity, important for the cargo lifting role. If one engine fails, the other can drive both rotors. The "sizing" of the Chinook was directly related to the growth of the Huey and the Army's tacticians' insistence that initial air assaults be built around the squad. The Army pushed for both the Huey and the Chinook, and this focus was responsible for the acceleration of its air mobility effort.
Specifications (CH-47F)
Data from Boeing CH-47D/F, Army Chinook file, International Directory

General characteristics
Crew: 3 (pilot, copilot, flight engineer)
Capacity:


33–55 troops or
24 litters and 3 attendants or
28,000 lb (12,700 kg) cargo

Length: 98 ft 10 in (30.1 m)
Rotor diameter: 60 ft 0 in (18.3 m)
Height: 18 ft 11 in (5.7 m)
Disc area: 5,600 ft2 (520 m2)
Empty weight: 23,400 lb (10,185 kg)
Loaded weight: 26,680 lb (12,100 kg)
Max. takeoff weight: 50,000 lb (22,680 kg)
Powerplant: 2 × Lycoming T55-GA-714A turboshaft, 4,733 hp (3,631 kW) each
Performance
Maximum speed: 170 knots (196 mph, 315 km/h)
Cruise speed: 130 kt (149 mph, 240 km/h)
Range: 400 nmi (450 mi, 741 km)
Combat radius: 200 nmi (370.4 km)
Ferry range: 1,216 nmi (1,400 mi, 2,252 km)
Service ceiling: 18,500 ft (5,640 m)
Rate of climb: 1,522 ft/min (7.73 m/s)
Disc loading: 9.5 lb/ft2 (47 kg/m2)
Power/mass: 0.28 hp/lb (460 W/kg)
Armament
up to 3 pintle mounted medium machine guns (1 on loading ramp and 2 at shoulder windows), generally 7.62 mm (0.308 in) M240/FN MAG machine guns
Avionics
Rockwell Collins Common Avionics Architecture System (CAAS) (MH-47G/CH-47F)
The information contained on this page is unclassified, approved for public dissemination and is released under CC-BY-SA Licensing Agreement.