Boeing EA-18G Growler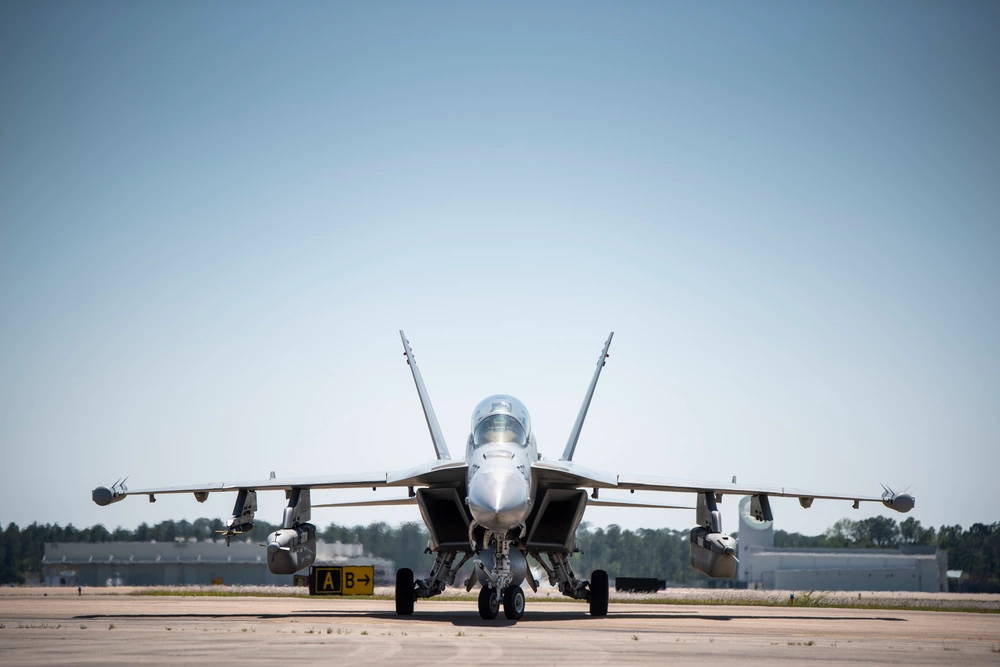 The Boeing EA-18G Growler is an American carrier-based electronic warfare aircraft, a specialized version of the two-seat F/A-18F Super Hornet. The EA-18G will replace the Northrop Grumman EA-6B Prowlers in service with the United States Navy. The Growler's electronic warfare capability is primarily provided by Northrop Grumman. The EA-18G began production in 2007 and entered operational service in late 2009.
Role
Electronic warfare

National origin

United States
Manufacturer
Boeing
First flight
15 August 2006
Introduction
22 September 2009

Status
In service
Primary users
United States Navy
Royal Australian Air Force
Produced
2004–present

Number built

96


Unit cost

US$68.2 million (flyaway cost, FY2012)


Developed from

Boeing F/A-18F Super Hornet
Design
The Growler's flight performance is similar to that of the F/A-18E/F. This attribute enables the Growler to perform escort jamming as well as the traditional standoff jamming mission. Growlers will be able to accompany F/A-18s during all phases of an attack mission. In order to give the Growler more stable flight for the electronic warfare mission, Boeing changed the leading edge fairings and wing fold hinge fairings, and added wing fences and aileron "tripper strips".

The Growler has more than 90% in common with the standard Super Hornet, sharing airframe, Raytheon AN/APG-79 AESA radar and weapon systems such as the AN/AYK-22 stores management system. Most of the dedicated airborne electronic attack equipment is mounted in the space that used to house the internal 20 mm cannon and on the wingtips. Nine weapons stations remain free to provide for additional weapons or jamming pods. The added electronics include AN/ALQ-218 wideband receivers on the wingtips, and ALQ-99 high and low-band tactical jamming pods. The ALQ-218 combined with the ALQ-99 form a full spectrum electronic warfare suite that is able to provide detection and jamming against all known surface-to-air threats. However the current pods will be inadequate against emerging threats.

The EA-18G can be fitted with up to five ALQ-99 jamming pods and will typically add two AIM-120 AMRAAM or AGM-88 HARM missiles. The EA-18G will also use the INCANS Interference Cancellation system that will allow voice communication while jamming enemy communications, a capability not available on the EA-6B. In addition to the radar warning and jamming equipment the Growler possesses a communications receiver and jamming system that will provide suppression and electronic attack against airborne communication threats.

The poor reliability of the ALQ-99 jammer pod and frequent failures of the Built In Test (BIT) have caused crew to fly missions with undetected faults. The ALQ-99 has also interfered with the aircraft's AESA radar, and has imposed a high workload on the two-man crew, along with reducing the Growler's top speed.

Boeing is looking into other potential upgrades; the ALQ-99 radar jamming pod may be replaced in the future, and the company is looking into adding weapons and replacing the satellite communications receiver. The Growler is the initial platform for the Next Generation Jammer (NGJ) which uses Active Electronically Scanned Array (AESA) technology to focus jamming power exactly where needed. The NGJ was to be implemented on the F-35. However, in May 2012, the U.S. Navy decided to focus NGJ integration on the EA-18G for an expected in-service date of 2020, and defer work for the F-35. Boeing is also looking at exporting a Growler Lite configuration without the jamming pods for electronic awareness rather than electronic attack.
Specifications (EA-18G Growler)
Data from Boeing brochure, U.S. Navy F/A-18E/F fact file

General characteristics
Crew: Two
Length: 60 ft 1.25 in (18.31 m)
Wingspan: 44 ft 8.5 in (13.62 m) (including wingtip-mounted pods)
Height: 16 ft (4.88 m)
Wing area: 500 ft² (46.5 m²)
Empty weight: 33,094 lb (15,011 kg)
Loaded weight: 48,000 lb (21,772 kg) ; recovery weight
Max. takeoff weight: 66,000 lb (29,964 kg)
Powerplant: 2 × General Electric F414-GE-400 turbofans

Dry thrust: 14,000 lbf (62.3 kN) each
Thrust with afterburner: 22,000 lbf (97.9 kN) each

Internal fuel capacity: 13,940 lb (6,323 kg)
External fuel capacity: (3 x 480 gal tanks): 9,774 lb (4,420 kg)
Performance
Maximum speed: Mach 1.8 (1,190 mph, 1,900 km/h) at 40,000 ft (12,190 m)
Ferry range: 1,800 nmi(2,070 mi, 3,330 km); range without ordnance
Service ceiling: >50,000 ft (15,000 m)
Wing loading: 92.8 lb/ft² (453 kg/m²)
Thrust/weight: 0.93
Armament
Guns: None
Hardpoints: 9 total: 6× under-wing, and 3× under-fuselage with a capacity of 17,750 lb (8,050 kg) external fuel and ordnance
Notes: The two wingtips missile launcher rail for AIM-9 Sidewinder, found on the E/F Super Hornet, have been replaced with AN/ALQ-218 detection pods, six removable under wing mounted hard points (inboard pylons will carry 480 gal fuel tanks, mid-board pylons will carry AN/ALQ-99 High Band Jamming Pods, and outboard pylon reserved for AGM-88 HARM missiles), two multi-mode conformal fuselage stations (AIM-120 AMRAAM), 1 centerline fuselage removable hardpoint, for AN/ALQ-99 Low Band Jamming Pod.

Weapons employment: Currently, Phase I of the Growler will carry the AIM-120 AMRAAM for self-protection at the two conformal fuselage stations and AGM-88 HARM missiles. The A/A-49A-2 gun system with the 20 mm M61A1 cannon has been removed and replaced by a pod of electronic boxes that control the AN/ALQ-218 and assist with the coordination AN/ALQ-99 jamming attacks.
According to the possible weapon configurations which were revealed, EA-18G would also be capable of performing "time-sensitive" strike missions, carrying AGM-154 JSOW under wings, or multi-sensor reconnaissance missions with SHARP and AN/ASQ-228 ATFLIR on centerline and left conformal weapon stations, respectively.
Avionics
Raytheon AN/APG-79 Active Electronically Scanned Array (AESA) radar
The information contained on this page is unclassified, approved for public dissemination and is released under CC-BY-SA Licensing Agreement.