Bombardier Global Express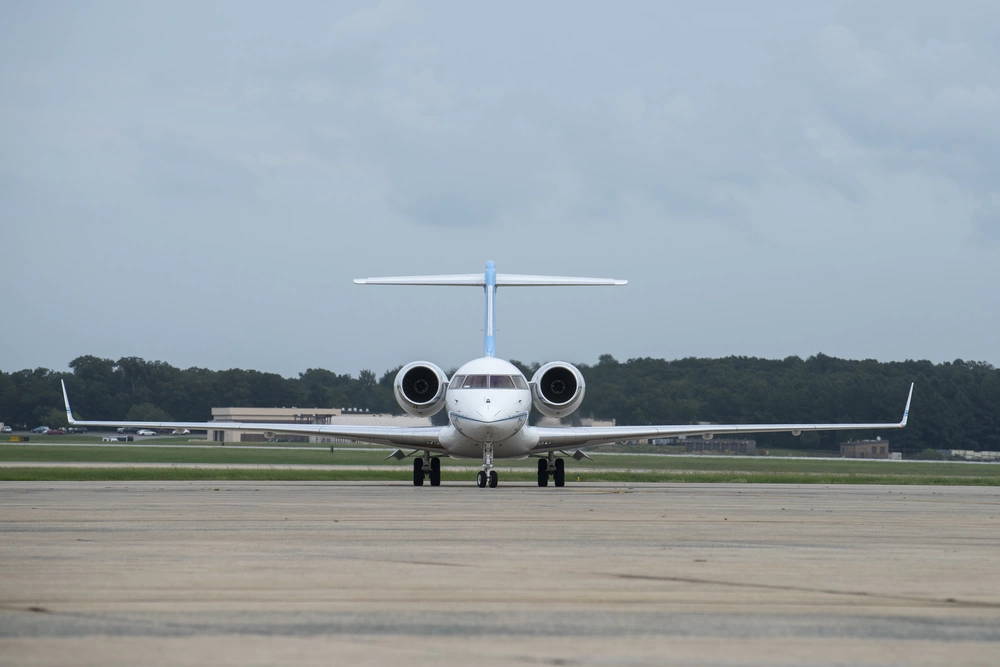 The Bombardier Global Express is a large cabin, ultra long range business jet manufactured by Bombardier Aerospace in Toronto,Canada. There are currently three variants, the original Global Express, Global 5000 and Global 6000. The Global Express has been modified for military missions, such as the Raytheon Sentinel and the USAF E-11A. The Global Express can fly intercontinental ranges without refueling (e.g. New York–Tokyo) or between most two points in the world with only one stop. In this class the Global Express competes with the Airbus Corporate Jet, Boeing Business Jet and Gulfstream G550.
Role
Business jet

National origin

Canada
Manufacturer
Bombardier Aerospace
First flight
October 13, 1996
Introduction
1993
Status
In Service

Number built

500 (as of June 17, 2013)


Unit cost

XRS: US$52 million (2010)
Global 5000: US$40 million (2008)

Variants
Raytheon Sentinel
The Battlefield Airborne Communications Node (BACN) is an airborne communications relay and gateway system hosted on a variety of aircraft that provides flexible radio connectivity across the battlespace for airborne and surface operators. BACN enables real-time information flow between similar and dissimilar tactical data link and voice systems through relay, bridging, and data translation in line of sight and beyond line of sightsituations. By acting as a translation proxy between dissimilar communications systems, it allows interoperability without modification to the individual platforms' systems. While many of the interoperability problems were due to aging systems, there has been a special problem with stealth aircraft such as the F-22 Raptor, which, in the interest of security, could only communicate with other aircraft of its type.

Because of its flexible deployment options and ability to operate at high altitudes, BACN can enable air and surface forces to overcome communications difficulties caused by complex mountainous terrain and range while performing as a key node for tactical networks. BACN provides decision-makers at all operational echelons with critical information and increases situational awareness by correlating tactical and operational air and ground pictures. For example, an Army unit on the ground currently sees a different picture than an aircrew, but with BACN, both can see the same picture.
Specifications (Global 5000)
General characteristics
Crew: Two - Three
Capacity: 8 in a typical configuration, up to 19 in high density arrangement
Length: 96.8 ft (29.5 m)
Wingspan: 94 ft 0 in (28.65 m)
Height: 25.5 ft (7.7 m)
Wing area: 1,882 ft² (53.29 m²)
Useful load: 1,775 lb (w/full fuel) (805 kg)
Max. takeoff weight: 92,750 lb (42,071 kg)
Powerplant: 2 × Rolls-Royce Deutschland BR710A2-20 turbofans, 14,750 lbf (65.6 kN) each
Cabin length: 42.47 f (12.94 m)
Cabin width (centerline): 8.17 ft (2.49 m)
Cabin width (floorline): 6.92 ft (2.11 m)
Cabin height: 6.25 ft (1.91 m)
Cabin floor area: 317 ft² (29.4 m²)
Cabin Total Volume 1,884 ft³ (53.9 m³)
Performance
Maximum speed: Mach .89 (513 kt, 590 mph, 950 km/h)
Cruise speed: Mach .85 (488 kt, 562 mph, 904 km/h)
Range: 5,200 nm (9,360 km)
Service ceiling: 51,000 ft (15,000 m)
Basic Operating Weight: 50,840 lb (23,061 kg)
Maximum Ramp Weight: 92,750 lb (42,071 kg)
Maximum Takeoff Weight: 92,500 lb (41,957 kg)
Maximum Zero Fuel Weight: 56,000 lb (25,401 kg)
Maximum Fuel Weight 39,250 lb (17,804 kg)
Balanced field length (SL, ISA, MTOW): 5,540 ft (1,689 m)
Landing distance (SL, ISA, MLW): 2,670 ft (814 m)
Avionics
Rockwell Collins Pro Line Fusion avionics suite
The information contained on this page is unclassified, approved for public dissemination and is released under CC-BY-SA Licensing Agreement.