Alenia C-27J Spartan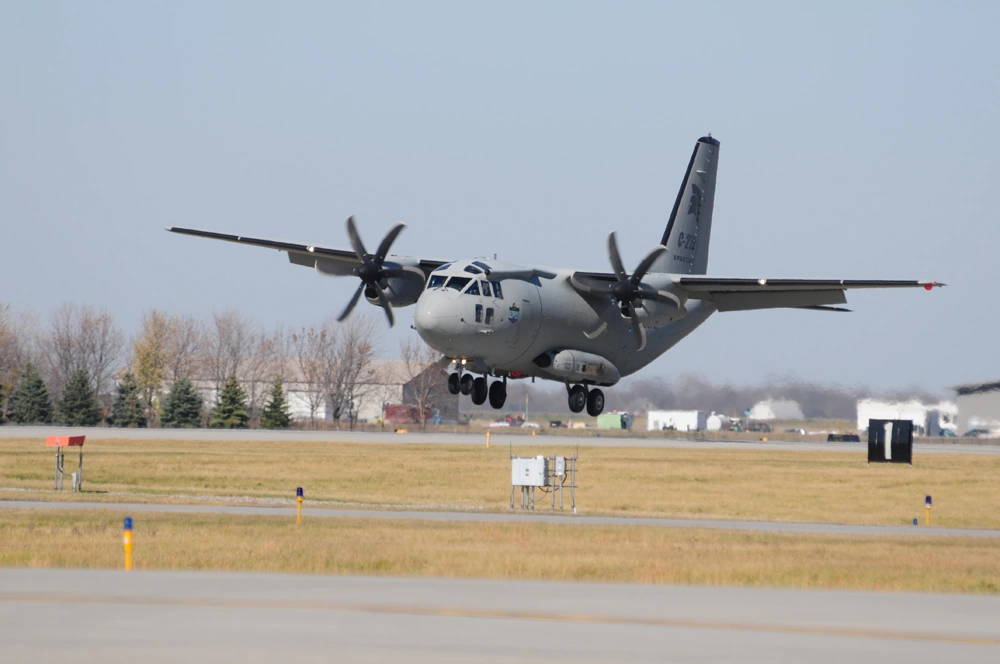 The Alenia C-27J Spartan is a medium-sized military transport aircraft. The C-27J is an advanced derivative of Alenia Aeronautica's G.222 (C-27A Spartan in U.S. service), with the engines and systems of the Lockheed Martin C-130J Super Hercules. The aircraft was selected as the Joint Cargo Aircraft (JCA) for the United States military, for which L3 is the prime contractor.
The C-27J has also been ordered by the military air units of Australia, Italy, Greece, Bulgaria, Lithuania, Mexico, Morocco and Romania.
Role
Military transport aircraft

National origin

Italy
Manufacturer
Alenia Aeronautica
Alenia Aermacchi
Introduction
October 2006 (Italy)
Status
In service
Primary users
Italian Air Force
United States Air Force
Hellenic Air Force
Produced
1997–present

Number built

52


Unit cost

US$53.3 million (2012)


Developed from

Aeritalia G.222
Variants
AC-27J Stinger II
The AC-27J was a proposed gunship for the U.S. Air Force. In 2008, US$32 million was reallocated to purchase a C-27J for the U.S. Air Force Special Operations Command, to fulfill the requirements that AFSOC had defined under the AC-XX concept, a replacement for the aging and extensively used AC-130s. The AC-27J was to be equipped using proven hardware and systems to reduce risk. AFSOC planned to acquire 16 aircraft, the first gunship in 2011 and two more per year from 2012 to 2015.
The AC-27J was to serve as a multi-mission platform, equipped with full-motion cameras and outfitted to support covert infiltration missions as well as providing armed support for ground forces, armed with either a 30-millimeter or 40-millimeter gun or precision-guided munitions such as the Viper Strike bomb. At the Air Force Association's 2008 conference, it was reported that the AC-27J variant would be named "Stinger II" after the AC-119K Stinger.

C-27A 90-0170 (c/n 4097) was removed from storage at AMARC in October 2008 and delivered to Eglin AFB, Florida, for use by the Air Force Research Laboratory to test the feasibility of mounting of 30 mm and 40 mm guns. In May 2009, the program was put on hold because U.S. Army funding for 40 C-27s in an Army-Air Force cooperative purchase was removed from the fiscal 2010 budget. U.S. Air Force Special Operations Command will retain the C-130 to meet its stated need for gunships.

MC-27J
The MC-27J is a development of the C-27J for multi-mission purposes, including command and control, communications, and operations as an armed gunship. In the gunship role, the MC-27J can integrate Hellfire missiles and precision-guided munitions, as well as an optionally-equipped 30 mm gun can be installed and rapidly uninstalled when not required. It features systems to carry out intelligence, surveillance and reconnaissance missions, as well as a defensive aids suite. In July 2012, Alenia Aermacchi announced its intention to offer an upgrade program for existing C-27Js to the MC-27J configuration in the future. The MC-27J is being developed as an Alenia-ATK private venture.
EC-27 "Jedi"
In 2010, the Italian Air Force announced the development of an electronic warfare package for its C-27 fleet under the jamming and electronic defense instrumentation (Jedi) program. One publicized ability of the aircraft is the disruption of radio communications and, in particular, remote detonators commonly used on improvised explosive devices (IEDs). The EC-27 has been compared to the capabilities of the USAF's Lockheed EC-130H Compass Call.

Specifications (C-27J)
Data from Alenia Aeronautica, C-27J facts

General characteristics
Crew: Minimum two: pilot, co-pilot, (plus loadmaster when needed)
Capacity: 60 troops or 46 paratroops or 36 litters with 6 medical personnel
Payload: 11,500 kg (25,353 lb)
Length: 22.7 m (74 ft 6 in)
Wingspan: 28.7 m (94 ft 2 in)
Height: 9.64 m (31 ft 8 in)
Wing area: 82 m2 (880 sq ft)
Empty weight: 17,000 kg (37,479 lb)
Max takeoff weight: 30,500 kg (67,241 lb)
Powerplant: 2 × Rolls-Royce AE2100-D2A turboprop, 3,460 kW (4,640 hp) each
Propellers: 6-bladed Dowty Propeller 391/6-132-F/10, 4.15 m (13 ft 7 in) diameter
Performance
Maximum speed: 602 km/h (374 mph; 325 kn)
Cruising speed: 583 km/h (362 mph; 315 kn)
Minimum control speed: 194 km/h; 121 mph (105 kn)
Range: 1,852 km (1,151 mi; 1,000 nmi) with 10,000 kilograms (22,000 lb) payload
Range at 6,000 kg payload: 4,260 km (2,650 mi; 2,300 nmi)
Ferry range: 5,926 km (3,682 mi; 3,200 nmi)
Service ceiling: 9,144 m (30,000 ft)
The information contained on this page is unclassified, approved for public dissemination and is released under CC-BY-SA Licensing Agreement.