CheyTac Intervention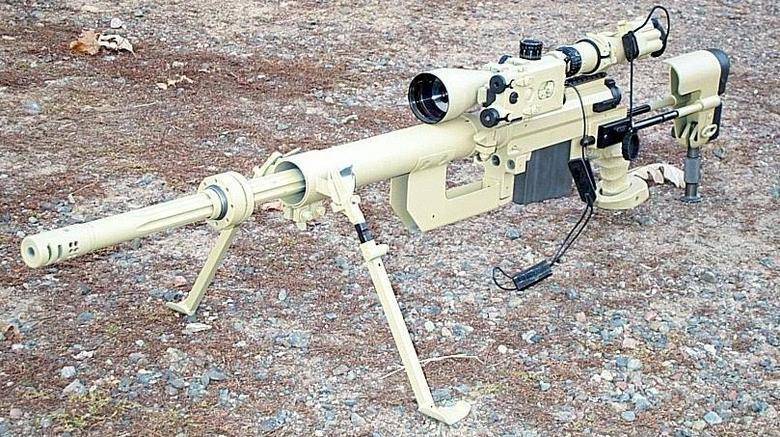 The CheyTac Intervention is an American bolt action sniper rifle manufactured by CheyTac LLC. It is fed by a 7-round detachable single stack magazine. It fires .408 Chey Tac or .375 Chey Tac ammunition. CheyTac LLC states that the system is capable of delivering sub-MOA accuracy at ranges of up to 2,500 yards (2,300 m), one of the longest ranges of all modern-day sniper rifles. It is based on the EDM Arms Windrunner.
CheyTac L.L.C. specially developed the .408 Chey Tac cartridge for long-range use. The cartridge is optimized for accuracy by a balance of the rotational and linear drag, which reduces yaw and precession, and keeps the tip of the projectile pointed along the trajectory.
To achieve balanced flight the rifling twist rate for the .408 CheyTac chambering was chosen at 330.2 mm (1 in 13 in), with eight 0.4080 in diameter grooves, 0.4010 in diameter bore and a 0.050" land width, square cut, with no taper. The later .375 CheyTac round, developed from the .408 CheyTac, uses a 292 mm (1:11.5 in) rifling twist rate.
The KESTREL 4000 (or, 4500 NV) meteorological and environmental sensor package measures the wind speed, air temperature, air pressure, relative humidity, wind chill, and dew point. The KESTREL 4500 NV model is compatible with night vision devices.
Specifications
Weight
31 lb (14 kg) without scope (M-200)
Length
53 in (1.34 m) (stock extended), 46¾ in (1.18 m) (stock collapsed) (M-200)
Barrel length
29 (73.7 cm) in standard w/ 1:13 twist (M-200), 26 in (66 cm) optional.
Cartridge
.408 Chey Tac or .375 Chey Tac
Action
Bolt action
Effective range
2000+ m - M-200
2000+ m - M-200 Carbine
1500+ m - M-200 CIV (Civilian)
1800+ m - M-310 SS (Single Shot) )
1800+ m - M-310 R (Repeater)
Feed system
7-round detachable box magazine
Sights
Day or night optics
The information contained on this page is unclassified, approved for public dissemination and is released under CC-BY-SA Licensing Agreement.