Defender-Class Boat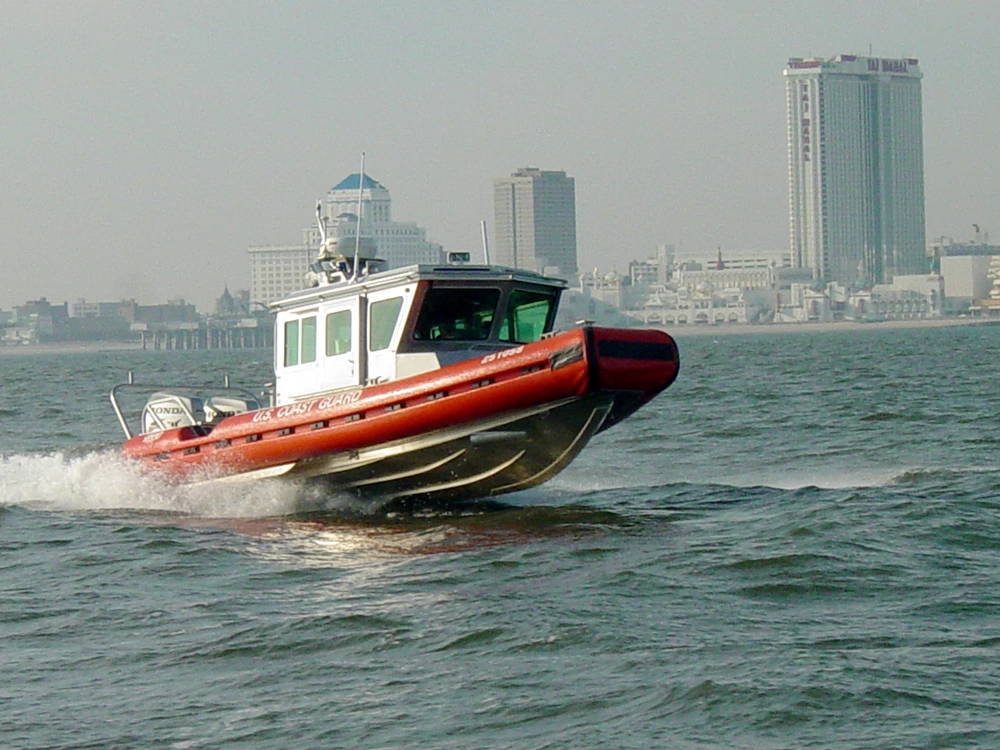 The Defender-class boat, also called Response Boat – Small (RB-S) and Response Boat – Homeland Security (RB-HS), is a standard boat introduced by the United States Coast Guard in 2002. The boats serves a variety of missions, including search and rescue, port security and law enforcement duties and replaces a variety of smaller non-standard boats.

The design length of the hull is 25 feet and the boat is officially referred to as such. However, the overall length with engines mounted is approximately 29 feet (8.8 m). Powered by twin 225 hp (168 kW) outboard motors, they are capable of speeds in excess of 46 knots (85 km/h) and have a range of 150 to 175 nautical miles (324 km), depending on the class. The boat requires a minimum crew of two persons, but has a carrying capacity for 10 persons. The boat is easily trailer-able and can be transported by a C-130 Hercules aircraft or truck.

Although similar in appearance to a rigid-hulled inflatable boat, the Defender is actually an aluminum-hulled vessel, equipped with a rigid foam-filled flotation collar. The boats are built by SAFE Boats International (Secure All-around Flotation Equipped) of Port Orchard, Washington, a vendor of government and law enforcement boats.
Name:
Defender class
Builders:
SAFE Boats International
Operators:

 United States Coast Guard
 Colombian Navy
 Chilean Navy
 Bangladesh Navy Bangladesh Coast Guard
 Iraqi Navy
Liberian Coast Guard

 Kenya Navy
Subclasses:

Defender "A" Class Defender "B" Class

Defender "C" Class
In service:
2002–Present
Completed:
800

Active:
800

General characteristics
Displacement:
2.7 ton
Length:

8.9 m (29 ft 2 in) (A Class)

9 m (29 ft 6 in) (B Class)
Beam:
2.6 m (8 ft 6 in)
Draught:
0.98 m (3 ft 3 in)
Propulsion:
2 × Honda 4-stroke outboard engines, 225 hp (168 kW) each
Speed:
46 knots (53 mph; 85 km/h) maximum
35 knots (40 mph; 65 km/h) cruising
Range:

175 nmi (324 km) (A Class)

150 nmi (280 km) (B Class)
Complement:
4 crew, 6 passengers
Armament:

1-2 × M240B (A and B Class)

1 x M2HB, 2 x M240B (C Class)
Design
The Defender class utilizes a rigid deep-V hull constructed of marine grade aluminum. While similar in appearance to the sponson of a rigid-hulled inflatable boat the Defender's collar is actually made from rigid polyethylene foam. The boat is powered by two 225 horsepower (168 kW) outboard engines, usually Honda four-strokes though Mercury and Johnson engines have also been used. Tow bitts are fitted forward and aft which also serve as mounting points for M240B or M60 machine guns.

The information contained on this page is unclassified, approved for public dissemination and is released under CC-BY-SA Licensing Agreement.