Freedom-Class Littoral Combat Ship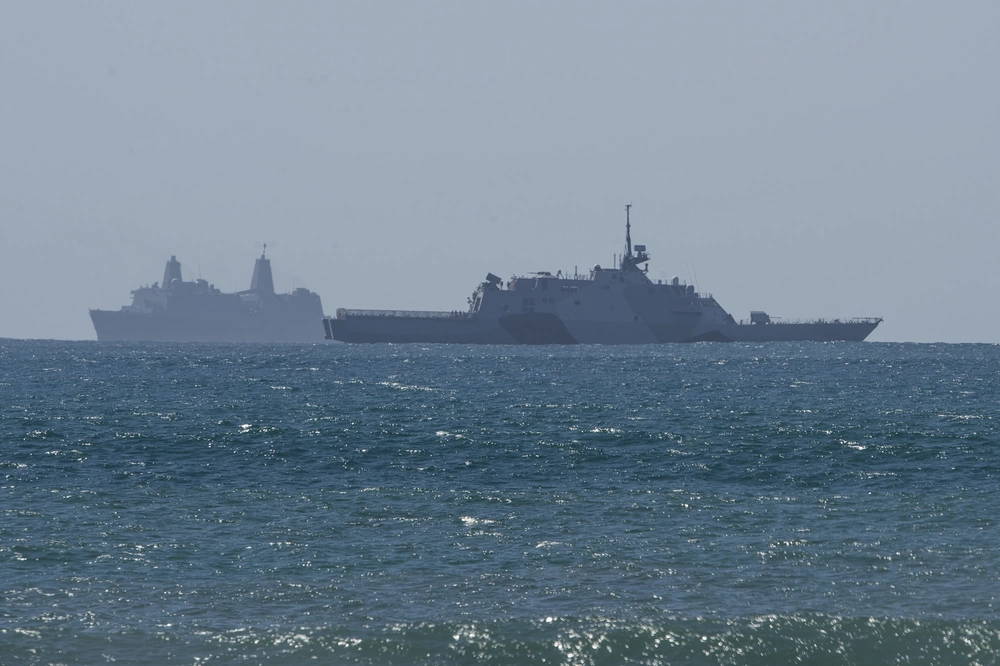 The Freedom class is one of two classes of littoral combat ship built for the United States Navy.

The Freedom class was proposed by Lockheed Martin as a contender for USN plans to build a fleet of small, multipurpose warships to operate in the littoral zone. Two ships were approved, to compete with the Independence variant design offered by General Dynamics and Austal for a construction contract of up to 55 vessels.
As of 2011, the lead ship is active, while a second ship is finishing trials and a third is under construction. Despite initial plans to only accept one of the Freedom and Independence variants, the USN has requested that Congress order ten ships of each variant.
Builders:
Lockheed Martin
Operators:
United States Navy
Preceded by:
None
Cost:
$670.4 million

Built:
2005–

In commission:

2008–
Building:
2
Planned:
12
Completed:
2
Active:
2
General characteristics
Type:
Littoral combat ship
Displacement:
3,000 t (3,000 t) (full load)

Length:
378 ft (115 m)
Beam:
57.4 ft (17.5 m)
Draft:
12.8 ft (3.9 m)
Installed power:
Electrical: 4 Isotta Fraschini V1708 diesel engines, Hitzinger generator units, 800 kW each
Propulsion:
2 Rolls-Royce MT30 36 MW gas turbines, 2 Colt-Pielstick diesel engines, 4 Rolls-Royce waterjets
Speed:
47 knots (87 km/h; 54 mph)

Range:
3,500 nmi (6,500 km; 4,000 mi) at 18 knots (33 km/h; 21 mph)

Endurance:
21 days (336 hours)
Boats & landing
craft carried:
11 m (36 ft) RHIB, 40 ft (12 m) high-speed boats
Complement:
15 to 50 core crew, 75 with mission crew (Blue and Gold crews)
Sensors and
processing systems:
Electronic warfare
& decoys:
Armament:

1 AGM-176 Griffin (modified to function on a ship)
1x BAE Systems Mk 110 57 mm gun, 400 rounds in turret and two ready service magazines with 240 rounds each.

4x .50 in (12.7 mm) machine guns
2x 30 mm Mk44 Bushmaster II guns
One Mk 49 launcher with 21x RIM-116 Rolling Airframe Missile Surface-to-Air Missiles
Other weapons as part of mission modules

Aircraft carried:

2x MH-60R/S Seahawk
MQ-8 Fire Scout
Design
The ship is a semi-planing steel monohull with an aluminum superstructure. It is 377 feet (115 m) in length, displaces 2,950 metric tons, and can go faster than 45 knots (83 km/h; 52 mph). The design incorporates a large reconfigurable seaframe to allow rapidly interchangeable mission modules, a flight deck with integrated helicopter launch, recovery and handling system and the capability to launch and recover boats (manned and unmanned) from both the stern and side.
The flight deck is 1.5 times the size of that of a standard surface ship, and uses a Trigon traversing system to move helicopters in and out of the hangar. The ship has two ways to launch and recover various mission packages: a stern ramp and a starboard side door near the waterline. The mission module bay has a 3-axis crane for positioning modules or cargo. Problems with the ramp and boat handling equipment are the most serious problems with the Freedom class.

The fore deck has a modular weapons zone which can be used for a 57 mm gun turret or missile launcher. A Rolling Airframe Missile launcher is mounted above the hangar for short-range defense against aircraft and cruise missiles, and .50-caliber gun mounts are provided topside. The Fleet-class unmanned surface vessel is designed for operations from Freedom variant ships.

The core crew will be 40 sailors, usually joined by a mission package crew and an aviation detachment for a total crew of about 75. Automation allows a reduced crew, which greatly reduces operating costs, but workload can still be "gruelling". During testing of the class lead, two ship's companies will rotate on four-month assignments.

Four 750-kilowatt Fincantieri Isotta-Fraschini diesel generators provide 3 megawatts of electrical power to power the ship systems.

The Congressional Budget Office estimates that fuel will account for only "8 percent to 18 percent" of the total life-cycle costs for Freedom. Senator Jeff Sessions of Alabama has called the report into question and has suggested that the Independence, built in his state, would be more fuel efficient and that less frequent refueling would have an impact on military operations beyond the cost of fuel.

In 2012, a Navy cybersecurity team found major deficiencies in Lockheed's Total Ship Computing Environment, which controls the entire ship in order to reduce crewing requirements.
Ships
Two Freedom-variant LCS ships have been commissioned. Four more Freedom-variant LCS are under construction by The Lockheed Martin Team.
USS Freedom (LCS-1)
USS Fort Worth (LCS-3)
USS Milwaukee (LCS-5)
USS Detroit (LCS-7)
USS Little Rock (LCS-9)
USS Sioux City (LCS-11)
USS Wichita (LCS-13)
USS Billings (LCS-15)
USS Indianapolis (LCS-17)
An additional five Freedom-variant ships are planned.
The information contained on this page is unclassified, approved for public dissemination and is released under CC-BY-SA Licensing Agreement.