General Atomics MQ-1C Gray Eagle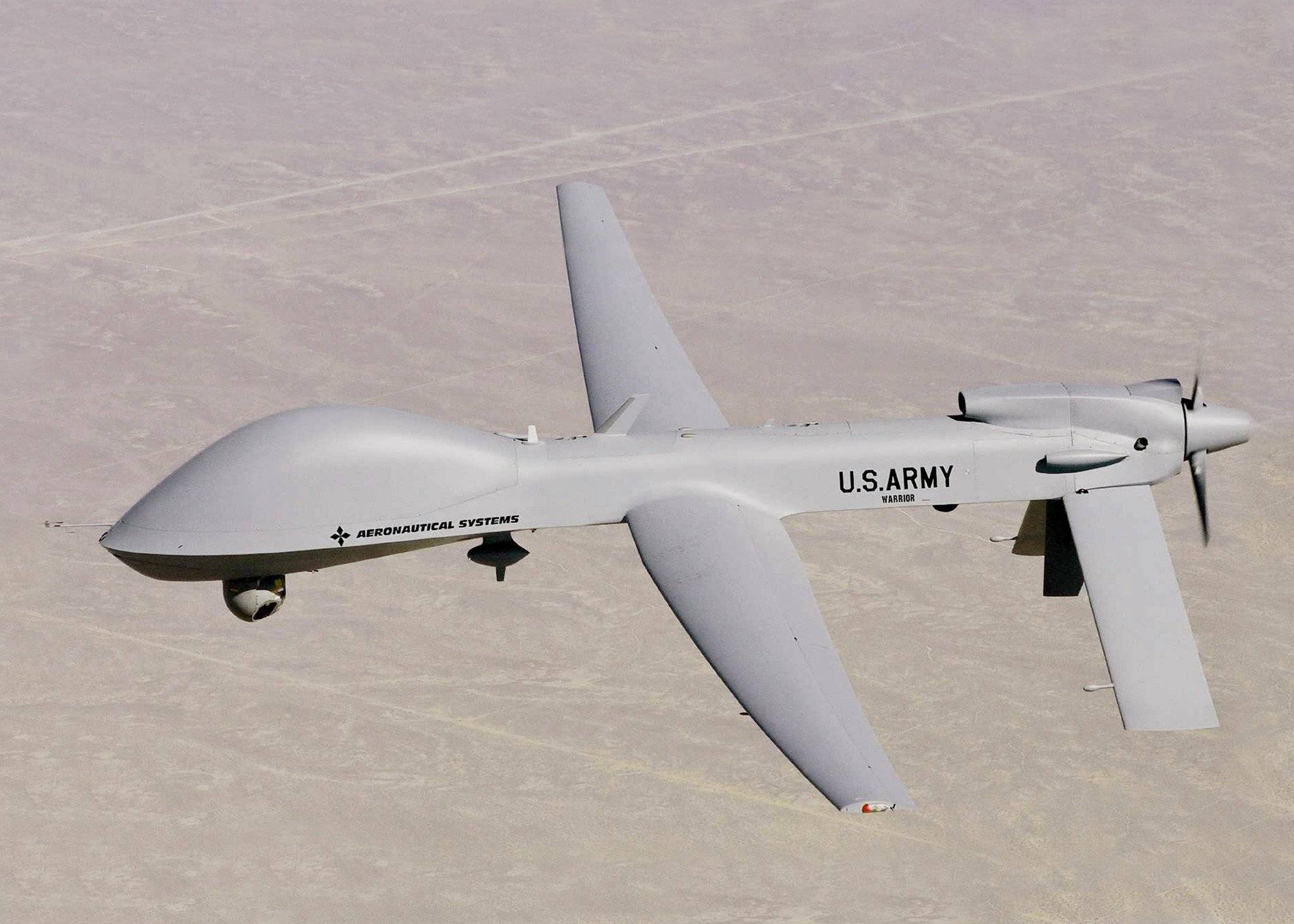 The MQ-1C Gray Eagle (previously the Warrior and also called Sky Warrior and ERMP (Extended-Range Multi-Purpose) is a Medium Altitude Long Endurance (MALE) unmanned aircraft system (UAS) under development by General Atomics Aeronautical Systems (GA-ASI), funded by United States Army. It is an upgrade of the MQ-1 Predator.
Role
UCAV
Manufacturer
General Atomics Aeronautical Systems
First flight
October 2004
Introduction
2009
Status
Active In production
Primary user
United States Army
Produced
61 aircraft (2012)
152 planned + 31 ground systems


Program cost

US$4,745.3m (as of FY13)


Unit cost

US$21.5m (FY13)
US$31.2m (inc R&D)


Developed from

MQ-1 Predator
Design
A Medium-Altitude Long-Endurance (MALE) UAV, the Gray Eagle has an increased wingspan and is powered by a Thielert Centurion 1.7 Heavy Fuel Engine (HFE). This is a Diesel piston engine that burns jet fuel, giving the aircraft better performance at high altitudes. It will be capable of operating for 36 hours at altitudes up to 25,000 feet (7,600 m), with an operating range of 200 nautical miles (400 km).

The aircraft's nose fairing has been enlarged to house a Synthetic Aperture Radar/Ground Moving Target Indicator (SAR-GMTI) system, and targeting is also provided with an AN/AAS-52 Multi-spectral Targeting System (MTS) under the nose. The aircraft can carry a payload of 800 pounds (360 kg) and may be armed with weapons such as AGM-114 Hellfire missiles and GBU-44/B Viper Strike guided bombs.

In May 2013, Raytheon delivered two electronic attack payloads as part of the Army's Networked Electronic Warfare, Remotely Operated (NERO) system. NERO gives the MQ-1C the ability to jam enemy communications. Also mounted on the C-12 Huron, mounting on the unmanned Grey Eagle gives reduced risk, reduced operating costs, and two to three times the endurance of electronic attack missions.

On 27 July 2013, General Atomics announced the successful first flight of the Improved Gray Eagle (IGE). The IGE is designed for increased endurance, with 23 additional hours compared to its Block I predecessor. It has 50 percent greater fuel capacity through its deep belly fuselage and features 50 percent or more payload capacity. The upgraded centerline hardpoint supports integration of a 500 pound optional external fuel tank or 360 degree sensor payload. The IGE's additional space, plus an improved Lycoming DEL-120 Heavy Fuel Engine (HFE), provides growth capability for an improved airworthiness design, with the potential of incorporating lightning protection, damage tolerance, and Traffic Collision Avoidance System (TCAS) features.
Specifications
Data from General Atomics Aeronautical Systems Gray Eagle.

General characteristics
Crew: 0
Length: 28 ft (8 m)
Wingspan: 56 ft (17 m)
Height: 6.9 ft (2.1 m)
Max. takeoff weight: 3,600 lbs (1,633 kg)
Powerplant: 1 × Thielert Centurion 1.7 Heavy-Fuel Engine, 165 HP ()
Performance
Maximum speed: 150 knots (170 mph; 280 km/h)
Endurance: 30 hours
Service ceiling: 29,000 ft (8,840 m)
Armament
Avionics
The information contained on this page is unclassified, approved for public dissemination and is released under CC-BY-SA Licensing Agreement.