Grumman C-2 Greyhound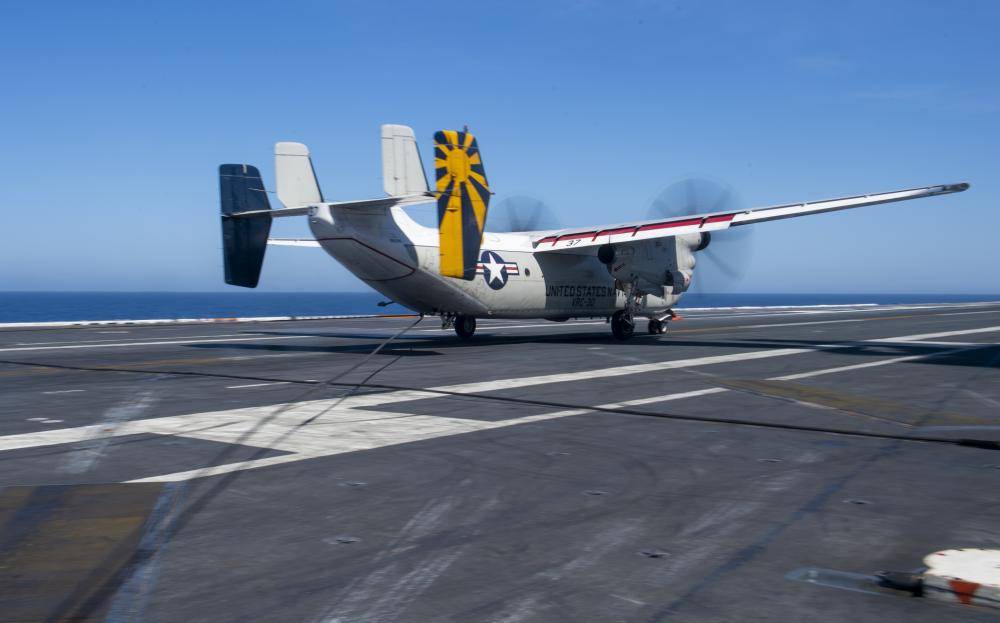 The Grumman C-2 Greyhound is a twin-engine, high-wing cargo aircraft, designed to carry supplies and mail to and from aircraft carriers of the United States Navy. Its primary mission is carrier onboard delivery (COD). The aircraft provides critical logistics support to carrier strike groups. The aircraft is mainly used to transport high-priority cargo, mail and passengers between carriers and shore bases, and can also deliver cargo like jet engines and special stores.
Prototype C-2s first flew in 1964 and production followed the next year. The initial Greyhound aircraft were overhauled in 1973. More C-2s were ordered in the 1980s. Further improvements to the C-2 have followed.
Role
Carrier-capable transport / Carrier onboard delivery

National origin

United States
Manufacturer
Grumman
Northrop Grumman
First flight
18 November 1964
Introduction
1966
Retired
1987, C-2A
Status
39 C-2(R) in service
Primary user
United States Navy
Produced
C-2A: 1965-1968
C-2A(R): 1985-1989

Number built

58

Unit cost

US$38.96 million


Developed from

Northrop Grumman E-2 Hawkeye
Specifications (Reprocured C-2A)
General characteristics
Crew: 2 pilots, 2 aircrew
Capacity: 26 passengers, 12 litter patients
Payload: 10,000 lb (4,536 kg)
Length: 56 ft 10 in (17.30 m)
Wingspan: 80 ft 7 in (24.60 m)
Height: 15 ft 10½ in (4.85 m)
Wing area: 700 ft² (65 m²)
Empty weight: 33,746 lb (15,310 kg)
Loaded weight: 49,394 lb (22,405 kg)
Useful load: 20,608 lb (9,350 kg)
Max. takeoff weight: 60,000 lb (24,655 kg)
Powerplant: 2 × Allison T56-A-425 turboprops, 4,600 shp (3,400 kW) each
Performance
Maximum speed: 343 knots (394 mph, 635 km/h) at 12,000 ft (3,660 m)
Cruise speed: 251 knots (289 mph, 465 km/h) at 28,700 ft (8,750 m)
Stall speed: 82 knots (94 mph, 152 km/h) at idle power
Range: 1,300 nm (1,496 mi, 2,400 km)
Service ceiling: 33,500 ft (10,210 m)
Rate of climb: 3,700 ft/min (at sea level) (13.3 m/s)
Wing loading: 77.6 lb/ft² (378.9 kg/m²)
The information contained on this page is unclassified, approved for public dissemination and is released under CC-BY-SA Licensing Agreement.