Gun truck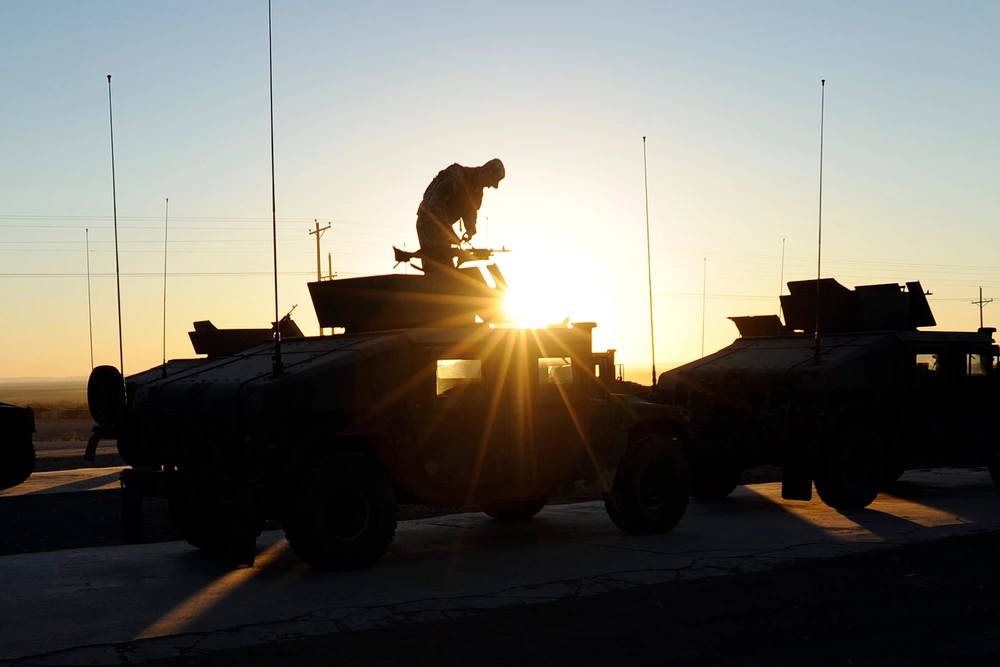 A gun truck is an improvised fighting vehicle used by units of regular armies or other official government armed forces, based on a conventional cargo truck, that is able to carry a large weight of weapons and armor. They have mainly been used by regular armies to escort military convoys in regions subject to ambush by guerrilla forces.
Iraq War
During the 
Iraq War
, the vulnerability of American supply convoys became apparent as soon as March 2003, when a maintenance unit was ambushed in 
Nasiriyah
, losing eleven soldiers killed and five taken prisoner, including Pfc. 
Jessica Lynch
. 
During the 
later phase
 of the war, road convoys were considered "soft" targets, and frequently came under attack by 
Iraqi insurgents
. This led to the re-invention of the gun truck, with the first modified examples, based on 
M939
 five-ton trucks, entering service in August 2003.
In April 2004, Leaders of the US Army Reserve 375th Transportation Group and the 812th Transportation Battalion formed a special provisional unit - the 518th Transportation Company called "Gun Truck" Company. Based in Camp Navistar (located on the Kuwait side of the border Near Safwan, Iraq), this company acquired 35 humvees and five M939 five-ton trucks, and modified them with improvised armor and .50 calibre machine-guns. With many Reserve and National Guard combat arms units already converting and performing Convoy Security Escort service while deployed to Iraq, the need for a special Gun Truck unit proved unfeasible and the unit disbanded in April, 2005.

The use of improvised fighting vehicles, protected by the so-called "Hillbilly armor", quickly became a political issue, with the Bush administration coming under criticism for having sent the U.S. military to fight without adequate equipment. The idea of producing a standardized gun truck was instigated by Representative Duncan Hunter (R.-Calif.), chairman of the House Armed Services Committee, despite the reluctance of some Army superior officers.
Developed with the help of Vietnam veterans by the Lawrence Livermore National Laboratory, the resulting armored box (dubbed the "Hunter box") was intended for use on five-ton trucks. Their armor protection was composed of high-grade steel plating, fiberglass and ballistic glass, while the armament consisted of two to four heavy machine-guns.

The first prototype was completed in March 2004, and shipped to Iraq in July 2004, after which production began at a slow rate, with 35 units in service by July 2005. As of September 2007, a total of 100 kits have been produced for Iraq, and 18 for use in Afghanistan. The "Hunter boxes" apparently proved popular with U.S. troops, but were criticized by senior officers for their lack of overhead protection, and for being top-heavy, however few cases exist to prove their doubts in this equipment.

Up-armor kits were also produced for the standard Humvee gun truck. The soldiers appreciated the much needed armored protection but the extra weight of the up-armor kits slowed the Humvee's acceleration and speed substantially. The modified heavier vehicle's sluggishness could not match the agile capabilities of the insurgent vehicles.
The information contained on this page is unclassified, approved for public dissemination and is released under CC-BY-SA Licensing Agreement.