Harpers Ferry-Class (Dock Landing Ship)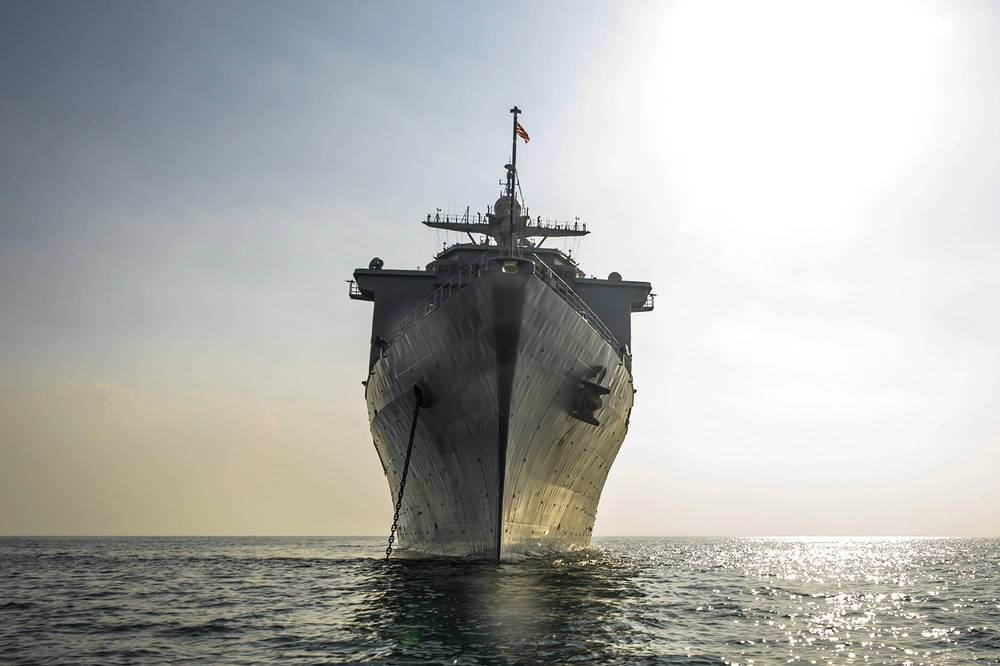 The Harpers Ferry-class of the United States Navy is a class of dock landing ships completed in the early 1990s. Modified from the Whidbey Island class, it sacrifices landing craft capacity for more cargo space, making it closer to an amphibious transport dock type, but was not designated as such. Externally, the two classes can be told apart by the order of weapons. The Harper's Ferry type has the Phalanx CIWS mounted forward, and the RAM launcher on top of the bridge, while the Whidbey Island has the opposite arrangement.
All ships of the class are scheduled to undergo a midlife upgrade to ensure they remain in service through 2038. The ships will be upgraded each year through 2013, and the last ship will be modernized in 2014. Ships homeported on the East Coast will undergo upgrades at Metro Machine Corp., and ships based on the West Coast will receive upgrades at General Dynamics National Steel and Shipbuilding Company in San Diego.

Major elements of the upgrade package include diesel engine improvements, fuel and maintenance savings systems, engineering control systems, increased air conditioning/chill water capacity, and replacement of air compressors. The ships also replaced steam systems with all-electric functionality that will decrease maintenance.
Name:
Harpers Ferry
Builders:
Avondale Shipyard
Operators:
 United States Navy
Preceded by:
Whidbey Island-class dock landing ship
Succeeded by:
San Antonio-class amphibious transport dock
Cost:
$324.2 million 


In commission:

1995 – present
Planned:
4
Completed:
4
Active:
USS Harpers Ferry (LSD-49),
USS Carter Hall (LSD-50),
USS Oak Hill (LSD-51),
USS Pearl Harbor (LSD-52)
General characteristics
Displacement:
16,708 tons
Length:
609 ft (186 m)
Beam:
  84 ft (26 m)
Draft:
  21 ft (6.4 m)
Propulsion:
Four Colt Industries, 16-cylinder diesels, two shafts, 33,000 shaft horsepower (25 MW)
Speed:
20+ knots (37 km/h)
Boats & landing
craft carried:
2 LCACs 

Complement:
22 officers, 391 enlisted
Armament:
2 × 25 mm Mk 38 cannons
2 × 20 mm Phalanx CIWS mounts
2 × RIM-116 Rolling Airframe Missile(RAM) launchers
6 × .50 caliber M2HB machine guns
The Harpers Ferry class ships

Ship Name
Hull No.
Builder
Commissioned
Homeport
U.S.-built
Harpers Ferry
LSD-49
Avondale Shipyard
7 January 1995
Naval Base San Diego (CA)
Carter Hall
LSD-50
Avondale Shipyard
30 September 1995
Naval Amphibious Base Little Creek (VA)
Oak Hill
LSD-51
Avondale Shipyard
8 June 1996
Naval Amphibious Base Little Creek (VA)
Pearl Harbor
LSD-52
Avondale Shipyard
30 May 1998
Naval Base San Diego (CA)
The information contained on this page is unclassified, approved for public dissemination and is released under CC-BY-SA Licensing Agreement.