Heckler & Koch P11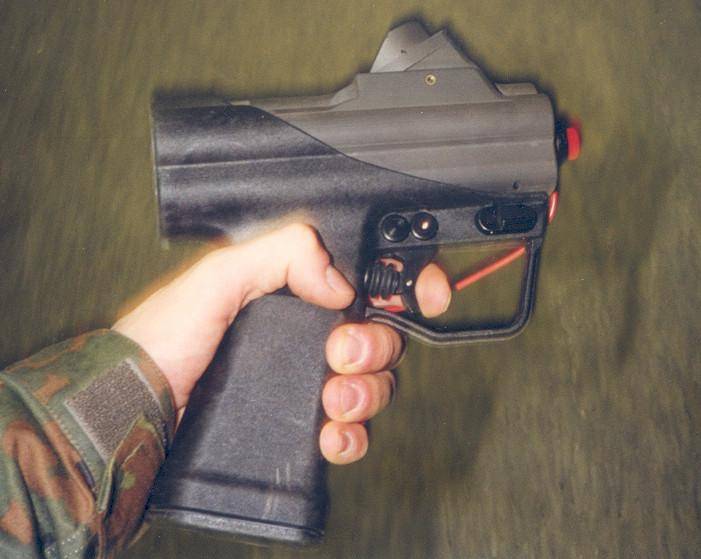 The HK P11 is a Heckler & Koch pistol designed as an underwater firearm.
Since ordinary-shaped rounds are inaccurate and have a very short range when used underwater, this pistol fires steel darts about 10 centimeters (3.9 in) long. It has five barrels, each of which is loaded with a cartridge, giving the gun a pepper-box appearance, and it is electrically ignited from a battery pack in the pistol grip. After firing all five cartridges, the barrel unit must be sent back to its manufacturer for reloading. It is very similar to its predecessor, the Mk 1 Underwater Defense Gun. In the past, Heckler & Koch has denied knowledge of its existence.

Specifications
Weight
1,200 grams (42 oz) loaded
Battery pack 700 grams (25 oz)
Length
200 millimetres (7.9 in)
Width
60 millimetres (2.4 in)
Cartridge
7.62 x 36 mm, about 100 millimetres (3.9 in) long, miniature solid-fuelled rocket with fins
Caliber
7.62 mm
Action
Electric actuated
Effective range
30 metres (98 ft) in air,
10 to 15 metres (33 to 49 ft) underwater
Feed system
5 rounds, each in a barrel
Sights
14.6 centimetres (5.7 in) between sights
The information contained on this page is unclassified, approved for public dissemination and is released under CC-BY-SA Licensing Agreement.