HIMARS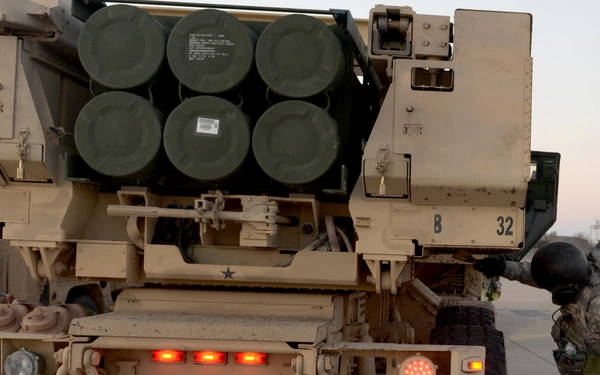 The M142 High Mobility Artillery Rocket System (HIMARS) is a U.S. light multiple rocket launcher mounted on a standard Army Medium Tactical Vehicle (MTV) truck frame.
The HIMARS carries six rockets or one Army Tactical Missile System (ATACMS) missile on the U.S. Army's new Family of Medium Tactical Vehicles (FMTV) five-ton truck, and can launch the entire Multiple Launch Rocket System Family of Munitions (MFOM). HIMARS is interchangeable with the MLRS M270A1, carrying half the rocket load.
The launcher is C-130 transportable. The chassis is produced by BAE Systems Mobility & Protection Systems (formerly Armor Holdings Aerospace and Defense Group Tactical Vehicle Systems Division), the OEM of the FMTV. The rocket launching system is produced by Lockheed Martin Missiles & Fire Control.
On February 14, 2010, the International Security Assistance Force (ISAF) for Afghanistan indicated in a press release that it was thought that two rockets fired from a HIMARS unit fell 300 metres short of their intended target and killed 12 civilians during Operation Moshtarak. ISAF suspended the use of the HIMARS until a full review of the incident was completed. A British officer later said that the rockets were on target, that the target was in use by the Taliban, and use of the system has been reinstated. Reports indicate that the civilian deaths were due to the Taliban's use of an occupied dwelling, the presence of civilians at that location was not known to the ISAF forces. An October 21, 2010 report in the New York Times credited HIMARS with aiding the NATO offensive in Kandahar by targeting Taliban commanders' hideouts, forcing many to flee to Pakistan, at least temporarily.
Specifications
Weight
24,000 lb (10,900 kg)
Length
7 m (23 ft 0 in)
Width
2.4 m (7 ft 10.5 in)
Height
3.2 m (10 ft 6 in)
Crew
3
Traverse
360
Rate of fire
1, 2, 4, All 6
Maximum range
2–300 kilometres (1.2–190 mi)
Armor
light
Operational
range
480 km (298 mi)
Speed
85 km/h (52.8 mph)
Accuracy
Guided
The information contained on this page is unclassified, approved for public dissemination and is released under CC-BY-SA Licensing Agreement.