Humvee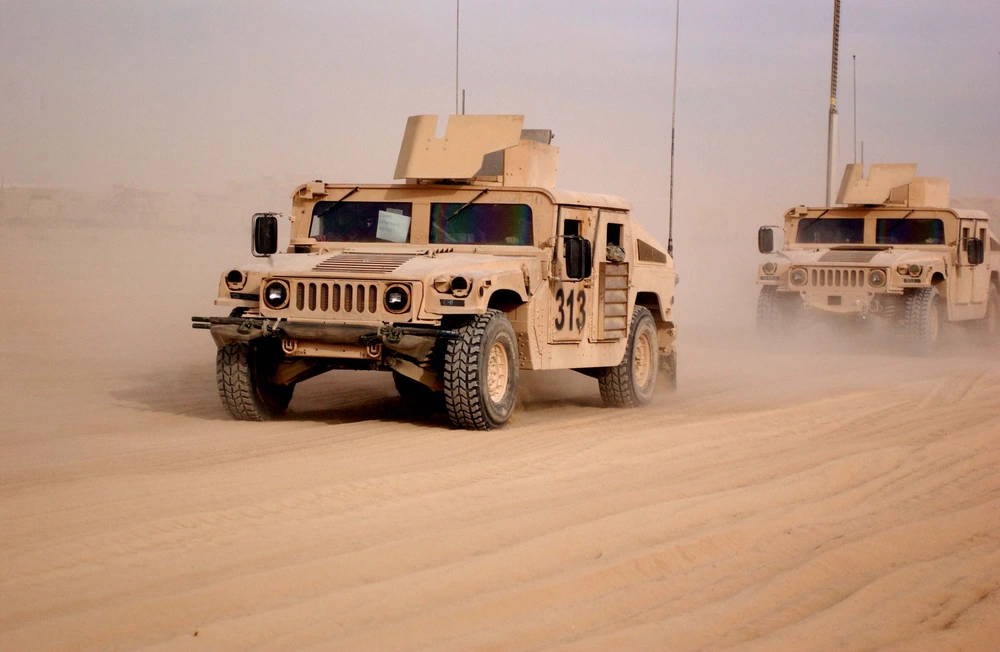 The High Mobility Multipurpose Wheeled Vehicle (HMMWV), commonly known as the Humvee, is a four-wheel drive military automobile produced by AM General. It has largely supplanted the roles formerly served by smaller jeeps such as the M151 1⁄4-short-ton (230 kg) MUTT, the M561 "Gama Goat", their M718A1 and M792 ambulance versions, the CUCV, and other light trucks. Primarily used by the United States military, it is also used by numerous other countries and organizations and even in civilian adaptations. The Humvee's widespread use in the Persian Gulf War helped inspire the civilian Hummer automotive marque.
The Humvee uses independent suspensions and portal geared hubs similar to portal axles to make for a full 16 inches of ground clearance. The vehicle also has disc brakes on all 4 wheels, and 4-wheel double-wishbone suspension. The brake discs are not mounted at the wheels as on conventional automobiles, but are inboard, attached to the outside of each differential. The front and rear differentials are Torsen type, and the center differential is a regular, lockable type. There are at least 17 variants of the HMMWV in service with the United States Armed Forces. HMMWVs serve as cargo/troop carriers, automatic weapons platforms,ambulances (four litter patients or eight ambulatory patients), M220 TOW missile carriers,M119 howitzer prime movers, M1097 Avenger Pedestal Mounted Stinger platforms, MRQ-12 direct air support vehicles, S250 shelter carriers, and other roles. The HMMWV is capable offording 2.5 ft (76 cm) normally, or 5 ft (1.5 m) with the deep-water fording kits installed.
Optional equipment includes a winch (maximum load capacity 6,000 lb (2,700 kg)) and supplemental armor. The M1025/M1026 and M1043/M1044 armament carriers provide mounting and firing capabilities for the 
M134 Minigun
, the 
Mk 19 grenade launcher
, the 
M2 heavy machine gun
, the 
M240G/B
 machine gun and 
M249 LMG
. The M1114 "up-armored" HMMWV, introduced in 2004, also features a similar weapons mount.
 In addition, some M1114 and M1116 up-armored and M1117 Armored Security Vehicle models feature a 
Common Remotely Operated Weapon Station
 (CROWS), which allows the gunner to operate from inside the vehicle, and/or the 
Boomerang
 anti-
sniper
 detection system. Recent improvements have also led to the development of the M1151 model, which is quickly rendering the previous models obsolete. By replacing the M1114, M1116, and earlier armored HMMWV types with a single model, the U.S. Army hopes to lower maintenance costs.
The HMMWV was designed primarily for personnel and light cargo transport behind front lines, not as a front line fighting vehicle. Like the previous Jeep, the basic HMMWV has no armor or protection against chemical, biological, radiological or nuclear threats. Nevertheless, losses were relatively low in conventional operations, such as the Gulf War. Vehicles and crews suffered considerable damage and losses during the Battle of Mogadishu due to the nature of the urban engagement; however, the chassis survivability allowed the majority of those crews to return to safety, though the HMMWV was never designed to offer protection against intense small arms fire, much less machine guns and rocket-propelled grenades. However, with the rise of asymmetric warfare and low intensity conflicts, the HMMWV has been pressed into service in urban combat roles for which it was not originally intended.After Somalia, the military recognized a need for a more protected HMMWV and AM General developed the M1114, an armored HMMWV to withstand small arms fire. The M1114 has been in limited production since 1996, seeing limited use in the Balkans before deployment to the Middle East. This design is superior to the M998 with a larger, more powerful turbocharged engine, air conditioning, and a strengthened suspension system. More importantly, it boasts a fully armored passenger area protected by hardened steel and bullet-resistant glass. With the increase in direct attacks and guerrilla warfare in Iraq, AM General has diverted the majority of its manufacturing power to producing these vehicles.
Specifications
Weight
5,200–5,900 lb (2,359–2,676 kg) curb weight

Length
15 ft (4.57 m), wheelbase 10 ft 10 in (3.30 m)
Width
7 ft 1 in (2.16 m)

Height
6 ft (1.83 m), reducible to 4 ft 6 in (1.37 m)

Engine
8 Cyl. Diesel 6.2 L (380 cu in)
or 6.5 L (400 cu in) V8 turbo diesel
6.5 L V8 turbo diesel: 190 hp (142 kW) @ 3,400 rpm / 380 lbf·ft (515 N·m) @ 1,700 rpm
Transmission
3-speed automatic
Suspension
Independent 4x4
Fuel capacity
25 U.S. gal (95 L)

Speed
55 mph (89 km/h) at max gross weight
Over 70 mph (113 km/h) top speed
Source
The information contained on this page is unclassified, approved for public dissemination and is released under 
CC-BY-SA Licensing Agreement
.