Kaman K-MAX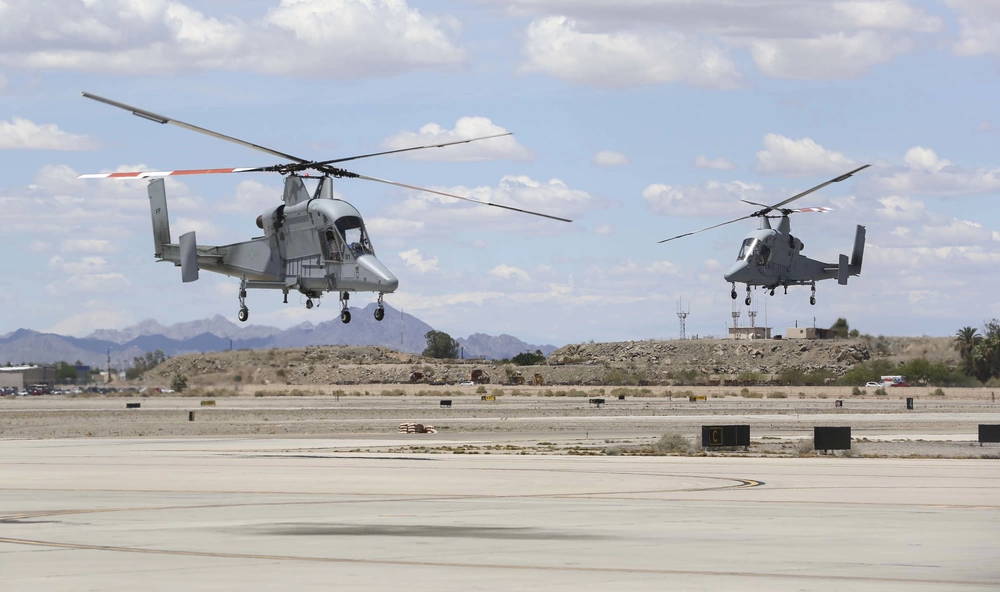 The Kaman K-MAX (Company designation K-1200) is an American helicopter with intermeshing rotors (synchropter) built by Kaman Aircraft. It is optimized for external load operations, and is able to lift a payload of over 6,000 pounds (2,722 kg), which is more than the helicopter's empty weight. A remote controlled unmanned aerial vehicle version is being developed and in extended practical service in the war in Afghanistan.
| | |
| --- | --- |
| Role | Medium lift helicopter |
| Manufacturer | Kaman Aircraft |
| First flight | 23 December 1991 |
| Status | Active |
| Produced | 1991-2003 |
| Number built | 38+ |
Unmanned remote control version
An unmanned remote-control version, the K-MAX Unmanned Multi-Mission Helicopter, was developed for hazardous missions. It can be used in combat to deliver supplies to the battlefield, as well as civilian situations involving chemical, biological, or radiological hazards. A prototype of this was shown in 2008 for potential military heavy-lift resupply use, and again in 2010.

In December 2010 the Naval Air Systems Command awarded a $46 million contract to Kaman for two aircraft, and in 2011 they completed a five-day Quick Reaction Assessment.

In December 2011 an unmanned K-Max was reported to be at work in Afghanistan. On December 17, 2011, the United States Marine Corps conducted the first unmanned aerial system cargo delivery in a combat zone using an unmanned version of the Kaman K-MAX. The unmanned KMAX moved about 3,500 pounds of food and supplies to troops at Combat Outpost Payne.

As of February 2013, the K-MAX has delivered 2 million pounds of cargo in 600 unmanned missions, with over 700 flight hours.

A third unmanned K-MAX, based in the US, was tested in 2012 to deliver cargo to a small homing beacon with 3 meter precision.

On July 31, 2012, Lockheed announced a second service extension for the K-MAX in Afghanistan for the Marines. This extended operation time to the end of March 2013, with the option to extend through to the end of September 2013. On March 18, 2013, the Marine Corps extended their use of the unmanned K-MAX helicopters indefinitely. The Marines do not currently have plans to buy more, but the two aircraft in use will remain "until otherwise directed." At the time of this announcement, they had flown over 1,000 missions and hauled over 3 million pounds of supplies. Assessments for their use after deployment are being studied. While proving useful, their "niche" in future Marine Corps aviation is not yet clear.
Specifications (K-MAX)
Data from K-MAX Performance and Specs

General characteristics
Crew: 1
Capacity: 6,000 lb (2,722 kg) external load
Length: 51 ft 10 in (15.8 m)
Rotor diameter: 48 ft 3 in (14.7m)
Height: 13 ft 7 in (4.14 m)
Empty weight: 5,145 lb (2,334 kg)
Useful load: 6,855 lb (3,109 kg)
Max. takeoff weight: 12,000 lb (5,443 kg)
Powerplant: 1 × Honeywell T53-17 turboshaft, 1341 kW (1,800 shp), flat rated to 1118 kW (1500 shp) for take-off / 1350 shp in flight)
Performance
Maximum speed: 100 knots (185.2 km/h)
Cruise speed: 80 knots (148.2 km/h)
Range: 267 nm (494.5 km)
The information contained on this page is unclassified, approved for public dissemination and is released under CC-BY-SA Licensing Agreement.