Kimber Warrior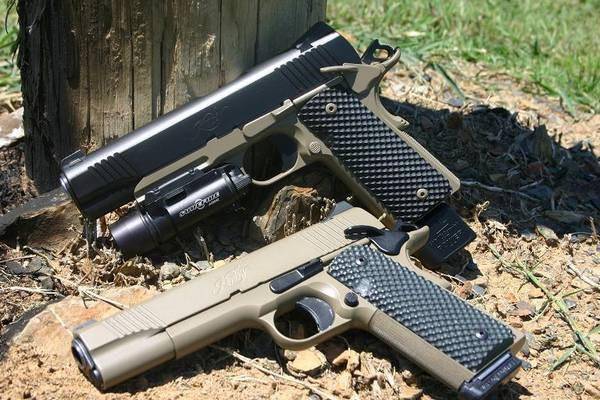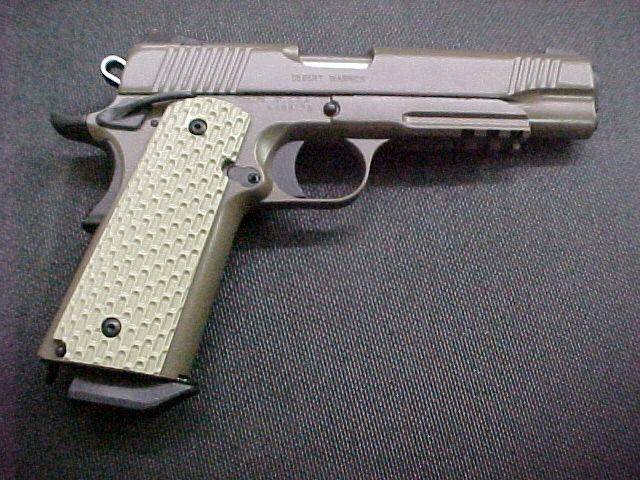 The Kimber Warrior and Desert Warrior are models that are based on a special version of the Custom that was built for the United States Marine Corps Forces Special Operations Command. The MARSOC pistol, known as the Kimber ICQB (Interim Close Quarter Battle) pistol, does not have an internal firing pin block as seen on the rest of the current Kimber Custom models, hence a "II" does not follow the Warrior or Desert Warrior's names. These pistols have an ambidextrous thumb safety, a lanyard loop, an internal extractor, and, in contrast to other Custom models, a standard length recoil spring guide rod to allow easier field stripping without tools.

The ICQB pistol is fitted with a screw-on Dawson Precision light rail, Novak LoMount tritium night sights, and brown Simonich Gunner grips. The guns were delivered to MARSOC equipped with SureFire integrated military pistol lights, Gemtech TRL tactical retention lanyards, and Wilson Combat 7 or 8 round magazines.
The Warrior and Desert Warrior have a frame-integrated M1913 light rail, Kimber Meprolight tritium night sights, and Kimber's own special grips that are very similar to the Gunner grips in coyote brown. They are delivered with Kimber factory magazines. They are otherwise the same as the ICQB pistols.
The Warrior has a matte black KimPro finish and a standard Custom trigger. The Desert Warrior comes in a green-tan KimPro finish that would blend in with desert camouflage, and has a solid trigger.

Specifications
Weight
38 ounces
Length
8.7 inches
Barrel length
5 inches
Width
1.3 inches
Height
5.3 inches
Caliber
.45 ACP
Action
semi-automatic, single action
Feed system
7, 8 or 10 round magazine
The information contained on this page is unclassified, approved for public dissemination and is released under CC-BY-SA Licensing Agreement.