Lockheed C-130 Hercules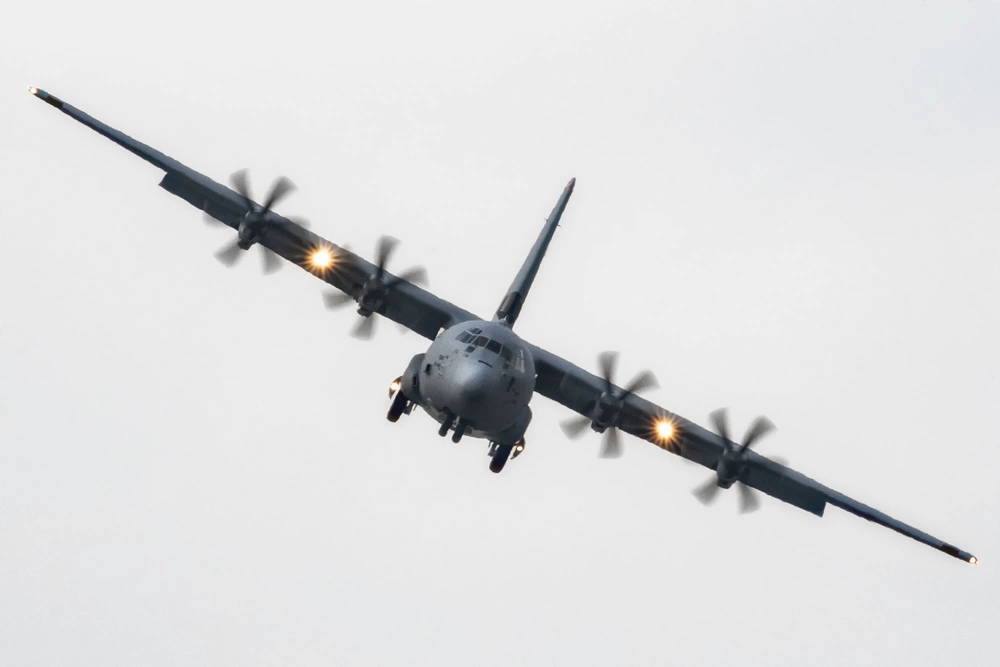 The Lockheed C-130 Hercules is a four-engine turboprop military transport aircraft designed and built originally by Lockheed, now Lockheed Martin. Capable of using unprepared runways for takeoffs and landings, the C-130 was originally designed as a troop, medical evacuation, and cargo transport aircraft. The versatile airframe has found uses in a variety of other roles, including as a gunship (AC-130), for airborne assault, search and rescue, scientific research support, weather reconnaissance, aerial refueling, maritime patrol, and aerial firefighting. It is now the main tactical airlifter for many military forces worldwide. Over 40 models and variants of the Hercules serve with more than 60 nations.
The C-130 entered service with U.S. in the 1950s, followed by Australia and others. During its years of service, the Hercules family has participated in countless military, civilian and humanitarian aid operations. The family has the longest continuous production run of any military aircraft in history. In 2007, the C-130 became the fifth aircraft—after the English Electric Canberra, Boeing B-52 Stratofortress,Tupolev Tu-95, and Boeing KC-135 Stratotanker—to mark 50 years of continuous use with its original primary customer, in this case, the United States Air Force. The C-130 is also one of the only military aircraft to remain in continuous production for over 50 years with its original customer, as the updated C-130J Super Hercules.
Role
Military transport aircraft

National origin

United States
Manufacturer
Lockheed
Lockheed Martin
First flight
23 August 1954
Introduction
9 December 1957
Status
In service
Primary users
United States Air Force
United States Marine Corps
Royal Air Force
Produced
1954-present

Number built

Over 2,300 as of 2009

Unit cost

US$62 million
Variants
AC-130 Spectre/Spooky
Lockheed DC-130
Lockheed EC-130
Lockheed HC-130
Lockheed Martin KC-130
Lockheed LC-130
Lockheed MC-130
Lockheed WC-130
Lockheed L-100 Hercules

Developed into

Lockheed Martin C-130J Super Hercules
Specifications (C-130H)
Data from USAF C-130 Hercules fact sheet, International Directory of Military Aircraft, Complete Encyclopedia of World Aircraft,Encyclopedia of Modern Military Aircraft

General characteristics
Crew: 5 (two pilots, navigator, flight engineer and loadmaster)
Capacity: **C-130E/H/J cargo hold: length, 40 feet (12.31 meters); width, 119 inches (3.12 meters); height, 9 feet (2.74 meters). Rear ramp: length, 123 inches (3.12 meters); width, 119 inches (3.02 meters)

C-130J-30 cargo hold: length, 55 feet (16.9 meters); width, 119 inches (3.12 meters); height, 9 feet (2.74 meters). Rear ramp: length, 123 inches (3.12 meters); width, 119 inches (3.02 meters)
92 passengers or
64 airborne troops or
74 litter patients with 2 medical personnel or
6 pallets or
2–3 Humvees or
2 M113 armored personnel carriers

Payload: 45,000 lb (20,400 kg)
Length: 97 ft 9 in (29.8 m)
Wingspan: 132 ft 7 in (40.4 m)
Height: 38 ft 3 in (11.6 m)
Wing area: 1,745 ft² (162.1 m²)
Empty weight: 75,800 lb (34,400 kg)
Useful load: 72,000 lb (33,000 kg)
Max. takeoff weight: 155,000 lb (70,300 kg)
Powerplant: 4 × Allison T56-A-15 turboprops, 4,590 shp (3,430 kW) each
Performance
Maximum speed: 320 knots (366 mph, 592 km/h) at 20,000 ft (6,060 m)
Cruise speed: 292 kts (336 mph, 540 km/h)
Range: 2,050 nmi (2,360 mi, 3,800 km)
Service ceiling: 33,000 ft (10,060 m) empty; 23,000 ft (7,077 m) with 42,000 pounds (19,090 kilograms) payload ()
Rate of climb: 1,830 ft/min (9.3 m/s)
Avionics
The information contained on this page is unclassified, approved for public dissemination and is released under CC-BY-SA Licensing Agreement.