Lockheed C-5 Galaxy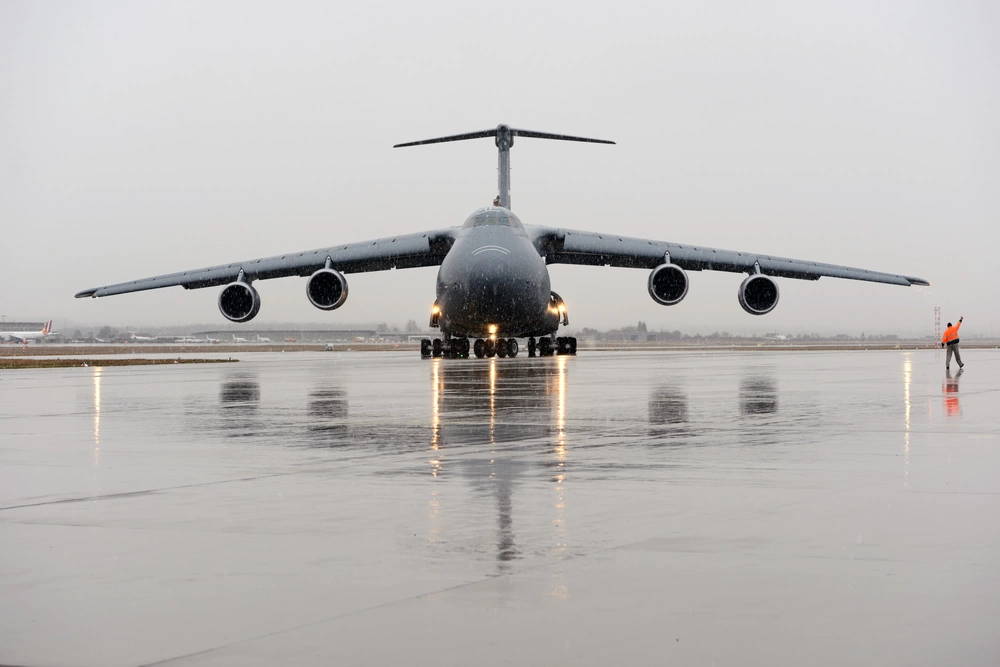 The Lockheed C-5 Galaxy is a large military transport aircraft built by Lockheed. It provides the United States Air Force (USAF) with a heavy intercontinental-range strategic airlift capability, one that can carry outsize and oversize cargos, including all air-certifiable cargo. The Galaxy has many similarities to its smaller C-141 Starlifter predecessor, and the later C-17 Globemaster. The C-5 is among the largest military aircraft in the world.
The C-5 Galaxy had a complicated development; significant cost overruns were experienced and Lockheed suffered significant financial difficulties. Shortly after entering service, fractures in the wings of many aircraft were discovered and the C-5 fleet were restricted in capability until corrective work was conducted. The C-5M Super Galaxy is an upgraded version with new engines and modernized avionics designed to extend its service life beyond 2040.
The C-5 Galaxy has been operated by USAF since 1969. In that time, it has been used to support US military operations in all major conflicts including Vietnam, Iraq, Yugoslavia and Afghanistan; as well as in support of allies, such as Israel during the Yom Kippur War and NATO operations in the Gulf War. The C-5 has also been used to distribute humanitarian aid and disaster relief, and support the US Space Shuttle program run by NASA.
Role
Strategic airlifter

National origin

United States
Manufacturer
Lockheed
First flight
30 June 1968

Introduction
June 1970
Status
In service
Primary user
United States Air Force
Produced
C-5A: 1968–1973
C-5B: 1985–1989
C-5M upgrades: 2006–present

Number built

131 (C-5A: 81, C-5B: 50)

Unit cost

C-5B: US$168 million (1987)
Design
Overview
The C-5 is a large high-wing cargo aircraft. It has a distinctive high T-tail, 25-degree wing sweep, and four TF39 turbofan engines mounted on pylons beneath the wings. The C-5 is similar in layout to its smaller predecessor, the C-141 Starlifter. The C-5 has 12 internal wing tanks and is equipped for aerial refueling. It has both nose and aft doors for "drive-through" loading and unloading of cargo. The C-5 is also known as FRED (fucking, ridiculous, economic/environmental disaster) by its crews due to its maintenance/reliability issues and large consumption of fuel.

It has an upper deck seating area for 73 passengers and two loadmasters. The passengers face the rear of the aircraft, rather than forward. Its takeoff and landing distances, at maximum gross weight, are 8,300 ft (2,500 m) and 4,900 ft (1,500 m) respectively. Its high flotation main landing gear has 28 wheels to share the weight. The rear main landing gear is steerable for a smaller turning radius and it rotates 90 degrees horizontally before it is retracted after takeoff. The "kneeling" landing gear system permits lowering of the parked aircraft so the cargo floor is at truck-bed height to facilitate vehicle loading and unloading.

The C-5 has a Malfunction Detection Analysis and Recording (MADAR) system to identify errors throughout the aircraft. Some Galaxies have a Low Pressure Pneumatic System (LPPS) that utilizes a turbo compressor driven by bleed air to provide up to 150 psi pressure for inflating the aircraft's tires. One of the unique features of the aircraft is the crosswind landing system that allows the landing gear to be offset up to 20 degrees either side of centerline; when the main landing gear was down (MLG) all the other 28 wheels would be slaved to the MLG and driven by hydraulic actuators to the same offset.

The Galaxy is capable of carrying nearly every type of the Army's combat equipment, including bulky items such as the 74 short tons (67 t) armored vehicle launched bridge (AVLB), from the United States to any location on the globe. A C-5 is capable of transporting up to six Boeing AH-64 Apaches or five Bradley Fighting Vehicles.
Operators
The C-5 is limited to military and government use. The U.S. Air Force has 94 C-5s (Active: 36, Reserve: 37, ANG: 21) in service as of October 2011.

60th Air Mobility Wing, Travis Air Force Base, California
167th Airlift Wing, (ANG), Martinsburg, West Virginia
349th Air Mobility Wing, Travis Air Force Base, California
433rd Airlift Wing, (AFRC) Lackland Air Force Base, Texas

68th Airlift Squadron
356th Airlift Squadron

436th Airlift Wing, Dover Air Force Base, Delaware
439th Airlift Wing, (AFRC) Westover Air Reserve Base, Massachusetts
512th Airlift Wing, (AFRC) Dover Air Force Base, Delaware
USAF operates 2 C-5Cs for NASA.
Specifications (C-5B)
Data from Quest for Performance, International Directory of Military Aircraft, and USAF fact sheet

General characteristics
Crew: 7 typical (aircraft commander, pilot, two flight engineers, three loadmasters)
4 minimum (pilot, copilot, two flight engineers)
Payload: 270,000 lb (122,470 kg)
Length: 247 ft 1 in (75.31 m)
Wingspan: 222 ft 9 in (67.89 m)
Height: 65 ft 1 in (19.84 m)
Wing area: 6,200 ft2 (576 m2)
Empty weight: 380,000 lb (172,370 kg)
Loaded weight: 769,000 lb (348,800 kg)
Max. takeoff weight: 840,000 lb (381,000 kg)
Powerplant: 4 × General Electric TF39-GE-1C high-bypass turbofan, 43,000 lbf (190 kN) each
Performance
Maximum speed: Mach 0.79 (503 kn, 579 mph, 932 km/h)
Cruise speed: Mach 0.77 (919 km/h)
Range: 2,400 nmi (2,760 mi, 4,440 km) with a 263,200 lb (119,400 kg) payload
Service ceiling: 35,700 ft (10,600 m) at 615,000 lb (279,000 kg) gross weight
Rate of climb: 1,800 ft/min (9.14 m/s)
Wing loading: 120 lb/ft2 (610 kg/m2)
Thrust/weight: 0.22
Takeoff roll: 8,400 ft (2,600 m)
Landing roll: 3,600 ft (1,100 m)
Fuel capacity: 51,150 US gal (193,600 L)
The information contained on this page is unclassified, approved for public dissemination and is released under CC-BY-SA Licensing Agreement.