Lockheed Martin C-130J Super Hercules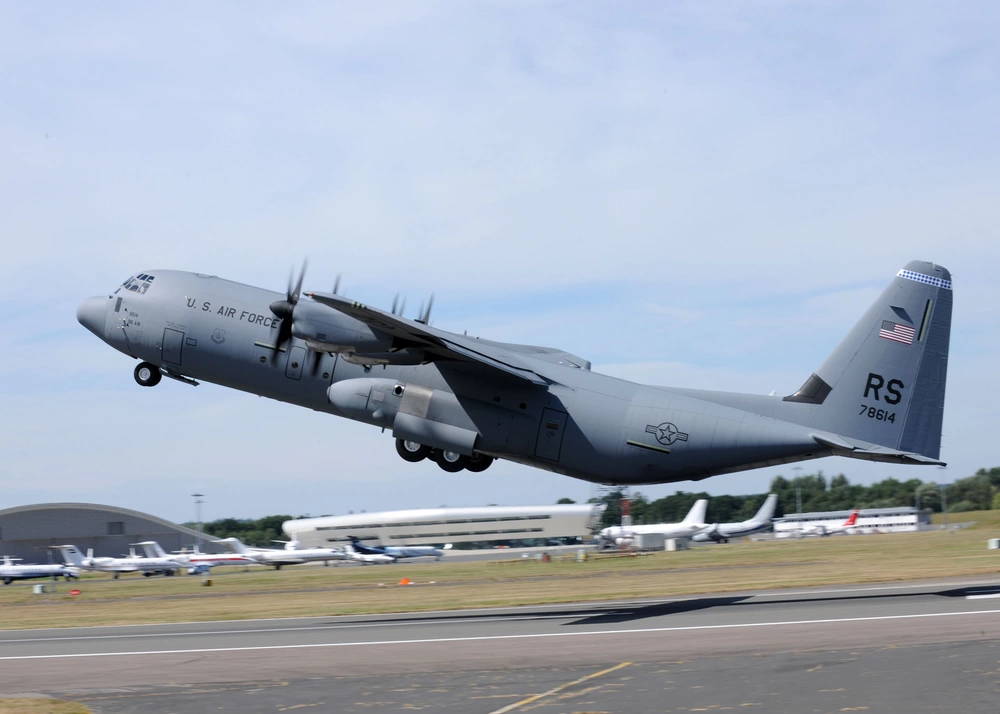 The Lockheed Martin C-130J "Super" Hercules is a four-engine turboprop military transport aircraft. The C-130J is a comprehensive update of the venerable Lockheed C-130 Hercules, with new engines, flight deck, and other systems. The Hercules family has the longest continuous production run of any military aircraft in history. During more than 50 years of service, the family has participated in military, civilian, and humanitarian aid operations. The Hercules has outlived several planned successor designs, most notably the Advanced Medium STOL Transport contestants. Fifteen nations have placed orders for a total of 300 C-130Js, of which 250 aircraft have been delivered as of February 2012.
Role
Military transport, aerial refuelling

National origin

United States
Manufacturer
Lockheed Martin
First flight
5 April 1996
Introduction
1999
Status
In service
Primary users
United States Air Force
United States Marine Corps
Royal Air Force
Italian Air Force
Produced
1996–present

Number built

250 as of 3 November 2011

Unit cost

US$70.37 million

 average cost per unit in FY1996 dollars


Developed from

Lockheed C-130 Hercules
Design and development
The C-130J is the newest version of the Hercules and the only model still in production. Externally similar to the classic Hercules in general appearance, the J-model features considerably updated technology. These differences include new Rolls-Royce AE 2100 D3 turboprops with Dowty R391 composite scimitar propellers, digital avionics (including head-up displays (HUDs) for each pilot), and reduced crew requirements. These changes have improved performance over its C-130E/H predecessors, such as 40% greater range, 21% higher maximum speed, and 41% shorter takeoff distance. The J-model is available in a standard-length or stretched -30 variant.
As a cargo and airlift aircraft, the C-130J's crew includes two pilots and one loadmaster (no navigator or flight engineer), while specialized USAF variants (e.g., AC-130J, MC-130J, HC-130J) may have larger crews, such as navigators/Combat Systems Officers. The U.S. Marine Corps KC-130J uses a crew chief for expeditionary operations. The C-130J's cargo compartment is approximately 41 feet (12.5 m) long, 9 feet (2.74 m) high, and 10 feet (3.05 m) wide, and loading is from the rear of the fuselage. The aircraft can also be configured with the "enhanced cargo handling system". The system consists of a computerized loadmaster's station from which the user can remotely control the under-floor winch and also configure the flip-floor system to palletized roller or flat-floor cargo handling. Initially developed for the USAF, this system enables rapid role changes to be carried out and so extends the C-130J's time available to complete taskings.

Lockheed Martin received the launch order for the J-model from the RAF, which ordered 25 aircraft, with first deliveries beginning in 1999 as Hercules C4 (C-130J-30) and Hercules C5 (C-130J). The standard C-130J had a flyaway cost of US$62 million in 2008.

In mid-June 2008, the United States Air Force awarded a $470 million contract to Lockheed Martin for six modified KC-130J aircraft for use by the Air Force and Special Operations Command. The contract led to C-130J variants that will replace aging HC-130s and MC-130s. The HC-130J Combat King II personnel recovery aircraft completed developmental testing on 14 March 2011. The final test point was air-to-air refueling, and was the first ever boom refueling of a C-130 where the aircraft's refueling receiver was installed during aircraft production. This test procedure also applied to the MC-130J Combat Shadow II aircraft in production for Air Force Special Operations Command.

Harvest HAWK
With the addition of the Marine Corps's ISR / Weapon Mission Kit, the KC-130J tanker variant will be able to serve as an overwatch aircraft and can deliver ground support fire in the form of Hellfire or Griffin missiles, precision-guided bombs, and eventually 30mm cannon fire in a later upgrade. This capability, designated as "Harvest HAWK" (Hercules Airborne Weapons Kit), can be used in scenarios where precision is not a requisite, such as area denial. The aircraft retains its original capabilities in refueling and transportation. The entire system can be removed within a day if necessary.

Specifications (C-130J)
Specifications are for basic J-model; data for C-130J-30 noted.
Data from USAF C-130 Hercules fact sheet, International Directory of Military Aircraft Encyclopedia of Modern Military Aircraft

General characteristics
Crew: 3 (two pilots, and one loadmaster are minimum crew)
Capacity: :* 92 passengers (128 for C-130J-30) or
64 airborne troops (92 for C-130J-30) or
6 pallets (8 pallets for C-130J-30) or
74 litter patients with 2 medical personnel (97 litters for C-130J-30)
2–3 Humvees, or 1 LAV III (with turret removed) or an M113 armored personnel carrier
Payload: 42,000 lb (19,050 kg) ; for C-130J-30: 44,000 lb/ 19,958 kg
Length: 97 ft 9 in, 29.79 m (for C-130J-30: 112 ft, 9 in, 34.36 m)
Wingspan: 132 ft 7 in (40.41 m)
Height: 38 ft 10 in (11.84 m)
Wing area: 1,745 ft² (162.1 m²)
Empty weight: 75,562 lb (34,274 kg)
Useful load: 72,000 lb (33,000 kg)
Max. takeoff weight: up to 175,000 lb (79,378 kg); normal 155,000 lb (70,305 kg)
Powerplant: 4 × Rolls-Royce AE 2100D3 turboprop, 4,637 shp (3,458 kW) each
Propellers: Dowty R391 6-blade composite propeller, 1 per engine
Performance
Maximum speed: 362 knots (417 mph, 671 km/h)
Cruise speed: 348 knots (400 mph, 643 km/h)
Range: 2,835 nmi (3,262 mi, 5,250 km)
Service ceiling: 28,000 ft (8,615 m) with 42,000 pounds (19,090 kilograms) payload
Takeoff distance: 3,127 ft (953 m) at 155,000 lb (70,300 kg) gross weight
The information contained on this page is unclassified, approved for public dissemination and is released under CC-BY-SA Licensing Agreement.