Lockheed MC-130 Special Operations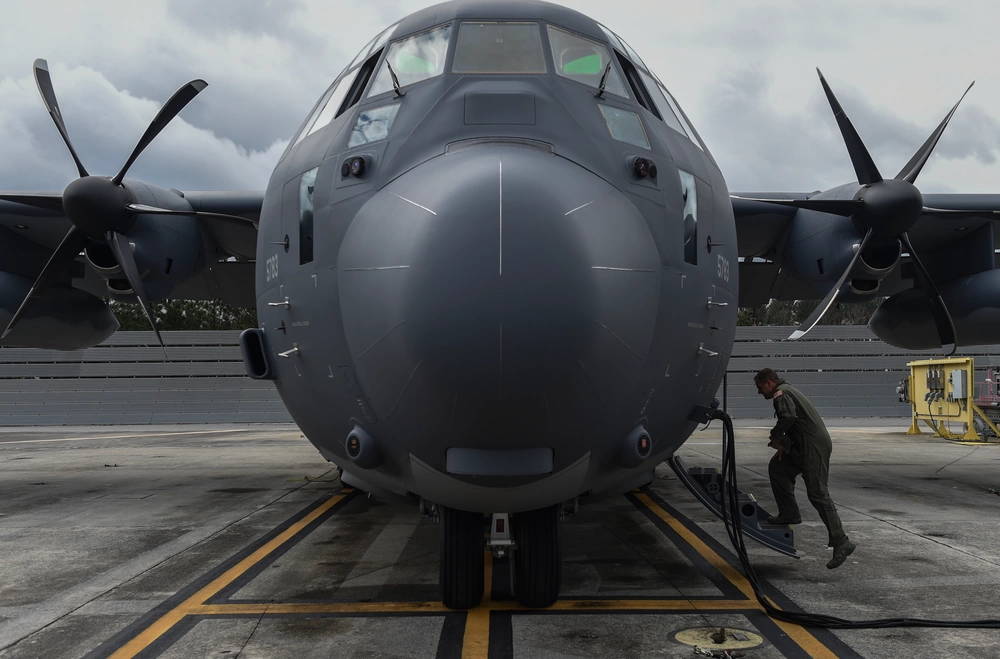 The Lockheed MC-130 is the basic designation for a family of special mission aircraft operated by the United States Air Force Special Operations Command (AFSOC), a wing of the Air Education and Training Command, and an AFSOC-gained wing of the Air Force Reserve Command. Based on the C-130 Hercules transport, their mission is the infiltration, exfiltration, and resupply of special operations forces, and the air refueling of (primarily) special operations helicopter and tilt-rotor aircraft.
Members of the family include the MC-130E Combat Talon I, MC-130H Combat Talon II, MC-130W Combat/Dragon Spear, MC-130P Combat Shadow, and MC-130J Commando II. A possible MC-130 variant, designated the XFC-130H, did not proceed beyond the development stage, but one of its aircraft became the YMC-130H test bed aircraft for the Combat Talon II. The Air Force is requesting acquisition of at least 37 new production MC-130J aircraft to replace the Combat Talon Is and Combat Shadows, with the first ten received in 2011. A total of 69 MC-130J aircraft are planned, which will eventually replace all other MC-130 variants.

The MC-130E was the first Combat Talon and was developed to support clandestine special operations missions during the Vietnam War. Eighteen were created by modifying C-130E transports, and four lost through attrition, but the remainder continue in service more than four decades after their initial modification. An updated Combat Talon II was developed in the 1980s from the C-130H variant of the Hercules and went into service in the 1990s. Four of its 24 original aircraft have been lost in operations. The Combat Spear was implemented in 2006 as a cost effective program to supplement the Combat Talon II force, based on the same airframe. The Combat Shadow is a redesignation of several HC-130s. Initially developed during the Vietnam War for search and rescue operations, 28 were diverted to AFSOC in the 1980s to provide it with organic air refueling assets.
Role
STOL Special operations military transport aircraft
Manufacturer
Lockheed Corporation
First flight
MC-130J: April 2011
Introduction
MC-130E: 1966
MC-130P: 1986
MC-130H: 1991
MC-130W: 2006
MC-130J: 2012
Retired
April 25, 2013
Status
Retired
Primary user
United States Air Force

Number built

MC-130E: 18
MC-130H: 24
MC-130P: 28
MC-130W: 12
MC-130J: 4

Unit cost

MC-130E $75 million
MC-130H $155 million
MC-130W $60 million


Developed from

C-130 Hercules
C-130J Super Hercules
General characteristics
Crew: 7
Capacity: 77 troops, 52 paratroopers or 57 litter patients
Length: 99 feet, 9 inches (30.4 meters)
Wingspan: 132 feet, 7 inches (40.4 meters)
Height: 38 feet, 6 inches (11.7 meters)
Empty weight: 72,892 pounds (32, 801 kilogram)
Max. takeoff weight: 155,000 pounds (69,750 kilogram)
Powerplant: 4 × Allison T56-A-15 turboprop, 4,910 shaft horsepower (3,660 kW) each
Performance
Cruise speed: 300 mi/hr (482 km/h)
Range: 2,700 nautical miles (4,344 kilometers)
Service ceiling: 33,000 feet (10,000 meters)
Avionics
APQ-170 TF/TA navigational radar
ARN-151 GPS link
APN-232 radar altimeter
LN-83 Inertial Navigation Unit
AAQ-15 Forward Looking Infrared imaging system
ARC-187 SatCom/data burst radio
ALQ-172 Countermeasures System (repeater-jammer)
ALQ-196 Countermeasures System
AAR-44 IRWR (missile warning receiver)
The information contained on this page is unclassified, approved for public dissemination and is released under CC-BY-SA Licensing Agreement.