M109 howitzer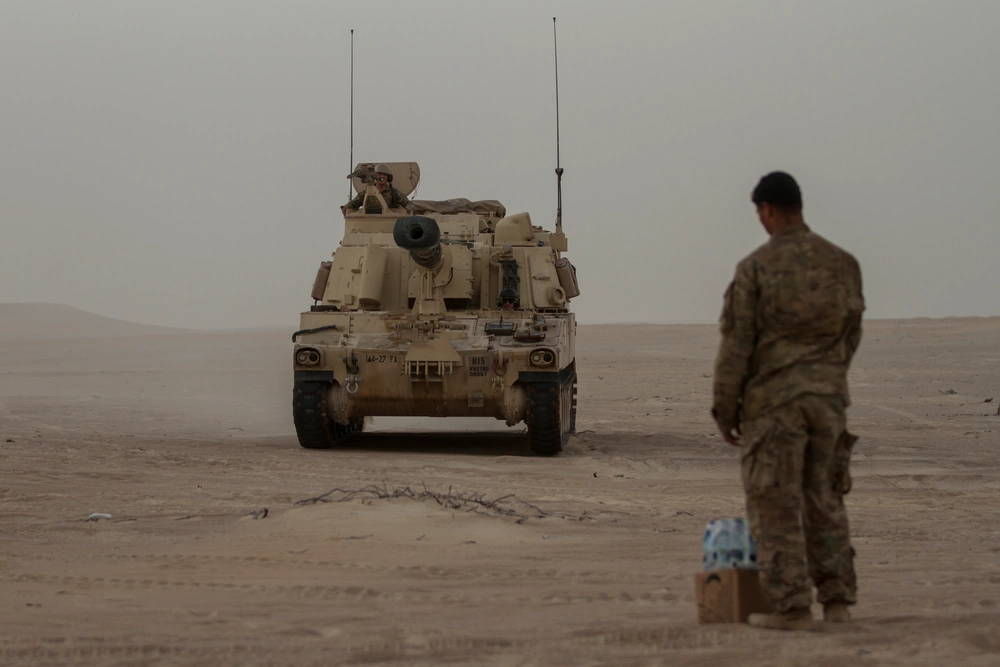 The M109 is an American-made self-propelled 155 mm howitzer, first introduced in the early 1960s. It was upgraded a number of times to today's M109A6 Paladin. The M109 family is the most common Western indirect-fire support weapon of maneuver brigades of armored and mechanized infantry divisions.
The M109 has a crew of six: the section chief, the driver, the gunner, the assistant gunner and two ammunition handlers. The gunner aims the cannon left or right (deflection), the assistant gunner aims the cannon up and down (quadrant). The M109A6 Paladin needs only a crew of four: the commander, driver, gunner and ammunition loader.
The British Army replaced its M109s with the AS-90. Several European armed forces have or are currently replacing older M109s with the German PzH 2000. Upgrades to the M109 were introduced by the U.S. (see variants below) and by Switzerland (KAWEST). With the cancellation of the U.S. Crusader, the Paladin remains the principal self-propelled howitzer for the U.S. for the foreseeable future.
The M109 was developed by the Ground System Division of United Defense LP (now BAE Systems Land and Armaments)

Armament
Primary: M126 155 mm Howitzer (M109), M126A1 155 mm Howitzer (A1), M185 155 mm Howitzer (A2/A3/A4), M284 155 mm Howitzer (A5/A6)
Secondary: .50 caliber (12.7 mm) M2 machine gun, Mk 19 Mod 3 40 mm Automatic Grenade Launcher, or 7.62 mm M60, M240 machine gun 

or 

L4 Light machine gun
Specifications
Weight
27.5 tons
Length
30 ft (9.1 m)
Width
10 ft 4 in (3.15 m)
Height
10 ft 8 in (3.25 m)
Crew
6 (2 Loaders, Gunner, Assistant Gunner, Commander, Driver)
Shell
separate loading, bagged charge
Caliber
155 mm L/39 caliber

Breech
interrupted screw
Traverse
360°
Rate of fire
Maximum: 6 rpm
Sustained: 3 rpm
Effective range
Conventional: 18 km (11 mi)
RAP: 30 km (19 mi)
Main
armament
M126 155 mm Howitzer
Secondary
armament
.50 caliber (12.7 mm) M2 machine gun
Engine
Detroit Diesel 8V71T
450 hp (335.56 kW)
Power/weight
18.7 hp/t
Suspension
torsion-bar
Operational
range
216 mi (350 km)
Speed
35 mph (56 km/h)
The information contained on this page is unclassified, approved for public dissemination and is released under CC-BY-SA Licensing Agreement.