M119 howitzer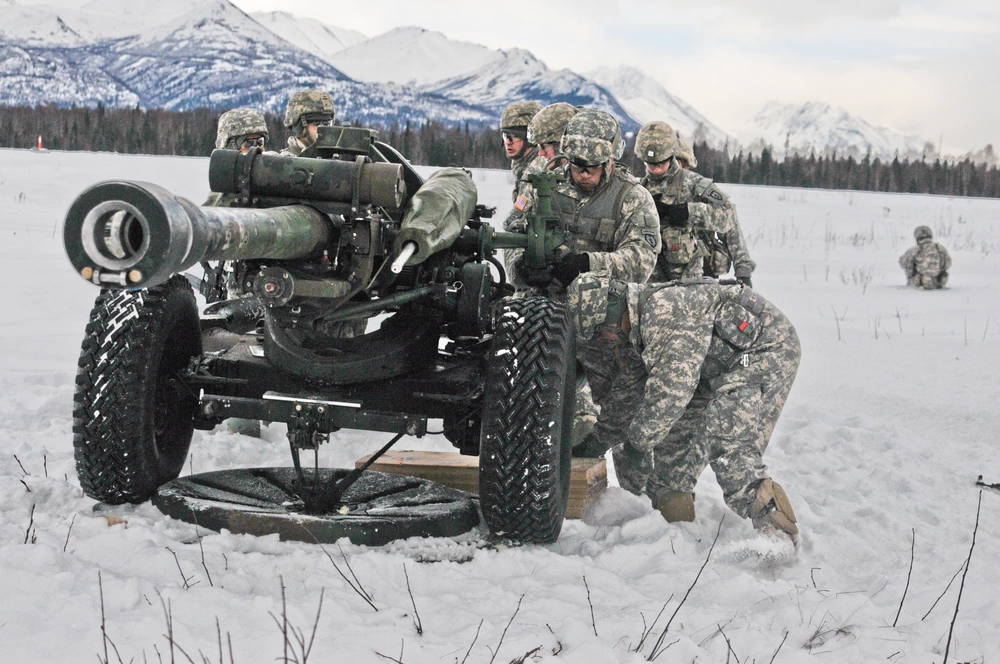 The M119 Howitzer is a lightweight 105mm howitzer used by the United States Army. It can be easily airlifted, even by helicopter, or dropped by parachute. It does not need a recoil pit.
The howitzer was designed and produced by the British Royal Ordnance Factories as the L118/L119 Light Gun. In the L118 configuration, the 105 mm ammunition is cased separate loading ammunition (not semi-fixed projectile and propelling charge as sometimes stated). The L118 entered service with the British Army in 1975 and is used by the Parachute and Commando Field Artillery Regiments. It saw combat during the Falklands War, where the 30 guns in action fired up to 400 rounds per gun per day, mostly at "Charge Super" i.e. the most powerful propellant charge available. The L119 is the L118 reconfigured to fire NATO-standard US/NATO 105 mm semi-fixed ammunition.
The M119A1 fires all standard NATO semi-fixed ammunition as well as special rocket-assisted projectiles, including:
M1 High explosive
M314 Illuminating
M60/M60A2 Smoke Cartridge
M913 HERA Range: 19.5 km
M760 HE Range: 14.5 km
Specifications (M119A1)
Weight
With BII: 4,690 lb (2,130 kg)
Without BII: 4,270 lb (1,940 kg)
Cannon alone:1,389 lb (630 kg)
Width
5 ft 10 in (1.78 m)
Height
Combat: 7 ft 3 in (2.21 m)
Travel: 4 ft 6 in (1.37 m)
Crew
5 to 7
Caliber
105 mm (4.13 in)
Elevation
-100 to +1244 mils
Traverse
Left or right 100 mils
Rate of fire
Maximum: 8 rpm for 3 minutes
Sustained: 3 rpm for 30 minutes
Maximum range
Charge 7: 7.2 mi (11.6 km)
Charge 8: 8.5 mi (13.7 km)
M195 RAP: 12.1 mi (19.5 km)
Sights
3 × M90A2 telescope, M137A1 panoramic telescope
The information contained on this page is unclassified, approved for public dissemination and is released under CC-BY-SA Licensing Agreement.