M25 Gen3 Sniper Weapon System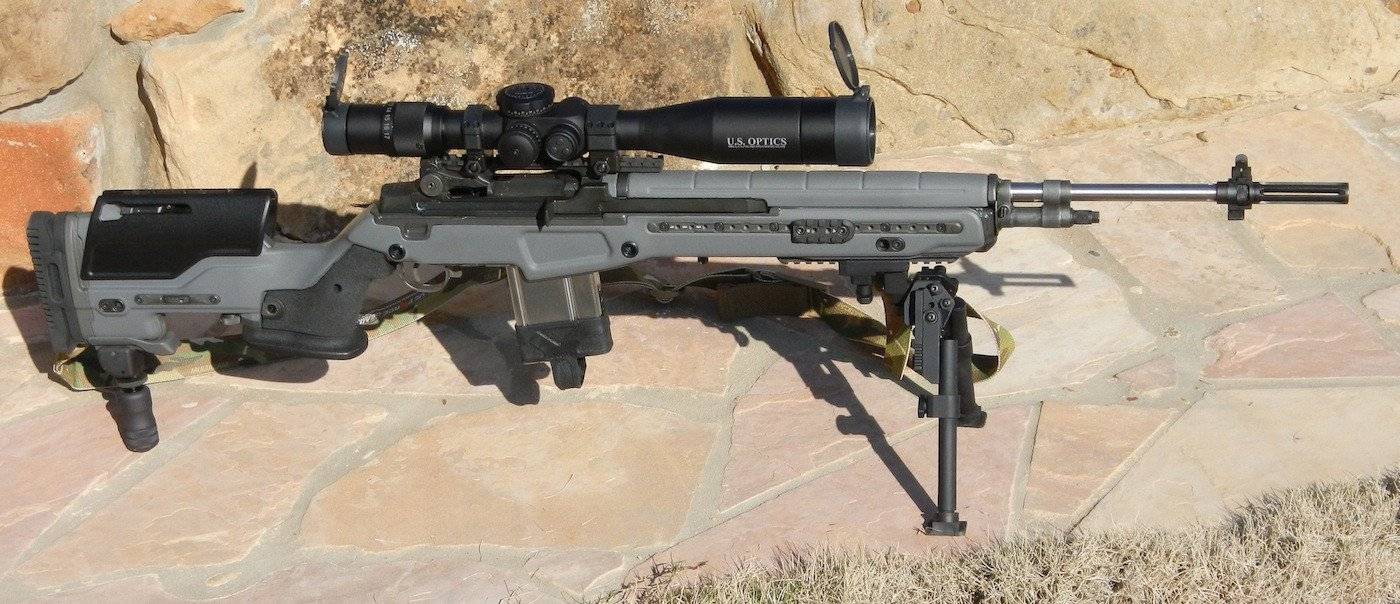 The M25 Gen3 Sniper Weapon System is a joint venture sniper rifle built for the U.S. Army Special Forces and the U.S. Navy SEALs. It was originally developed by the 10th Special Forces Group, based at Fort Devens, Mass., to fulfill a challenge for a sniper rifle based on a match grade M14 that satisfied the requirements of the Army Special Forces and the Navy SEALs. SOCOM called the rifle the "Light Sniper Rifle", and it is also known as the "Sniper Security System" and "Product Improved M21". The commercial version has been named "White Feather" in honor of Carlos Hathcock, the U.S. Marine Corps sniper who became famous during the Vietnam War. (The enemy called him "White Feather" because he wore a white feather on his hat and offered a large bounty for his death or capture.)
The M25 is similar in many ways to the M21. It has a National Match M14 barrel in a McMillan glass bedded fiberglass stock, uses a special gas piston, a National Match spring guide and a Brookfield Precision Tool Advanced Scope Mounting System. Most rifles use the Bausch & Lomb 10× Tactical scope; some use scopes made by Leupold & Stevens, including the Ultra Mark 4 M1, Ultra Mark 4 M3, and Vari X-III LR M3. Suppressors for use with this rifle are manufactured by OPS.
The M25 is not a replacement rifle for the M24 Sniper Weapon System; it was designed to fill a specific need and has been used from the Gulf War onwards.
Specifications
Weight
4.9 kg (11 lb)
Length
1,125 mm (44.3 in)
Barrel length
560 mm (22 in)
Cartridge
7.62x51mm NATO (.308 Winchester)
Action
Rotating bolt, Gas operated, Air cooled
Rate of fire
semi-automatic
Maximum range
900 m (980 yd)
Feed system
Box Magazine
Sights
Bausch & Lomb Tactical 10×40
The information contained on this page is unclassified, approved for public dissemination and is released under CC-BY-SA Licensing Agreement.