M40 rifle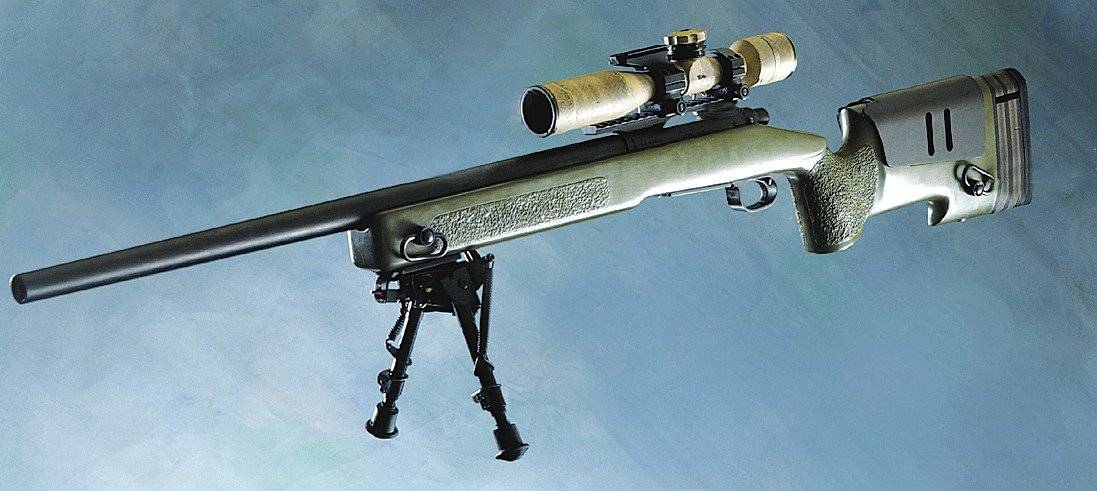 The M40 is a bolt-action sniper rifle used by the United States Marine Corps. It has had four variants—the M40, M40A1, M40A3, andM40A5. The M40 was introduced in 1966. The changeover to the A1 model was completed in the 1970s, the A3 in the 2000s (decade), and the A5 in 2009.

Each M40 is built from a Remington 700 bolt-action rifle, and is modified by USMC armorers at Marine Corps Base Quantico, using components from a number of suppliers. New M40A5s are being built, and A1s are upgraded to A3s and A5s as they rotate into the armory for service and repair. The rifles have had many sub-variations in telescopic sights, and smaller user modifications. The M40A5 incorporates a detachable magazine and a threaded barrel to allow for the use of a sound suppressor or other muzzle device.
The original M40 was a military type-classified version of the Remington 700; it was factory-made, and had a one-piece wooden stock.The M40A1 and A3 switched to fiberglass stocks made by McMillan, with new scopes. The trigger pull on both models (M40A1/A3) is 3–5 lb (1.4–2.3 kg).
Specifications
Weight
M40A1: 6.57 kg (14.48 lb)
M40A3: 7.5 kg (16.5 lb)
Length
M40A1: 1,117 mm (43.97 in)
M40A3: 1,124 mm (44.25 in)
Barrel length
610 mm (24 in) (1:12 right hand twist)
M40A1: Hart (6 lands and grooves)
M40A3: Schneider Match Grade SS #7 (6 lands and grooves)
Cartridge
7.62×51mm NATO
Action
Bolt action
Muzzle velocity
777 m/s (2,550 ft/s) (w/175 gr. M118LR)
Effective range
900 m (1000 yd)
Feed system
5-round integral box magazine (M40, M40A1, M40A3)
10-round removable box magazine (M40A5)
Sights
Scout Sniper Day Scope (SSDS)— Premier Reticles Heritage 3-15×50mm Tactical.
The information contained on this page is unclassified, approved for public dissemination and is released under CC-BY-SA Licensing Agreement.