M60 AVLB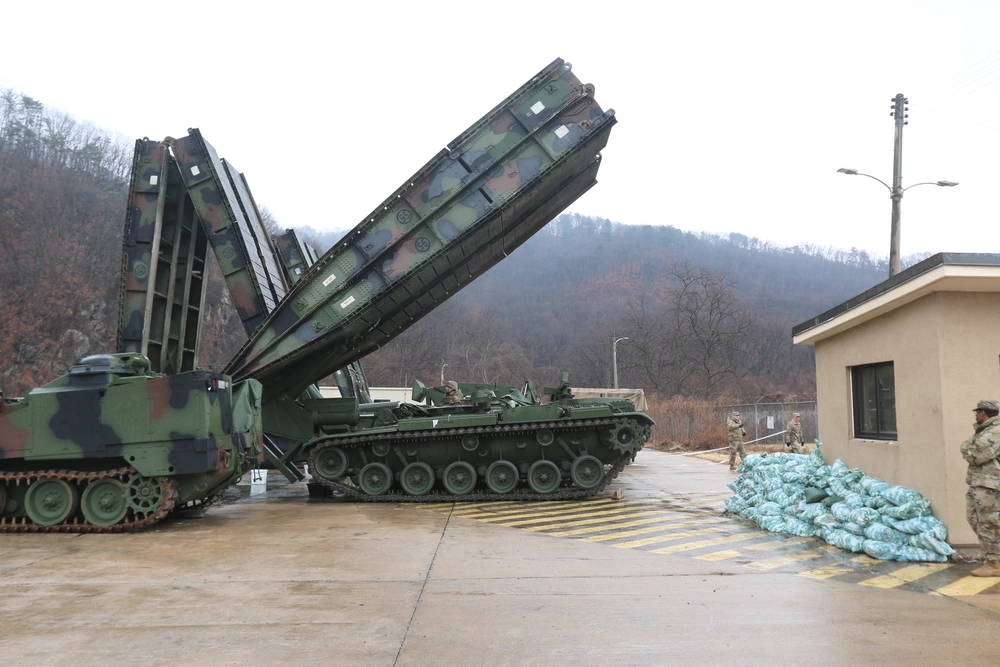 The M60 AVLB is an armored vehicle based on the M60 Patton main battle tank chassis used for the launching and retrieval of a 60 feet (18 m) scissors-type bridge. The AVLB consists of three major sections: the launcher, the vehicle hull, and the bridge.
The M60 AVLB is based on a M60 Patton tank chassis, but instead of the tank's gun turret, it is equipped with a bridge launcher integrated into the chassis and mounted on top. When emplaced, the bridge is capable of supporting tracked and wheeled vehicles with a military load bearing capacity up to Class 60. The bridge can be retrieved from either end. The roadway width of the AVLB is 12 feet 6 inches (3.81 m). During deployments, bridge emplacement can be accomplished in 2 minutes, and retrieval can be accomplished in 10 minutes under armor protection.
Specifications
Weight
Loaded: 56.6 short tons (51.3 t)
Length
Overall: 9.44 metres (31 ft 0 in)
Width
3.66 m (12 ft 0 in)
Height
3.3 m (10 ft 10 in)
Crew
2 (Commander and driver)
Main
armament
None
Secondary
armament
None
Engine
Continental (now General Dynamics) AVDS-1790-2DR V12, air-cooled Twin-turbo diesel engine
750 horsepower (560 kW)
Power/weight
13.2 hp/t
Payload capacity
1× scissors-type folding bridge
Transmission
CD-850-6A 2 speeds forward, 1 reverse
Suspension
Torsion bar suspension
Ground clearance
457 mm (1 ft 6.0 in)
Fuel capacity
1,419 litres (312 imp gal; 375 US gal)
Operational
range
290 miles (470 km)
Speed
30 miles per hour (48 km/h)
The information contained on this page is unclassified, approved for public dissemination and is released under CC-BY-SA Licensing Agreement.