M67 Grenade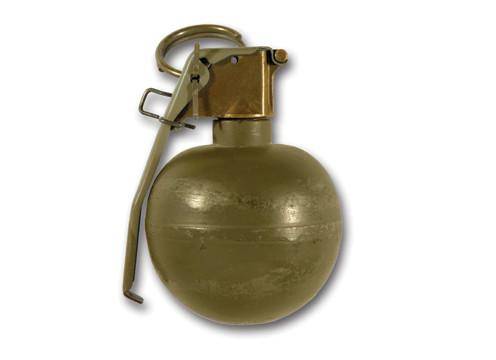 The M67 grenade is a fragmentation hand grenade used by the United States military. The M67 is a replacement for the M26-series grenades used during the Korean and Vietnam Wars, and the older Mk 2 "pineapple" grenade used since World War II.
The M67 grenade has a spherical steel body that contains 6.5 ounces of composition B explosive. The M213 fuse is specifically designed for use with the M67 fragmentation grenade. The M67 grenade weighs 14 ounces in total and has a safety clip to prevent the pin on the grenade from being pulled accidentally. The pin prevents the lever, or "spoon" on the grenade from flipping off and arming the fuse on the grenade.
The M67 can be thrown 30 to 35 meters by the average male soldier. It has a 3 second fuse that ignites explosives packed inside a round body. Steel fragments (not to be confused with shrapnel) are provided by the grenade body and produce an injury radius of 15 meters (~45 ft), with a fatality radius of 5 meters (~15 ft), though some fragments can disperse as far out as 250 meters (~820 ft).

Specifications
Weight
14 oz (400 g)
Length
3.53 in (88 mm)
Diameter
2.5 in (64 mm)
Filling
Composition B
Filling weight
6.5 oz (180 g)
Detonation
mechanism
Pyrotechnic delay M213 fuse—4 seconds
The information contained on this page is unclassified, approved for public dissemination and is released under CC-BY-SA Licensing Agreement.