M9 Armored Combat Earthmover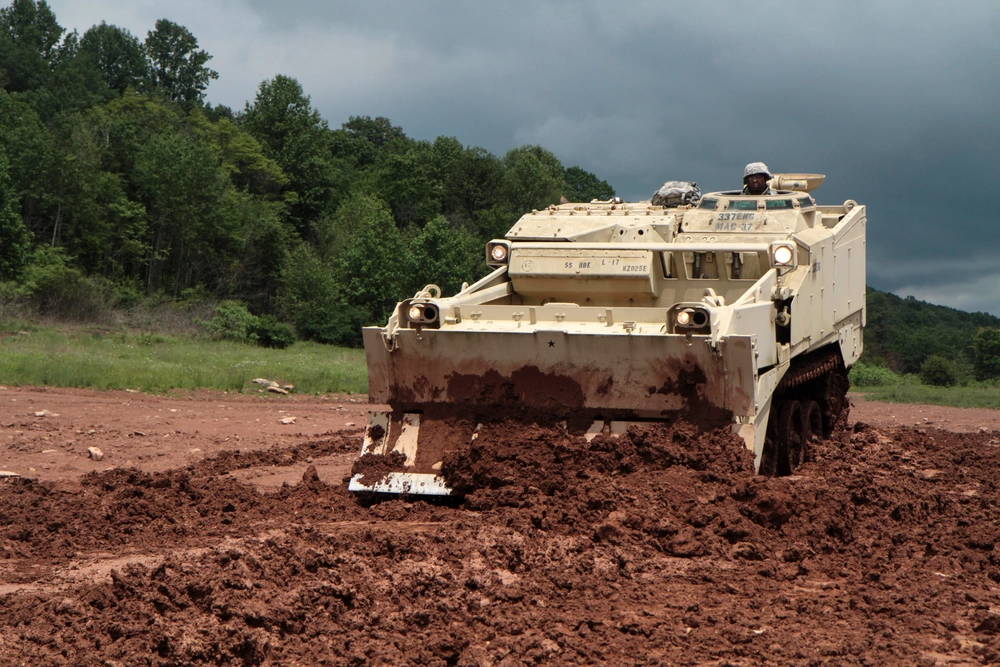 The M9 (ACE) Armored Combat Earthmover is a highly mobile armored tracked vehicle that provides combat engineer support to front-line forces. Fielded by the United States Army, its tasks include eliminating enemy obstacles, maintenance and repair of roads and supply routes, and construction of fighting positions.
During initial and subsequent procurements, insufficient funds were available to purchase all of the ACEs required. A total of 448 systems have been fielded, with 57 additional ACEs needed to complete fielding to 87 percent of Force Package II and prepositioned stocks. In addition Phase III of the System Improvement Plan has yet to be started. This phase includes a variety of track, hull and blade enhancements. A microclimatic cooling system is planned to be fielded FY 96. System Improvement Plan Phase I & II is complete. Phase III & IV is under development.
The M9 ACE System Improvement Plan (SIP) is a multi-phased program designed to improve the performance, durability, readiness and MANPRINT characteristics of the vehicle. The multi-phased nature of the program is necessitated by the available funding stream. SIP Phase 1 consisted of: bolt-on front track retainers, steel skid plates, high pressure hydraulic filters, battery box deflector, scarifier blade uplocks, scarifier blade for half the fleet, inserts for improved winches, ejector debris shield, and modified rear bump stops. Kits were applied at units by depot and DOL teams during 1993 and early 1994. SIP Phase 2 consists of: thicker roadarm retainers, preformed radiator hoses, lengthened oil drain line, redesigned parking brake linkage and steering rod, vent fan filter, tachometer/speedometer grease fittings, inclinometers, and steel CB/GS linkage. They are funded for and installed by units or through attrition.
Specifications
Weight
24.4 metric tons, or 36,001 lbs

Length
6.25 m
Width
3.2 m
Height
2.7 m
Crew
3
Armor
Classified, resistant to shell splinters and small arms fire, NBC protection
Main
armament
Smoke dischargers
Secondary
armament
None
Engine
Cummins V903C, 8 cylinder, diesel
220 hp (220 kW)
Suspension
Hydropneumatic
Operational
range
322 km or 200 miles
Speed
48 km/h or 30 mi/h
The information contained on this page is unclassified, approved for public dissemination and is released under CC-BY-SA Licensing Agreement.