MAUL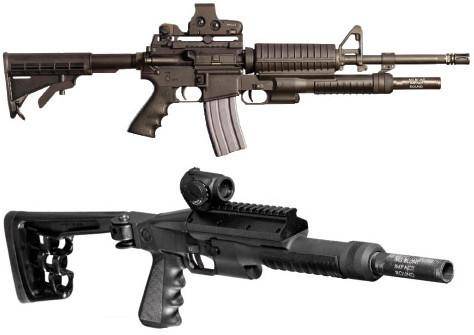 The Multi-shot Accessory Underbarrel Launcher, or MAUL, is an ultra-lightweight semi-automatic shotgun manufactured by Brisbane-based company Metal Storm. A range of lethal: buckshot and slug, and non-lethal: blunt impact, door breaching, and frangible munitions come preloaded in 5 round "stacked projectiles" munition tubes. With a 12-gauge bore and weighing less than 800 grams (1.8 lb), it is designed to be used as an underslung module of a combat rifle such as M4 or M16, but may be used as a standalone.

MAUL uses Metal Storm's patented stacked round system to eliminate the mechanical action associated with conventional 12 gauge weapons. Operators can load up to 5 rounds in less than 2 seconds, and fire repeatedly without cycling a conventional action. When used as an underslung complimentary to the primary weapon, the MAUL is aligned to the host gun sighting system, providing a choice of munitions using only the single sighting system.
For military operations, the underslung MAUL is designed to expand the mission capabilities of an assault weapon while having minimal effect on the weight and balance of the primary weapon. MAUL provides instantaneous access to door breaching, non-lethal force and also a backup lethal weapon if primary weapon fails.
For law enforcement operators, the under-slung MAUL adds non-lethal, shotgun and door breaching capabilities to a conventional weapon system while the optional lightweight shoulder stock and pistol grip attachments allow for an ultra-lightweight stand-alone 12 gauge weapon if desired.
Specifications
Weight
0.8 kilograms (1.8 lb)
Cartridge
5 round stacked projectile munition tube
Caliber
12 gauge
Action
semi automatic
Feed system
stacked projectile
The information contained on this page is unclassified, approved for public dissemination and is released under CC-BY-SA Licensing Agreement.