McDonnell Douglas F-15 Eagle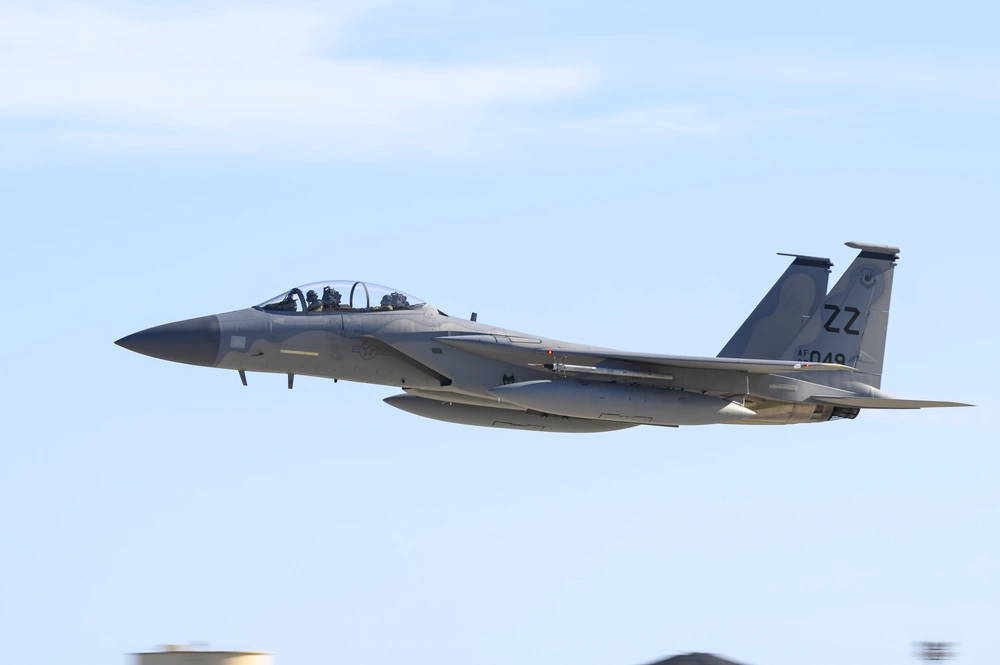 The McDonnell Douglas (now Boeing) F-15 Eagle is a twin-engine, all-weather tactical fighter designed by McDonnell Douglas to gain and maintain air superiority in aerial combat. It is considered among the most successful modern fighters, with over 100 aerial combat victories with no losses in dogfights. Following reviews of proposals, the United States Air Force selected McDonnell Douglas' design in 1967 to meet the service's need for a dedicated air superiority fighter. The Eagle first flew in July 1972, and entered service in 1976.
Since the 1970s, the Eagle has been exported to Israel, Japan, Saudi Arabia, and other nations. The F-15 was originally envisioned as a pure air superiority aircraft. Its design included a secondary ground-attack capability that was largely unused. The design proved flexible enough that an all-weather strike derivative, the F-15E Strike Eagle, was later developed, and entered service in 1989. The F-15 Eagle is expected to be in service with the U.S. Air Force past 2025. F-15 versions are still being produced for foreign users, with the F-15 production line set to end in 2019, 47 years after the type's first flight.
Role
Air superiority fighter
Manufacturer
McDonnell Douglas
Boeing Defense, Space & Security
First flight
27 July 1972
Introduction
9 January 1976
Status
Active
Primary users
United States Air Force
Japan Air Self-Defense Force
Royal Saudi Air Force
Israeli Air Force

Number built

F-15A/B/C/D/J/DJ: 1,198


Unit cost

F-15A/B: US$28 million (1998)
F-15C/D: US$30 million (1998)

Variants
McDonnell Douglas F-15E Strike Eagle
McDonnell Douglas F-15 STOL/MTD
Boeing F-15SE Silent Eagle
Mitsubishi F-15J
F-15E Strike Eagle Variant
The McDonnell Douglas (now Boeing) F-15E Strike Eagle is an all-weather multirole fighter, derived from the McDonnell Douglas F-15 Eagle. The F-15E was designed in the 1980s for long-range, high speed interdiction without relying on escort or electronic warfare aircraft.United States Air Force (USAF) F-15E Strike Eagles can be distinguished from other U.S. Eagle variants by darker camouflage and conformal fuel tanks mounted along the engine intakes.
The Strike Eagle has been deployed for military operations in Iraq, Afghanistan, and Libya. During these operations the F-15E has carried out deep strikes against high-value targets, combat air patrols, and providing close air support for coalition troops. It has also seen action in later conflicts and has been exported to several countries.
Design
Overview
The F-15 has an all-metal semi-monocoque fuselage with a large cantilever shoulder-mounted wing. The empennage is metal and composite construction, with twin aluminum/composite honeycomb fins with boron-composite skins, resulting in an exceptionally thin tailplane and rudders with all-moving composite horizontal tail surfaces outboard of the fins. The F-15 has a spine-mounted air brake and retractable tricycle landing gear. It is powered by two Pratt & Whitney F100 axial-flow turbofan engines with afterburners mounted side-by-side in the fuselage. The cockpit is mounted high in the forward fuselage with a one-piece windscreen and large canopy to increase visibility.
The F-15's maneuverability is derived from low wing loading (weight to wing area ratio) with a high thrust-to-weight ratio enabling the aircraft to turn tightly without losing airspeed. The F-15 can climb to 30,000 ft (10,000 m) in around 60 seconds. The thrust output of the dual engines is greater than the aircraft's weight, thus giving it the ability to accelerate in a vertical climb. The weapons and flight control systems are designed so that one person can safely and effectively perform air-to-air combat. The A and C-models are single-seat variants; these were the main air superiority versions produced. B and D-models add a second seat behind the pilot for training. E-models use the second seat for a weapon systems officer. Visibly, the F-15 has a unique feature vis a vis other modern fighter aircraft in that it does not have the distinctive turkey feather aerodynamic exhaust petals covering its engine nozzles. This is because the petal design on the F-15 was problematic and could fall off in flight; therefore they were removed, resulting in a 3% drag increase.

Avionics
A multi-mission avionics system includes a heads-up display (HUD), advanced radar, inertial guidance system (INS), flight instruments, ultra high frequency (UHF) communications, and Tactical Air Navigation (TACAN) and Instrument Landing System (ILS) receivers. It also has an internally mounted, tactical electronic-warfare system, identification, friend or foe (IFF) system, electronic countermeasures suite and a central digital computer.

The heads-up display projects, through a combiner, all essential flight information gathered by the integrated avionics system. This display, visible in any light condition, provides the pilot information necessary to track and destroy an enemy aircraft without having to look down at cockpit instruments.

The F-15's versatile APG-63/70 pulse-Doppler radar system can look up at high-flying targets and down at low-flying targets without being confused by ground clutter. It can detect and track aircraft and small high-speed targets at distances beyond visual range (the maximum being 120 nautical miles (220 km) away) down to close range, and at altitudes down to treetop level. The radar feeds target information into the central computer for effective weapons delivery. The capability of locking onto targets as far as 50 nautical miles (90 km) with an AIM-120 AMRAAM missile enables true beyond visual range (BVR) engagement of targets. For close-in dogfights, the radar automatically acquires enemy aircraft, and this information is projected on the heads-up display. The F-15's electronic warfare system provides both threat warning and automatic countermeasures against selected threats.

Weaponry and external stores
A variety of air-to-air weaponry can be carried by the F-15. An automated weapon system enables the pilot to perform aerial combat safely and effectively, using the head-up display and the avionics and weapons controls located on the engine throttles or control stick. When the pilot changes from one weapon system to another, visual guidance for the required weapon automatically appears on the head-up display.

The Eagle can be armed with combinations of four different air-to-air weapons: AIM-7F/M Sparrow missiles or AIM-120 AMRAAM advanced medium range air-to-air missiles on its lower fuselage corners, AIM-9L/M Sidewinder or AIM-120 AMRAAM missiles on two pylons under the wings, and an internal M61A1 20 mm Gatling gun in the right wing root.

Low-drag conformal fuel tanks (CFTs) were developed for the F-15C and D models. They can be attached to the sides of the engine air intake trunks under each wing and are designed to the same load factors and airspeed limits as the basic aircraft. They degrade performance by increasing drag and cannot be jettisoned in-flight (unlike conventional external tanks). Each conformal fuel tank can hold 750 U.S. gallons(2,840 L) of fuel. These tanks increase range and reduce the need for in-flight refueling. All external stations for munitions remain available with the tanks in use. Moreover, Sparrow or AMRAAM missiles can be attached to the corners of the conformal fuel tanks. The 57 FIS based at Keflavik NAS, Iceland was the only C-model squadron to use CFTs on a regular basis due to its extended operations over the North Atlantic. With the closure of the 57 FIS, the F-15E is the only variant to carry them on a routine basis. CFTs have also been sold to Israel and Saudi Arabia.
Upgrades
The F-15E Strike Eagle is a two-seat, dual-role, totally integrated fighter for all-weather, air-to-air and deep interdiction missions. The rear cockpit is upgraded to include four multi-purpose CRT displays for aircraft systems and weapons management. The digital, triple-redundant Lear Siegler flight control system permits coupled automatic terrain following, enhanced by a ring-laser gyro inertial navigation system. For low-altitude, high-speed penetration and precision attack on tactical targets at night or in adverse weather, the F-15E carries a high-resolution APG-70 radar and LANTIRN pods to provide thermal imagery.

The APG-63(V)2 Active Electronically Scanned Array (AESA) radar has been retrofitted to 18 U.S. Air Force F-15C aircraft. This upgrade includes most of the new hardware from the APG-63(V)1, but adds an AESA to provide increased pilot situational awareness. The AESA radar has an exceptionally agile beam, providing nearly instantaneous track updates and enhanced multi-target tracking capability. The APG-63(V)2 is compatible with current F-15C weapon loads and enables pilots to take full advantage of AIM-120 capabilities, simultaneously guiding multiple missiles to several targets widely spaced in azimuth, elevation, or range.
Specifications (F-15C)
Data from USAF fact sheet, Jane's All the World's Aircraft, Combat Legend, F-15 Eagle and Strike Eagle

General characteristics
Crew: 1: pilot
Length: 63 ft 9 in (19.43 m)
Wingspan: 42 ft 10 in (13.05 m)
Height: 18 ft 6 in (5.63 m)
Wing area: 608 ft² (56.5 m²)
Airfoil: NACA 64A006.6 root, NACA 64A203 tip
Empty weight: 28,000 lb (12,700 kg)
Loaded weight: 44,500 lb (20,200 kg)
Max. takeoff weight: 68,000 lb (30,845 kg)
Powerplant: 2 × Pratt & Whitney F100-100 or −220 afterburning turbofans

Dry thrust: 17,450 lbf (77.62 kN) each
Thrust with afterburner: 25,000 lbf for −220 (111.2 kN for −220) each
Performance
Maximum speed:


High altitude: Mach 2.5+ (1,650+ mph, 2,665+ km/h)
Low altitude: Mach 1.2 (900 mph, 1,450 km/h)

Combat radius: 1,061 nmi (1,222 mi, 1,967 km) for interdiction mission
Ferry range: 3,450 mi (3,000 nmi, 5,550 km) with conformal fuel tanks and three external fuel tanks
Service ceiling: 65,000 ft (20,000 m)
Rate of climb: >50,000 ft/min (254 m/s)
Wing loading: 73.1 lb/ft² (358 kg/m²)
Thrust/weight: 1.12 (−220)
Armament
Guns: 1× 20 mm (0.787 in) M61 Vulcan 6-barreled Gatling cannon, 940 rounds
Hardpoints: Total 11 (not including CFTs): two under-wing (each with additional two missile launch rails), four under-fuselage (for semi-recessed carriage of AIM-7 Sparrows) and a single centerline pylon station, optional fuselage pylons (which may include conformal fuel tanks, known initially as Fuel And Sensor Tactical (FAST) pack for use on the C model) with a capacity of 16,000 lb (7,300 kg) and provisions to carry combinations of:

Missiles:


4× AIM-7 Sparrow
4× AIM-9 Sidewinder
8× AIM-120 AMRAAM

Bombs:


Mark 82
Mark 84
GBU-10
GBU-31

Other:

Avionics
The information contained on this page is unclassified, approved for public dissemination and is released under CC-BY-SA Licensing Agreement.