MD Helicopters MH-6 Little Bird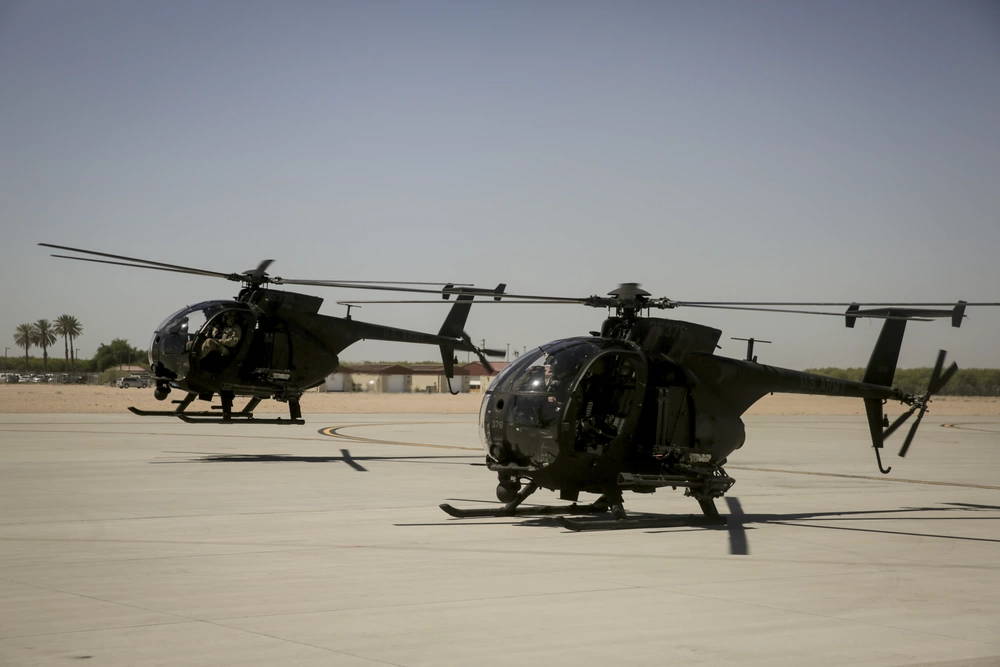 The MH-6 Little Bird (nicknamed the Killer Egg), and its attack variant AH-6, are light helicopters used for special operations in the United States Army. Originally based on a modified OH-6A, it was later based on the MD 500E, with a single five-bladed main rotor. The newest version, the MH-6M, is based on the MD 530F and has a single, six-bladed main rotor and four-bladed tail rotor.
Role
Light Observation Helicopter
Air interdiction
Forward air control
Special Patrol Insertion/Extraction
Manufacturer
MD Helicopters
First flight
27 February 1963
Introduction
1980
Status
Active service
Primary user
United States Army

Developed from

OH-6 Cayuse
Variants
MD 500 Defender
Boeing AH-6
The A/MH-6 was started in 1960, when the U.S. Army issued Technical Specification 153 for a Light Observation Helicopter (LOH) that could perform personnel transport, escort and attack missions, casualty evacuation, and observation. Twelve companies took part in the competition and Hughes Tool Company's Aircraft Division submitted the Model 369. Two designs, those submitted by Fairchild-Hiller and Bell, were selected as finalists by the Army-Navy design competition board, but the Army later included the helicopter from Hughes as well.
The first Model 369 prototype flew on 27 February 1963. Originally designated the YHO-6A under the Army's designation system, the aircraft was redesignated the YOH-6A under the Department of Defense's new joint system in 1962. Five prototypes were built, fitted with a 252 shp (188 kW) Allison T63-A-5A, and delivered to the U.S. Army at Fort Rucker, Alabama to compete against the other 10 prototype aircraft submitted by Bell and Fairchild-Hiller. In the end, Hughes won the competition and the Army awarded a contract for production in May 1965. The initial order was for 714 aircraft, but that was later increased to 1,300 with an option to buy another 114. Seventy helicopters were built in the first month.
This agile, unarmed helicopter is outfitted with outboard "benches" designed to ferry up to three commandos on each side. There is also a gunship variant, the AH-6. Painted black for nighttime operations, this small aircraft can conduct rapid insertions and extractions of special operations forces into areas its larger brother, the MH-60 Black Hawk, cannot.
Specifications (MH-6)
Data from U.S. Army Aircraft, MD 530F data

General characteristics
Crew: 2
Capacity: up to 6 passengers for MH-6s
Length: 32.6 ft (9.80 m)
Rotor diameter: 27.4 ft (8.30 m)
Height: 9.8 ft (3.0 m)
Empty weight: 1,591 lb (722 kg)
Useful load: 1,509 lb (684 kg)
Max. takeoff weight: 3,100 lb (1,406 kg)
Powerplant: 1 × One T63-A-5A or T63-A-700 turboshaft, 425 shp (317 kW)  takeoff power (derated); 375 shp (280 kW) continuous power
Fuselage Length: 24.6 ft (7.50 m)
Fuselage Width: 4.6 ft (1.4 m)
Rotor systems: 6 blades on main rotor, 4 blades on tail rotor
Useful fuel capacity: 62 US gal (242 L) or 403 lb (183 kg)
Performance
Maximum speed: 152 knots (175 mph, 282 km/h)
Cruise speed: 135 knots (155 mph, 250 km/h)
Range: 232 nmi (430 km, 267 mi) at 5,000 ft
Service ceiling: 18,700 ft (5,700 m)
Rate of climb: 2,061 ft/min (10.5 m/s)
Armament
Guns:


1× 30 mm (1.18 in) M230 Chain Gun; or
2× 12.7 mm (.50 cal) GAU-19; or
2× 7.62 mm (0.30 in) M134 Minigun

Rockets:


2× LAU-68D/A 7-tubes rocket pods firing 2.75 in (70 mm) Hydra 70 rocket projectiles

Missiles:


Anti-tank guided missile: 2× AGM-114 Hellfire
Anti-air missile: 2× FIM-92 Stinger for self-defense
The armed variant is equipped with a lightweight universal mounting platform which can accommodate two M134 miniguns, two M260 7-shot Hydra 70 rocket pods. Alternately, the AH-6 can be armed with Hellfire anti-tank missiles, air-to-air Stingers, Mk-19 40 mm automatic grenade launchers, or .50 caliber machine guns.

The information contained on this page is unclassified, approved for public dissemination and is released under 

CC-BY-SA Licensing Agreement

.