MIM-104 Patriot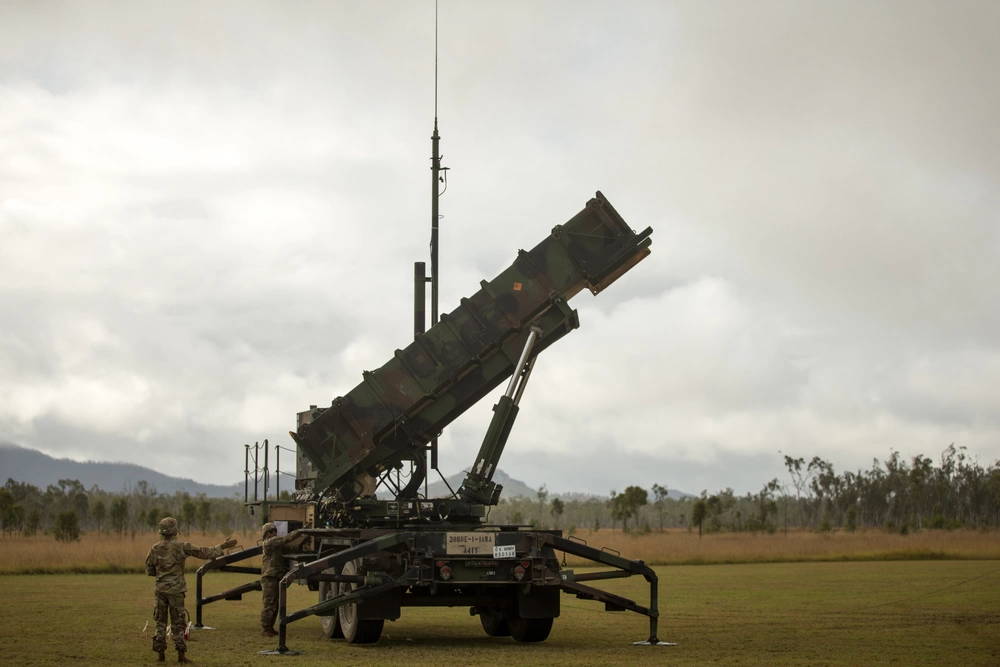 The MIM-104 Patriot is a surface-to-air missile (SAM) system, the primary of its kind used by the United States Army and several allied nations. It is manufactured by the Raytheon Company of the United States, and derives its name from the Radar component of the weapon system. The AN/MPQ-53 at the heart of the system is known as the "Phased Array Tracking Radar to Intercept On Target" or the acronym PATRIOT. The Patriot System replaced the Nike Hercules system as the U.S. Army's primary High to Medium Air Defense (HIMAD) system, and replaced the MIM-23 Hawk system as the U.S. Army's medium tactical air defense system. In addition to these roles, Patriot has been given the function of the U.S. Army's anti-ballistic missile (ABM) system, which is now Patriot's primary mission.
Patriot uses an advanced aerial interceptor missile and high performance radar systems. Patriot was developed at Redstone Arsenal in Huntsville, Alabama, which had previously developed the Safeguard ABM system and its component Spartan and Sprint missiles. The symbol for Patriot is a drawing of a Revolutionary War-era Minuteman.
Patriot systems have been sold to Taiwan, Egypt, Germany, Greece, Israel, Japan, Kuwait, the Netherlands, Saudi Arabia, United Arab Emirates, Jordan and Spain. Poland hosts training rotations of a battery of U.S. Patriot launchers. It was first deployed in Morąg in 24 May 2010 but has since been moved to Toruń and Ustka. South Korea also purchased several second-hand Patriot systems from Germany after North Korea test-launched ballistic missiles to the Sea of Japan and proceeded with underground nuclear testing in 2006. On 4 December 2012, NATO authorized the deployment of Patriot missile launchers in Turkey to protect the country from missiles fired in the civil war in neighboring Syria.
In August 2013, Raytheon and Rafael Advanced Defense Systems began to seek funding for a fourth-generation Patriot intercepting system, called the Patriot Advanced Affordable Capability-4 (PAAC-4). The system aims to integrate the Stunner interceptor from the jointly-funded David's Sling program with Patriot PAC-3 radars, launchers, and engagement control stations. The two-stage, multimode seeking Stunner would replace single-stage, radar-guided PAC-3 missiles produced by Lockheed Martin. Government and industry sources claim the Stunner-based PAAC-4 interceptors will offer improved operational performance at 20 percent of the $2 million unit cost of the Lockheed-built PAC-3 missiles. The companies are seeking $20 million in U.S. government funding to demonstrate cost and performance claims through a prototype PAAC-4 system. Israeli program officials have said that a previous teaming agreement between Raytheon and Rafael would allow the U.S. company to assume prime contractor status, and produce at least 60 percent of the Stunner missile in the United States. The Missile Defense Agency has said that the U.S. Army is considering use of the Stunner as a potential solution to future U.S. military requirements.
Specifications (PAC-1)
Weight
700 kg (1,500 lb)
Length
5,800 mm (19 ft 0 in)
Diameter
410 mm (16 in)
Warhead
M248 Composition B HE blast/fragmentation with two layers of pre-formed fragments and Octol 75/25 HE blast/fragmentation
Warhead weight
200 lb (90 kg)
Detonation
mechanism
Proximity fuze
Wingspan
920 mm (3 ft 0 in)
Propellant
Solid-fuel rocket
Operational
range
PAC - 1 :70 km
PAC - 2 :160 km
PAC - 3 :20 km against ballistic missile

Flight altitude
79,500 feet (24,200 m), 275,500 feet (84,000 m) only PAC - 1 launched from F-15C (never finished)
Speed
Mach 5.0
Guidance
system
Radio command with Track Via Missile semi-active homing
Launch
platform
mobile trainable four-round semi-trailer
The information contained on this page is unclassified, approved for public dissemination and is released under CC-BY-SA Licensing Agreement.