Mk 12 Special Purpose Rifle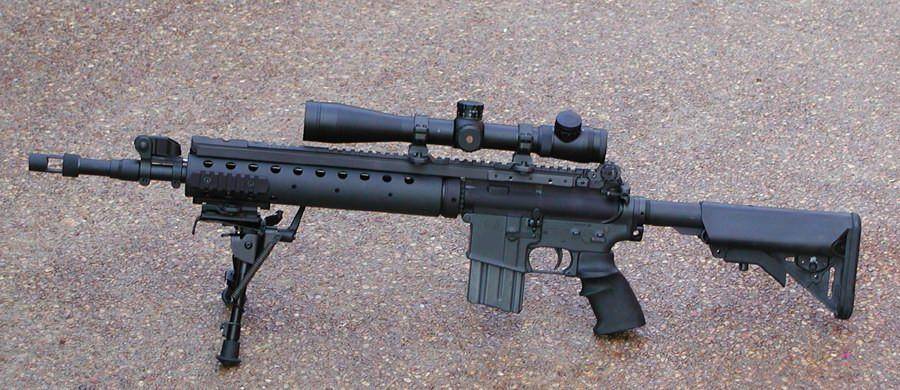 The United States Navy Mark 12 Mod 0/1 Special Purpose Rifle (SPR) is a rifle in service with United States Special Operations Forces in Operation Enduring Freedom and previously in Operation Iraqi Freedom. SPR initially stood for Special Purpose Receiver, but that nomenclature has been replaced as the weapon became a stand-alone weapons system, and not just an add-on upper receiver assembly (part of the proposed SOPMOD upgrades). The SPR was eventually type classified by the U.S. Navy as the Mk 12. Note that the weapon was developed by a Navy office (Naval Surface Warfare Center Crane Division) for SOCOM units, not for use by units that fall under the conventional US Navy.
The SPR, used by Special Operations Forces of both the U.S. Army and U.S. Navy, is a heavily modified light designated marksman variation of the AR-15/M16 line of infantry weapons, and is chambered for NATO standard 5.56x45mm ammunition. The SPR concept was originally proposed by Mark Westrom, currently president of ArmaLite, while working at Rock Island Arsenal. The program was an outgrowth of the desire by both US Army and Navy special operations forces for a rifle with greater effective range than an M4 carbine but still shorter in length than a standard issue M16A2/A4. The SPR program appears to have grown out of both the SOPMOD Block II program, and the U.S. Navy SEALs Recon Rifle (a 16" flat-topped M16 carbine). The Naval Surface Warfare Center, Crane Division expanded on the Recon Rifle.
Specifications
Weight
10 lb (4.5 kg). (Fully loaded, w/heavy barrel, optic & 30 rounds)
Length
37.5 Inches
Barrel length
18 Inches
Cartridge
5.56x45mm NATO
Action
Gas-operated, Rotating bolt
Rate of fire
Semi-automatic
Muzzle velocity
2,700 ft/s (820 m/s) w/ Mk 262 Mod 1 ammunition
Effective range
550 yards (500 m)
Feed system
20- or 30-round STANAG Magazine
The information contained on this page is unclassified, approved for public dissemination and is released under CC-BY-SA Licensing Agreement.