National Security Cutter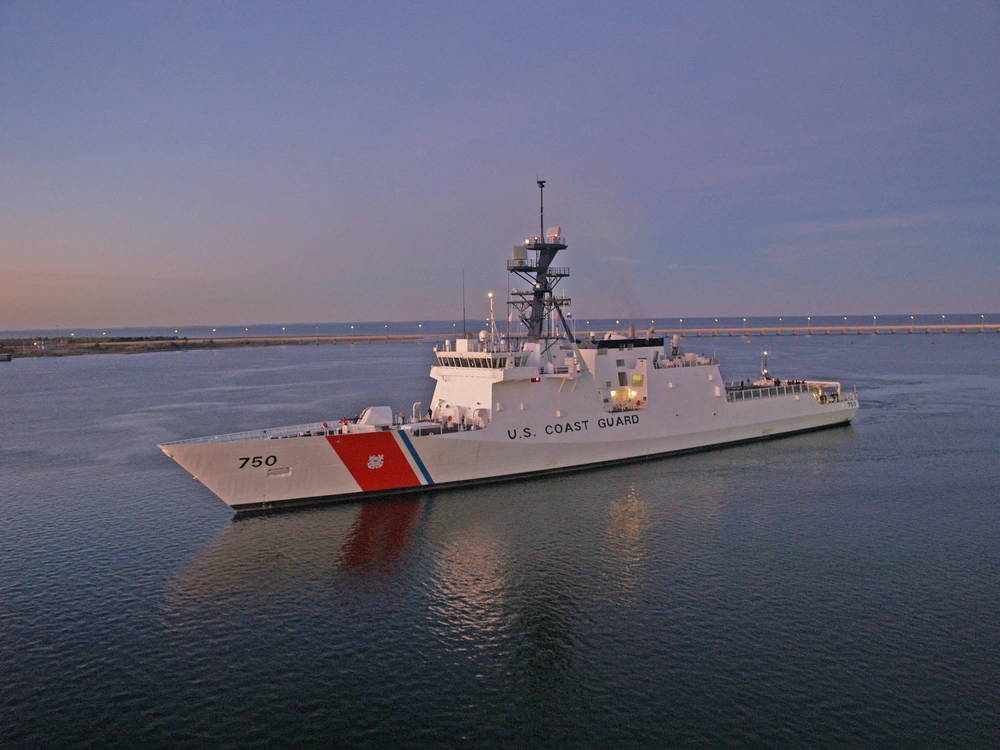 The United States Coast Guard's National Security Cutter (NSC), also known as the Legend-class cutter and Maritime Security Cutter, Large, is the largest of several new cutter designs developed as part of the Integrated Deepwater System Program. Eight ships are in the Program of Record but only six are funded.
Name:
Legend-class National Security Cutter
Preceded by:
Hamilton-class cutter
Cost:
$650m(average), $735m(FY13 ship)

In service:
2008–
Building:
3
Planned:
6

Completed:
3
Active:
3
General characteristics
Displacement:
4500 LT
Length:
418 feet (127 m)
Beam:
54 feet (16 m)
Draft:
22.5 feet (6.9 m)
Propulsion:
Combined diesel and gas
2 × 7.400 kW MTU 20V 1163 diesels
1 × 22MW LM2500 gas turbine engine

Speed:
Over 28 knots (52 km/h; 32 mph)
Range:
12,000 nautical miles (22,000 km; 14,000 mi)
Complement:
113 (14 Officers + 99 Enlisted)
Sensors and
processing systems:
EADS 3D TRS-16 Air Search Radar
SPQ-9B Fire Control Radar
AN/SPS-73 Surface Search Radar
AN/SLQ-32
Electronic warfare
& decoys:
AN/SLQ-32 Electronic Warfare System
2 SRBOC/ 2 x NULKA countermeasures chaff/rapid decoy launcher
Armament:
1 x Bofors 57 mm gun and Gunfire Control System
1 x 20 mm Close-In Weapons System
4 x .50 Caliber Machine Guns
2 x M240B 7.62mm Medium Machine Guns
Aircraft carried:
2 x MH-65C Dolphin MCH, or 4 x VUAV or 1 x MH-65C Dolphin MCH and 2 x VUAV
Aviation facilities:
50-by-80-foot (15 m × 24 m) flight deck, hangar for all aircraft
Design
The Legend-class cutters are the second longest of all U.S. Coast Guard cutters, behind the research icebreaker Healy, and will replace the twelve Hamilton class cutters in service. These cutters are envisioned by the Coast Guard as being able to undertake the entire range of the High Endurance Cutter roles with additional upgrades to make it more of an asset to the Department of Defense during declared national emergency contingencies. These vessels can be used for intercepting suspect vessels, or for rescuing swimmers, fishery protection, maritime homeland security missions, counter terrorism, or coastal patrol missions. To facilitate intercept missions, the Legend class can carry and launch both the Short Range Prosecutor and the Long Range Interceptor RHIBs.
The cutter has a rear-launching ramp, capable of launching and retrieving the two aft stored rigid-hulled inflatable boats while underway. The NSC is built to about 90% military standards.

Combat suite
Legend-class cutters have increased data link bandwidth. The EADS North America TRS-3D radar system provides three dimensional air and surface search functions and is used in the LCS program as well as the German Corvette K130 program. The cutters are also equipped with the AN/SLQ-32 Electronic Warfare (EW) system used in the DDG-51. The Legend class is equipped with the same 220 rpm Bofors 57 mm gun as mounted on the USN's LCS. The Missile Defense duties are handled by the MK 36 SRBOC decoy systems also used on the FFG-7 and CG-47 programs and the CIWS. The sonar is reported as having mine and underwater swimmer location ability.
Ship list
The United States Coast Guard hopes to build eight National Security Cutters:
USCGC Bertholf (WMSL-750)
USCGC Waesche (WMSL-751)
USCGC Stratton (WMSL-752)

USCGC Hamilton (WMSL-753)

USCGC Joshua James (WMSL-754)

USCGC Sumner Kimball (WMSL-755)

USCGC Douglas Munro (WMSL-756)

USCGC John Midgett (WMSL-757)

The information contained on this page is unclassified, approved for public dissemination and is released under CC-BY-SA Licensing Agreement.