Nimitz-Class (Aircraft Carrier)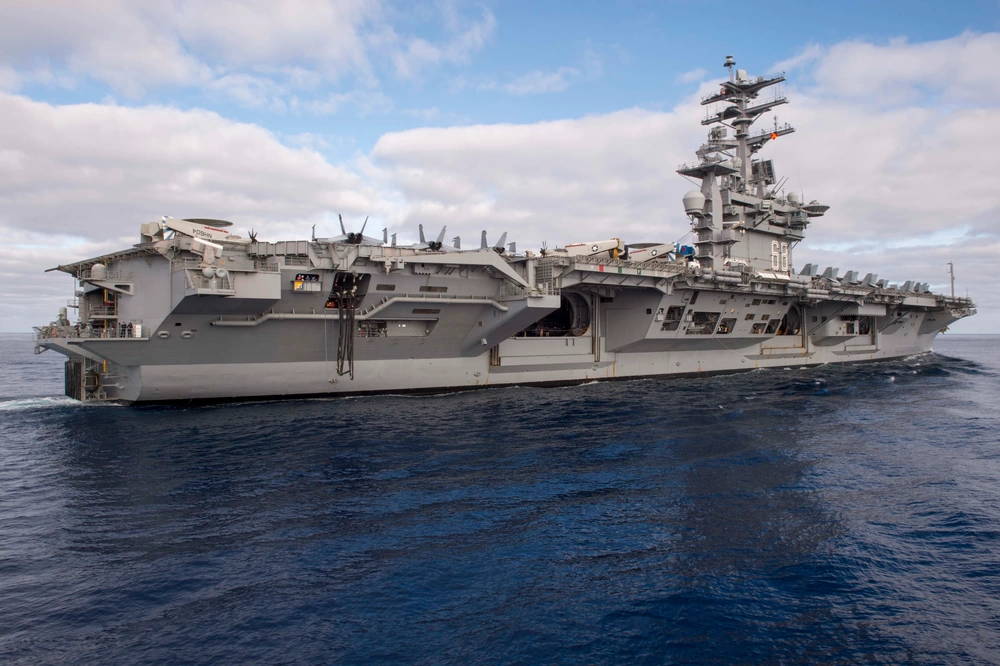 The Nimitz-class supercarriers are a class of ten nuclear-powered aircraft carriers in service with the United States Navy. The lead ship of the class is named for World War II United States Pacific Fleet commander Fleet Admiral Chester W. Nimitz, who was the U.S. Navy's last fleet admiral. With an overall length of 1,092 ft (333 m) and full-load displacements of over 100,000 long tons, they are the largest warships ever built. Instead of the gas turbines or diesel-electric systems used for propulsion on many modern warships, the carriers use two A4W pressurized water reactors which drive four propeller shafts and can produce a maximum speed of over 30 knots (56 km/h) and maximum power of around 260,000 shp (190 MW). As a result of the use of nuclear power, the ships are capable of operating for over 20 years without refueling and are predicted to have a service life of over 50 years. They are categorized as nuclear-powered aircraft carriers and are numbered with consecutive hull numbers between CVN-68 and CVN-77.

All ten carriers were constructed by Newport News Shipbuilding Company in Virginia. USS Nimitz, the lead ship of the class, was commissioned on 3 May 1975, and USS George H.W. Bush, the tenth and last of the class, was commissioned on 10 January 2009. Since the 1970s, Nimitz-class carriers have participated in many conflicts and operations across the world, including Operation Eagle Claw in Iran, the Gulf War, and more recently in Iraq and Afghanistan.
The angled flight decks of the carriers use a CATOBAR arrangement to operate aircraft, with steam catapults and arrestor wires for launch and recovery. As well as speeding up flight deck operations, this allows for a much wider variety of aircraft than with the STOVL arrangement used on smaller carriers. An embarked carrier air wing consisting of up to around 90 aircraft is normally deployed on board. After the retirement of the F-14 Tomcat, the air wings' strike fighters are primarily F/A-18E/F Super Hornets and F/A-18C Hornets. In addition to their aircraft, the vessels carry short-range defensive weaponry for anti-aircraft warfare and missile defense.
Name:
Nimitz-class aircraft carrier
Builders:
Newport News Shipbuilding Company
Operators:
 United States Navy
Preceded by:
Kitty Hawk-class aircraft carrier and
Enterprise-class aircraft carrier
Succeeded by:
Gerald R. Ford-class aircraft carrier
Subclasses:
Theodore Roosevelt class and
Ronald Reagan class

In commission:

3 May 1975
Planned:
10
Completed:
10
Active:
USS Nimitz (CVN-68)
USS Dwight D. Eisenhower (CVN-69)
USS Carl Vinson (CVN-70)
USS Theodore Roosevelt (CVN-71)
USS Abraham Lincoln (CVN-72)
USS George Washington (CVN-73)
USS John C. Stennis (CVN-74)
USS Harry S. Truman (CVN-75)
USS Ronald Reagan (CVN-76)
USS George H.W. Bush (CVN-77)
General characteristics
Type:
Aircraft carrier
Displacement:
100,000 to 104,600 long tons (100,000–106,300 t)

Length:
Overall: 1,092 feet (332.8 m)
Waterline: 1,040 feet (317.0 m)
Beam:
Overall: 252 ft (76.8 m)
Waterline: 134 ft (40.8 m)
Draft:
Maximum navigational: 37 ft (11.3 m)
Limit: 41 ft (12.5 m)
Propulsion:
2 × Westinghouse A4W nuclear reactors
4 × steam turbines
4 × shafts
260,000 shp (194 MW)
Speed:
30+ knots (56+ km/h; 35+ mph)
Range:
Unlimited distance; 20-25 years
Complement:
Ship's company: 3,200
Air wing: 2,480
Sensors and
processing systems:
AN/SPS-48E 3-D air search radar
AN/SPS-49(V)5 2-D air search radar
AN/SPQ-9B target acquisition radar
AN/SPN-46 air traffic control radars
AN/SPN-43C air traffic control radar
AN/SPN-41 landing aid radars
4 × Mk 91 NSSM guidance systems
4 × Mk 95 radars
Electronic warfare
& decoys:
SLQ-32A(V)4 Countermeasures suite
SLQ-25A Nixie torpedo countermeasures
Armament:

16–24 × RIM-7 Sea Sparrow or NATO Sea Sparrow missiles
3 or 4 × Phalanx CIWSs or RIM-116 Rolling Airframe Missiles

Armor:
2.5 in (64 mm) Kevlar over vital spaces

Aircraft carried:
85–90 fixed wing and helicopters

Ships in class
The United States Navy lists the following ten ships in the Nimitz class:

Ship
Hull Number
Laid down
Launched
Commissioned
Refuel,
Overhaul
Homeport
Nimitz
CVN-68
22 June 1968
13 May 1972
3 May 1975
1998–2001
Naval Air Station North Island, San Diego, California
Naval Station Everett, Everett, Washington (2011)
Dwight D. Eisenhower
CVN-69
15 August 1970
11 October 1975
18 October 1977
2001–2005
Naval Station Norfolk, Norfolk, Virginia
Carl Vinson
CVN-70
11 October 1975
15 March 1980
13 March 1982
2005–2009
Naval Air Station North Island, San Diego, California
Theodore Roosevelt
CVN-71
31 October 1981
27 October 1984
25 October 1986
2009–2013
Naval Station Norfolk, Norfolk, Virginia
Abraham Lincoln
CVN-72
3 November 1984
13 February 1988
11 November 1989
2013-
Naval Station Everett, Everett, Washington
Naval Station Norfolk, Norfolk, Virginia (2011)
George Washington
CVN-73
25 August 1986
21 July 1990
4 July 1992
Yokosuka Naval Base, Yokosuka, Japan
John C. Stennis
CVN-74
13 March 1991
11 November 1993
9 December 1995
Naval Base Kitsap, Bremerton, Washington
Harry S. Truman
CVN-75
29 November 1993
7 September 1996
25 July 1998
Naval Station Norfolk, Norfolk, Virginia
Ronald Reagan
CVN-76
12 February 1998
4 March 2001
12 July 2003
Naval Air Station North Island, San Diego, California
George H.W. Bush
CVN-77
6 September 2003
9 October 2006
10 January 2009
Naval Station Norfolk, Norfolk, Virginia
The information contained on this page is unclassified, approved for public dissemination and is released under CC-BY-SA Licensing Agreement.