North American Sabreliner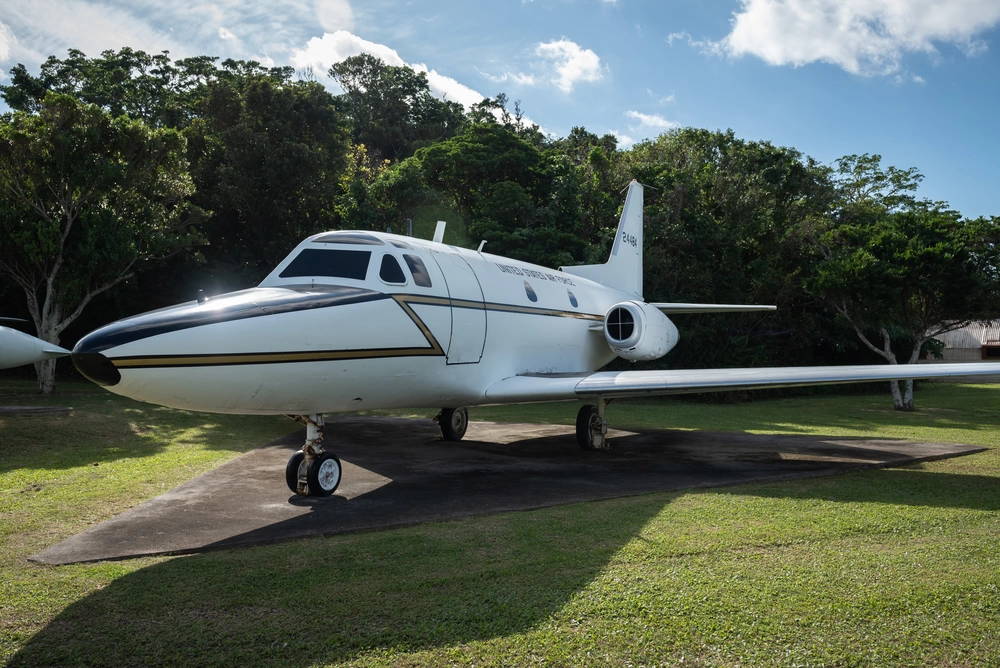 The North American Sabreliner (later sold as the Rockwell Sabreliner) is a mid-sized business jet developed by North American Aviation. It was offered to the U.S. Air Force in response to their Utility Trainer Experimental (UTX) program. It was named "Sabreliner" due to the similarity of the wing and tail to North American's F-86 Sabre jet fighter." Military variants, designated T-39 Sabreliner, were used by the U.S Air Force, U.S. Navy and U.S. Marine Corps after the Air Force placed an initial order in 1959. The Sabreliner was also developed into a commercial variant.
Role
Trainer aircraft
Business jet
Manufacturer
North American Aviation
Rockwell International
First flight
September 16, 1958

Introduction
1962
Status
In active service
Primary users
United States Air Force
United States Navy
United States Marine Corps
Produced
1959–1982

Number built

800+

Military
T-39A

Pilot proficiency trainer and utility transport for the United States Air Force. Based on Sabreliner prototype but powered by two 3,000 lbf (13 kN) Pratt & Whitney J60-P3 engines, 143 built.


CT-39A

T-39A modified as a cargo and personnel transport, powered by P&W J60-P-3/-3A engines.

NT-39A

One T-39A modified for electronic systems testing.

T-39B

Radar systems trainer for the United States Air Force, fitted with avionics of Republic F-105D fighter bomber (including R-14 NASARR main radar and APN-131 doppler radar) and withstations for three trainees, six built.


T-39C

Proposed radar systems trainer fitted with avionics of F-101B Voodoo all-weather interceptor. Unbuilt.


T-39D

(NA265-20 or NA277) Radar systems trainer for the United States Navy, equipped with AN/APQ-94 radar for radar intercept officer training and the AN/APQ-126 radar for bombardier/navigator training. (T3J-1 prior to 1962 redesignation program.), 42 built.

CT-39E

United States Navy cargo/transport version, with JT12A-8 engines, originally designated VT-39E, seven second-hand aircraft.

T-39F

Electronic warfare crew training conversion of the T-39A for the United States Air Force, for training of F-105G "Wild Weasel" crews.


CT-39G

United States Navy cargo/transport version based on the stretched fuselage Sabreliner 60, JT12 engines equipped with thrust reversers, 13 bought.

T-39G

CT-39G modified for the Undergraduate Flight Officer Training program.
T-39N

Navy trainer for the Undergraduate Flight Officer Training program.

T3J

Original United States Navy designation that became the T-39D in 1962.

Specifications (T3J-1/T-39D)




Data from T-39 Sabreliner on Boeing History site


General characteristics

Crew: 4–5
Capacity: 5–7 passengers
Length: 44 ft (13.41 m)
Wingspan: 44 ft 6 in (13.56 m)
Height: 16 ft (4.88 m)
Wing area: 342.1 ft² (31.79 m²)
Empty weight: 9,257 lb (4,199 kg)
Loaded weight: 16,340 lb (7,412 kg)
Max. takeoff weight: 17,760 lb (8,056 kg)
Powerplant: 2 × Pratt & Whitney J60-P-3 turbojet, 3,000 lbf (13.3 kN) each

Performance

Maximum speed: 478 knots (550 mph, 885 km/h)
Cruise speed: 435 knots (500 mph, 800 km/h)
Range: 2,170 nm (2,500 mi, 4,020 km)
Service ceiling: 40,000+ ft (12,200+ m)
Thrust/weight: 0.338

The information contained on this page is unclassified, approved for public dissemination and is released under CC-BY-SA Licensing Agreement.