Northrop Grumman MQ-8 Fire Scout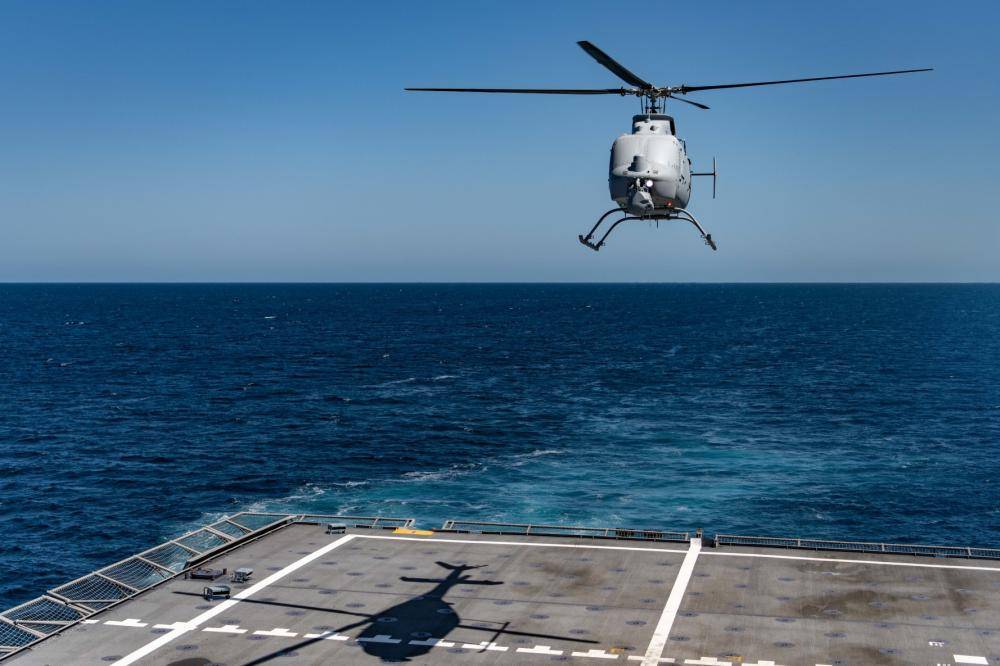 The Northrop Grumman MQ-8 Fire Scout is an unmanned autonomous helicopter developed by Northrop Grumman for use by the United States Armed Forces. The Fire Scout is designed to provide reconnaissance, situational awareness, and precision targeting support for ground, air and sea forces. The initial RQ-8A version was based on the Schweizer 330, while the enhanced MQ-8B was derived from the Schweizer 333.
| | |
| --- | --- |
| Role | UAV helicopter |
| Manufacturer | Northrop Grumman |
| First flight | 2002 |
| Primary user | United States Navy |
| Unit cost | $18.2 million in FY 2013 (flyaway cost) |
| Developed from | Schweizer 330 and 333 |
| Developed into | Sikorsky S-434 |
Design and development
RQ-8A
As the US Navy was withdrawing its RQ-2 Pioneers from service, it began to seek a second generation UAV. The Navy requirement specified a vertical takeoff & landing (VTOL) aircraft, with a payload capacity of 90 kilograms (200 pounds), a range of 125 miles (200 km), an endurance on station of three hours at an altitude of 20,000 ft (6 km), and the ability to land on a ship in a 46 km/h (29 mph) wind. The UAV was to fly 190 hours before planned maintenance.
There were three finalists in the competition, which was designated "VTOL-UAV" or "VTUAV". Bell, Sikorsky, and a collaboration of Teledyne Ryan and Schweizer Aircraft submitted designs. The Ryan-Schweizer UAV was selected as the winner in the spring of 2000. The RQ-8A Fire Scout, as it was named, was a derivative of the Schweizer three-passenger, turbine powered 330SP helicopter, with a new fuselage, new fuel system, and UAV electronics and sensors.
The initial prototype of the Fire Scout was piloted in initial tests, flying autonomously for the first time in January 2000. The Rolls-Royce 250-C20 turbine engine ran on JP-8 and JP-5 jet fuel (the latter of which has a lower flashpoint and is considered safe for shipboard storage and use).
The Fire Scout was to be fitted with a sensor ball turret that carries electro-optic and infrared cameras, and a laser range finder. It was to be controlled over a data link derived from the Northrop Grumman RQ-4 Global Hawk UAV, operating over a line of sight to a distance of 172 miles (280 km). The control system was to be fitted onto a ship, or could be carried on a Humvee light vehicle for US Marine service.
MQ-8B
Although progress on the project had been regarded as satisfactory, the Navy decided the Fire Scout didn't meet their needs after all, and cut funding for production in December 2001. However, the development program continued, and Northrop Grumman pitched a range of improved configurations to anyone who was interested. As it turned out, the U.S. Army was very interested, awarding a contract for seven improved RQ-8B evaluation machines in late 2003. In 2006, it was redesignated MQ-8B.
The MQ-8B features a four-blade main rotor, in contrast to the larger-diameter three-blade rotor of the RQ-8A, to reduce noise and improve lift capacity and performance. The four-blade rotor had already been evaluated on Fire Scout prototypes. They boost gross takeoff weight by 500 pounds to 3,150 pounds (by 225 kg to 1,430 kg), with payloads of up to 700 pounds (320 kg) for short-range missions.
The MQ-8B is fitted with stub wings which serve both an aerodynamic purpose as well as an armament carriage location. Weapons to be carried include Hellfire missiles, Viper Strike laser-guided glide weapons, and, in particular, pods carrying the "Advanced Precision Kill Weapon System (APKWS)", a laser-guided 70 millimeter (2.75 inch) folding-fin rocket, which the Army saw as ideal for the modern battlefield. The Army was also interested in using the Fire Scout to carry up to 200 pounds (90 kg) of emergency supplies to troops in the field.
The MQ-8B is being modified to permit rapid swap out of payload configurations. The current sensor configuration of a day/night turret with a laser target designator will remain an option. Alternate sensor payloads in consideration include a TSAR with Moving Target Indicator (MTI) capability, a multispectral sensor, a SIGINT module, the Target Acquisition Minefield Detection System (ASTAMIDS), and the Tactical Common Data Link (TCDL). The Army wanted the Fire Scout to operate as an element of an integrated ground sensor network as well.
Production of the flight test airframes was initiated in April 2006 at the Northrop Grumman Unmanned Systems production plant in Moss Point, Mississippi. The Navy approved low-rate initial production. The first flight of the MQ-8B took place on 18 December 2006 at Naval Air Station Patuxent River.
The Army interest revived Navy interest in the program, with the Navy ordering eight Sea Scout MQ-8B derivatives for evaluation. In January 2010, the Army terminated its involvement with the Fire Scout, contending that the RQ-7 Shadow UAV could meet the Army's needs.

The MQ-8B complements the manned aviation detachments onboard Air Capable ships and is deployed along with either an SH-60B HSL/HSM detachment or a MH-60S HSC detachment. With the planned addition of RADAR, AIS, and weapons, the MQ-8B will provide many of the capabilities currently provided by the SH-60B. It will give the ship and embarked air detachment greater flexibility in meeting mission demands, and will free manned aircraft for those missions.

Northrop Grumman has started work outfitting the MQ-8B with a weapons system, the Advanced Precision Kill Weapon System laser-guided 70 mm rocket. The corporation will develop and deliver the equipment needed to control the weapons system under a $17 million contract awarded to the company 23 September 2011 by Naval Air Systems Command. Final delivery of an operational system was expected by March 2013. By August 2013, the MQ-8B had completed 11 of 12 APWKS launches, with testing to be completed "shortly."

On 30 December 2012, the Navy issued an urgent order to install RDR-1700 maritime-surveillance radars on nine MQ-8B Fire Scouts. Installation should be completed by the end of 2013. The system consists of the radar, modified MQ-8B radome, and interfaces into the helicopter UAV and its control station. The radar weighs 71 lb and will be mounted underneath the helicopter to give 360-degree coverage. It is an X-band synthetic aperture radar that can show objects in a detailed way. Detailed range is out to 25 km (16 mi), with a max range of 80 km (50 mi). The RDR-1700 can see through clouds and sandstorms and can be used for terrain mapping or for weather detection. It can track 20 air or surface targets and can use a target-marker to determine the range, bearing, and velocity of a target. MQ-8B UAVs with the radar could be useful in the Persian Gulf to track small Iranian speed boats, or the Gulf of Aden to locate Somali pirates. In January 2013, the Navy selected Telephonics to supply the RDR-1700B+ radar, and awarded them a $33 million contract. The radar system is designated AN/ZPY-4(V)1 by the military and provides a wide-area search and long-range imaging capability to supplement the FLIR Systems Brite Star II electro-optical/infrared payload. Northrop Grumman is scheduled to complete flight testing with the radar in May 2014, with spares kits delivered by the next month.

MQ-8C
On 3 May 2010, Northrop announced plans to fly a Bell 407 helicopter modified with autonomous controls from the MQ-8B. Named Fire-X, it was designed to demonstrate an unmanned cargo resupply capability to the US Navy. The unmanned Fire-X completed its first flight at Yuma Proving Ground in Arizona on 20 December 2010. On 23 April 2012, Northrop received a $262.3 million contract from the Navy to develop and build the newly designated MQ-8C version of the Fire Scout. The contract calls for Northrop to build and test two developmental aircraft over the next 26 months. The company is also contracted to build six low-rate production aircraft at the same time. The Navy wants 28 MQ-8Cs for naval special operations forces. The MQ-8C weighs 2.7 tons, has a 1,000 lb payload, and has an endurance of up to 24 hours. It can be armed with AGM-175 Griffin missiles and APKWS II guided 70 mm rockets that the MQ-8B can carry, as well as heavier AGM-114 Hellfire missiles. The MQ-8C is expected to enter service in 2014. Northrop Grumman is currently flying the MQ-8C demonstrator installed with their AN/ZPY-1 STARLite Radar, although there is no current requirement for an MQ-8C radar. In March 2013, the Navy incorporated the Rolls-Royce 250-C47E into the MQ-8C. The new engine has a 5% increase in "hot and high" power, 2% reduced fuel consumption, 8% increase in rated takeoff power to 700 shaft horsepower, and better reliability.

In early July 2013, Northrop Grumman delivered the first MQ-8C to the Navy. Ground testing will ensure that the systems work properly and communicate with the ground control station prior to conducting the first flight. The MQ-8C shares software, avionics, payloads, and ship ancillary equipment with the MQ-8B, while the upgraded airframe provides double the endurance and three times the payload. The MQ-8C is expected to fly in early October 2013, and be deployed in late 2014. The APKWS II will be added to the C-model sometime after 2016. Initial at-sea tests will be performed aboard the USS Jason Dunham (DDG-109) in 2014. On 24 September 2013, the MQ-8C Fire-X delivered to the Navy turned on its engines for 10 minutes in preparation for first flight. A second MQ-8C is to be delivered on September 30. First flight is scheduled for early to mid-October, although the exact date has not been determined, as such tests are often delayed by minor system problems. The MQ-8C flight test regime is to last six months.

Specifications (MQ-8B)
Data from Northrop Grumman, NAVAIR

General characteristics
Crew: 0
Payload: 600 lb (272 kg)
Length: 23.95 ft (7.3 m)
Rotor diameter: 27.5 ft (8.4 m)
Height: 9.71 ft (2.9 m)
Empty weight: 2,073 lb (940.3 kg)
Max. takeoff weight: 3,150 lb (1,430 kg)
Powerplant: 1 × Rolls-Royce 250, 313 kW (420 hp)
Performance
Maximum speed: 115 knots (213 km/h)+
Cruise speed: 110 knots (200 km/h)
Combat radius: 110 nmi (203.7 km)with 5+ hours on station
Service ceiling: 20,000 ft (6,100 m)
The information contained on this page is unclassified, approved for public dissemination and is released under CC-BY-SA Licensing Agreement.