Northrop T-38 Talon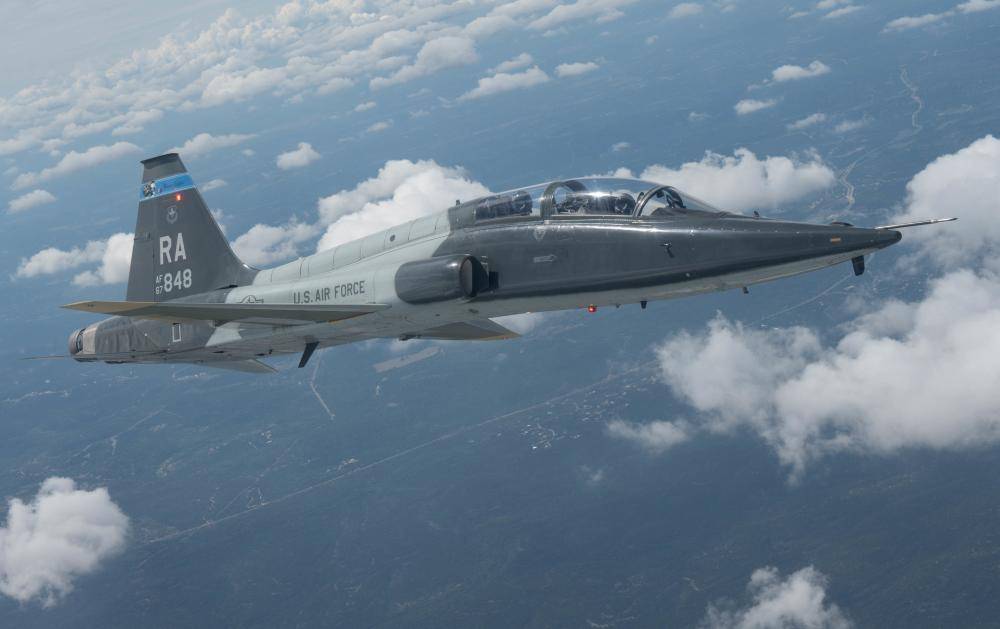 The Northrop T-38 Talon is a two-seat, twin-engine supersonic jet trainer. It was the world's first supersonic trainer and is also the most produced. The T-38 remains in service as of 2013 in air forces throughout the world.
The United States Air Force (USAF) is the largest operator of the T-38. In addition to training USAF pilots, the T-38 is used by NASA. The US Naval Test Pilot School is the principal US Navy operator (other T-38s were previously used as USN aggressor aircraft until replaced by the similar Northrop F-5 Tiger II). Pilots of other NATO nations fly the T-38 in joint training programs with USAF pilots.
As of 2012, the T-38 has been in service for over 50 years with its original operator (the USAF).
Role
Advanced trainer

National origin

United States
Manufacturer
Northrop Corporation
First flight
10 March 1959
Introduction
17 March 1961
Retired
Portuguese Air Force 1993
Status
Operational
Primary users
United States Air Force
United States Navy
NASA
Turkish Air Force
Produced
1961–1972

Number built

1,146

Unit cost

US$756,000 (1961 constant dollars)
US$5.879 million (2013 dollars)

Developed from

Northrop N-156
Variants
Northrop F-5
Design and development
The basic airframe was used for the light combat aircraft F-5 Freedom Fighter family. In the 1950s Northrop began studying lightweight and more affordable fighter designs. The company began with its single-engine Northrop N-102 Fang concept. The N-102 was facing weight and cost growth, so the project was canceled and the company N-156 project was begun.

Although the USAF had no need for a small fighter at the time, it became interested in the trainer as a replacement for the T-33 Shooting Star it was then using in that role. The first of three prototypes (designated YT-38) flew on 10 March 1959. The type was quickly adopted and the first production examples were delivered in 1961, officially entering service on 17 March that year, complementing the T-37 primary jet trainer. When production ended in 1972, 1,187 T-38s had been built (plus two N-156T prototypes). Since its introduction, it is estimated that some 50,000 military pilots have trained on this aircraft. The USAF remains one of the few armed flying forces using dedicated supersonic final trainers, as most, such as the US Navy, use high subsonic trainers.

The T-38 is of conventional configuration, with a small, low, long-chord wing, a single vertical stabilizer, and tricycle undercarriage. The aircraft seats a student pilot and instructor in tandem, and has intakes for its two turbojet engines at the wing roots. Its nimble performance has earned it the nickname white rocket. In 1962 the T-38 set absolute time-to-climb records for 3000, 6000, 9000 and 12000 meters, beating the records for those altitudes set by the F-104 in December 1958. (The F-4 beat the T-38's records less than a month later.)
The F-5B and F (which also derive from the N-156) can be distinguished from the T-38 by the wings; the wing of the T-38 meets the fuselage straight and ends square, while the F-5 has leading edge extensions near the wing roots and wingtip launch rails for air to air missiles. Under the paint the T-38 wing is constructed of honeycomb material while the wing of the F-5 family uses conventional skin over underlying support structure.
Most T-38s built were of the T-38A variant, but the USAF also had a small number of aircraft that had been converted for weapons training. These aircraft (designated AT-38B) had been fitted with a gunsight and could carry a gunpod, rockets, or bombs on a centerline pylon. In 2003, 562 T-38s were still operational with the USAF and are currently undergoing structural and avionics programs (T-38C) to extend their service life to 2020. Improvements include the addition of a HUD, GPS, INS (Inertial Navigation System), and TCAS as well as PMP (a propulsion modification to improve low-altitude engine thrust). Many USAF variants (T-38A and AT-38B) are being converted to the T-38C.
The fighter version of the N-156 was eventually selected for the US Military Assistance Program and produced as the F-5 Freedom Fighter. Many of these have since reverted to a weapons training role as various air forces have introduced newer types into service. The F-5G was an advanced single engine variant later renamed the F-20 Tigershark.
Specifications (T-38A)
General characteristics
Crew: 2: student and instructor
Length: 46 ft 4.5 in (14.14 m)
Wingspan: 25 ft 3 in (7.7 m)
Height: 12 ft 10.5 in (3.92 m)
Wing area: 170 ft² (16 m²)
Empty weight: 7,200 lb (3,270 kg)
Loaded weight: 11,820 lb (5,360 kg)
Max. takeoff weight: 12,093 lb (5,485 kg)
Powerplant: 2 × General Electric J85-5A (J85-5R after PMP modification) afterburning turbojets

Dry thrust: 2,050 lb (9.1 kN) each
Thrust with afterburner: 3,850 lbf (17.1 kN) each
Performance
Maximum speed: Mach 1.3 (858 mph, 1,381 km/h)
Range: 1,140 mi (1,835 km)
Service ceiling: 50,000 ft (15,240 m)
Rate of climb: 33,600 ft/min (170.7 m/s)
Wing loading: 70 lb/ft² (340 kg/m²)
Thrust/weight: 0.65
The information contained on this page is unclassified, approved for public dissemination and is released under CC-BY-SA Licensing Agreement.