Northrop F-5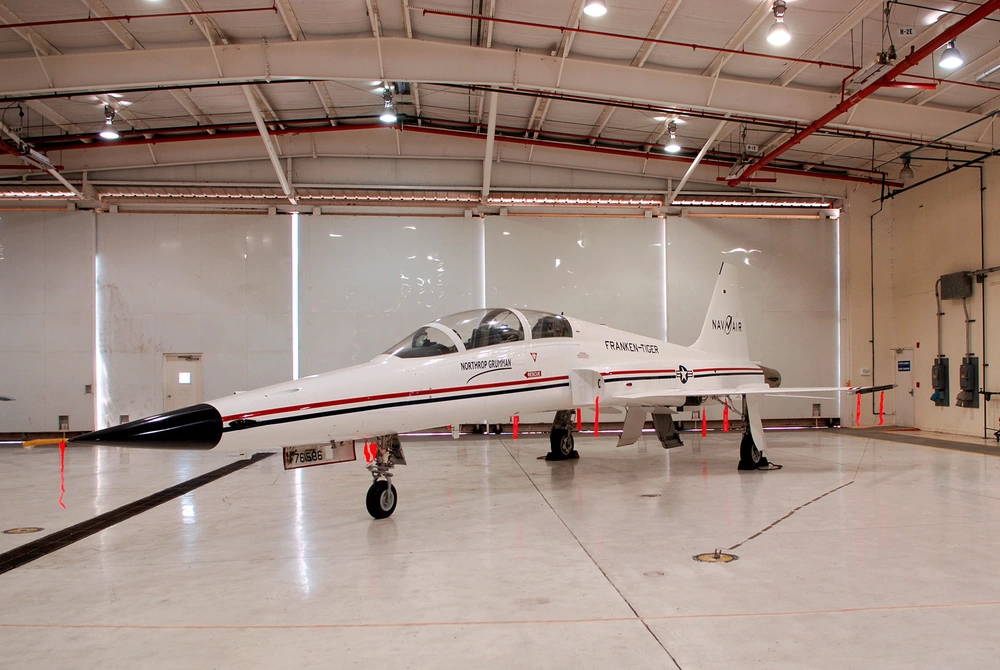 The Northrop F-5A/B Freedom Fighter and the F-5E/F Tiger II are part of a family of widely used light supersonic fighter aircraft, designed and built by Northrop. Although less complex and advanced than some contemporary aircraft such as the McDonnell Douglas F-4 Phantom II, it was significantly cheaper to procure and operate, the type became a popular aircraft on the export market. While not procured in volume by the United States, it was perhaps the most effective air-to-air fighter possessed by the U.S. in the 1960s and early 1970s. Strengths included the aircraft's compact size, a high level of maneuverability, favorable flying qualities and a low accident rate, and a high sortie generation rate. The capabilities, reliability, and maintainability of the F-5, similar to a Soviet counterpart, the Mikoyan-Gurevich MiG-21, led to hundreds of F-5s remaining in service into the 21st century.
The F-5 started life as a privately funded light fighter program by Northrop in the 1950s. The design team wrapped a small, highly aerodynamic fighter around two compact and high thrust General Electric J85 engines, focusing on performance and low cost of maintenance. Armed with twin 20 mm cannons and missiles for air-to-air combat, the aircraft was also a capable ground attack platform. The F-5A entered service in the early 1960s. During the Cold War, over 800 were produced through 1972 for U.S. allies. While the USAF had no acknowledged need for a light fighter, it procured roughly 1,200 trainer aircraft of an F-5 derivative, the Northrop T-38 Talon, instead.
As a result of winning the International Fighter Aircraft competition in 1970, a program aimed at providing effective low cost fighters to American allies, Northrop introduced the second-generation F-5E Tiger II in 1972. This upgrade included more powerful engines, higher fuel capacity, greater wing area and improved leading edge extensions for better turn rate, optional air to air refueling, and improved avionics including air-to-air radar. Though primarily used by American allies, it also served in U.S. military aviation as a training and aggressor aircraft. A total of 1,400 Tiger II versions were built before production ended in 1987.
The F-5 was also developed into a dedicated reconnaissance version, the RF-5 Tigereye. The F-5 also served as a starting point for a series of design studies which resulted in the Northrop YF-17 and the F/A-18 navalised fighter aircraft. The Northrop F-20 Tigershark was an advanced variant to succeed the F-5E which was ultimately cancelled. The F-5N/F variants remain in service with the United States Navy and United States Marine Corps as an adversary trainer.
Role
Fighter

National origin

United States
Manufacturer
Northrop
First flight
F-5A: 30 July 1959
F-5E: 11 August 1972
Introduction
1962
Status
In service
Primary users
United States Navy
Republic of China Air Force
Republic of Korea Air Force
Islamic Republic of Iran Air Force
Produced
1959-1987

Number built

A/B/C: 847
E/F: 1,399


Unit cost

F-5E: 

US$2.1 million




Developed from

Northrop T-38 Talon
Variants
Canadair CF-5
Shaped Sonic Boom Demonstration

Developed into

Northrop F-20 Tigershark
The F-5 was also adopted as an opposing forces (OPFOR) "aggressor" for dissimilar training role because of its small size and performance similarities to the Soviet MiG-21. In this role it has proven a dangerous opponent to more complex aircraft. In realistic trials at Nellis AFB in 1977, the F-14 scored slightly better than a 2:1 kill ratio against the simpler F-5, while the F-15 scored slightly less. With further tuning of the rules that assigned a higher probability of kill to the long range missiles used by the F-15 and that handicapped use of guns and radar warning receivers by the F-5s, the F-15 scored nearly 2:1 against the F-5.

The F-5E served with the U.S. Air Force from 1975 until 1990, in the 64th Aggressor Squadron and 65th Aggressor Squadron at Nellis Air Force Basein Nevada, and with the 527th Aggressor Squadron at RAF Alconbury in the UK and the 26th Aggressor Squadron at Clark Air Force Base in the Philippines. The U.S. Marines purchased ex-USAF models in 1989 to replace their F-21s, which served with VMFT-401 at Marine Corps Air Station Yuma. The U.S. Navy used the F-5E extensively at the Naval Fighter Weapons School (TOPGUN) when it was located at NAS Miramar, California. When TOPGUN relocated to become part of the Naval Strike and Air Warfare Center at NAS Fallon, Nevada, the command divested itself of the F-5, choosing to rely on VC-13 (redesignated VFC-13 and which already used F-5s) to employ their F-5s as adversary aircraft. Former adversary squadrons such as VF-43 at NAS Oceana, VF-45 at NAS Key West, VF-126 at NAS Miramar, and VFA-127 at NAS Lemoore have also operated the F-5 along with other aircraft types in support of Dissimilar Air Combat Training (DACT).
The U.S. Navy F-5 fleet continues to be modernized with 36 low-hour F-5E/Fs purchased from Switzerland in 2006. These were updated as F-5N/Fs with modernized avionics and other improved systems. Currently, the only U.S. Navy units flying the F-5 are VFC-13 at NAS Fallon, Nevada and VFC-111 at NAS Key West, Florida. Currently, VFC-111 operates 18 Northrop F-5N/F Tiger-IIs, of which 17 are single-seater F-5Ns and the remainder being a twin-seater F-5F, which was dubbed "FrankenTiger" and is one of only three in service with the USN, being a product of grafting the older front half fuselage of the F-5Fs into the back half fuselage of the newer low-hours F-5Es acquired from the Swiss Air Force.

According to the FAA, there are 18 privately owned F-5s in the U.S., including Canadair CF-5Ds.
Specifications (F-5E Tiger II)
Data from Quest for Performance

General characteristics
Crew: 1
Length: 47 ft 4¾ in (14.45 m)
Wingspan: 26 ft 8 in (8.13 m)
Height: 13 ft 4½ in (4.08 m)
Wing area: 186 ft² (17.28 m²)
Airfoil: NACA 65A004.8 root, NACA 64A004.8 tip
Empty weight: 9,558 lb (4,349 kg)
Loaded weight: 15,745 lb (7,157 kg)
Max. takeoff weight: 24,722 lb (11,214 kg)
Powerplant: 2 × General Electric J85-GE-21B turbojet

Dry thrust: 3,500 lbf (15.5 kN) each
Thrust with afterburner: 5,000 lbf (22.2 kN) each

Zero-lift drag coefficient: 0.0200
Drag area: 3.4 ft² (0.32 m²)
Aspect ratio: 3.86
Internal fuel: 677 U.S. gal (2,563 L)
External fuel: 275 U.S. gal (1,040 L) per tank in up to 3 tanks
Performance
Maximum speed: 917 kn (Mach 1.6, 1,060 mph, 1,700 km/h)
Range: 760 nmi (870 mi, 1,405 km)
Ferry range: 2,010 nmi(2,310 mi, 3,700 km)
Service ceiling: 51,800 ft (15,800 m)
Rate of climb: 34,400 ft/min (175 m/s)
Lift-to-drag ratio: 10.0
Armament
Guns: 2× 20 mm (0.787 in) M39A2 Revolver cannons in the nose, 280 rounds/gun
Hardpoints: 7 total (only pylon stations 3, 4 and 5 are wet-plumbed): 2× wing-tip AAM launch rails, 4× under-wing & 1× under-fuselage pylon stations with a capacity of 7,000 pounds(3,200 kg) and provisions to carry combinations of:

Rockets: ***2× LAU-61/LAU-68 rocket pods (each with 19× /7× Hydra 70 mm rockets, respectively); or

2× LAU-5003 rocket pods (each with 19× CRV7 70 mm rockets); or
2× LAU-10 rocket pods (each with 4× Zuni 127 mm rockets); or
2× Matra rocket pods (each with 18× SNEB 68 mm rockets)

Missiles: ***4× AIM-9 Sidewinders or 4× AIM-120 AMRAAM air-to-air missile

2× AGM-65 Maverick air-to-surface missiles
AA-8 Aphid, AA-10 Alamo, AA-11 Archer and other Russian/Chinese AAMs (Iranian ver.)

Bombs: A variety of air-to-ground ordnance such as the Mark 80 series of unguided bombs (including 3 kg and 14 kg practice bombs), CBU-24/49/52/58 cluster bomb munitions, napalm bomb canisters and M129 Leaflet bomb, and laser-guided bombs of Paveway family.
Other: ***up to 3× 150/275 U.S. gallon Sargent Fletcher drop tanks for ferry flight or extended range/loitering time.

2× GPU-5/A 30mm cannon pods (fitted only on Thai F-5s)
Avionics
The information contained on this page is unclassified, approved for public dissemination and is released under CC-BY-SA Licensing Agreement.