OKC-3S Bayonet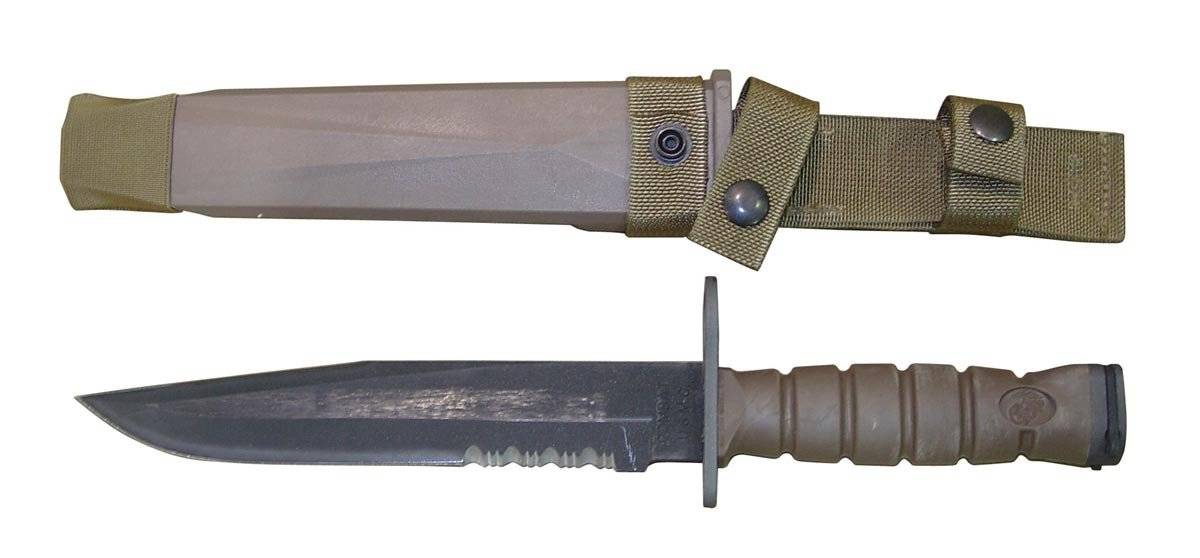 The OKC-3S is a bayonet developed by the United States Marine Corps to replace the M7 bayonet as its service bayonet for the M16 family of rifles. This multi-purpose bayonet provides greater durability than the M7 and also functions as a fighting knife.
The OKC-3S is manufactured solely by the Ontario Knife Company and identical civilian versions are available for purchase. It bears a resemblance to the Marines' iconic Ka-Bar fighting knife, though it does not have a fuller. It is larger, thicker and heavier than the M7 and M9. A sharper point helps penetrate body armor that many modern adversaries wear; while serrations near the handle help improve its function as a utility knife. In one demonstration, a prototype was able to pierce a punching bag covered with aircraft aluminium and a ballistic vest. The entire weapon is designed to be corrosion resistant, and weighs 1.25 lb (0.57 kg) with its sheath. The scabbard and grip are colored to match the Corps' coyote tan gear, compatible with both woodland and desert camouflage. The NATO Stock Number is 1095-01-521-6087.
The OKC-3S features an 8 in (20.32 cm) long, 1.375 in (3.49 cm) wide, .2 in (0.51 cm) thick blade. The serrations measure 1.75 in (4.4 cm) of the blade length on the true edge. The blade is made from high carbon steel rated at HRC 53-58 and is capable of functioning without breakage in operating temperatures of -25 to 135 °F (-32 to 57 °C). The blade also has a non-reflective phosphate finish.
Specifications
Length
13 in (33 cm)
Blade length
8 in (20 cm)
Blade type
High carbon steel clip point with full tang
Hilt type
Metal guard, latch, & clasp, with Dynaflex grip
Scabbard/sheath
polyester elastomer
The information contained on this page is unclassified, approved for public dissemination and is released under CC-BY-SA Licensing Agreement.