Palletized load system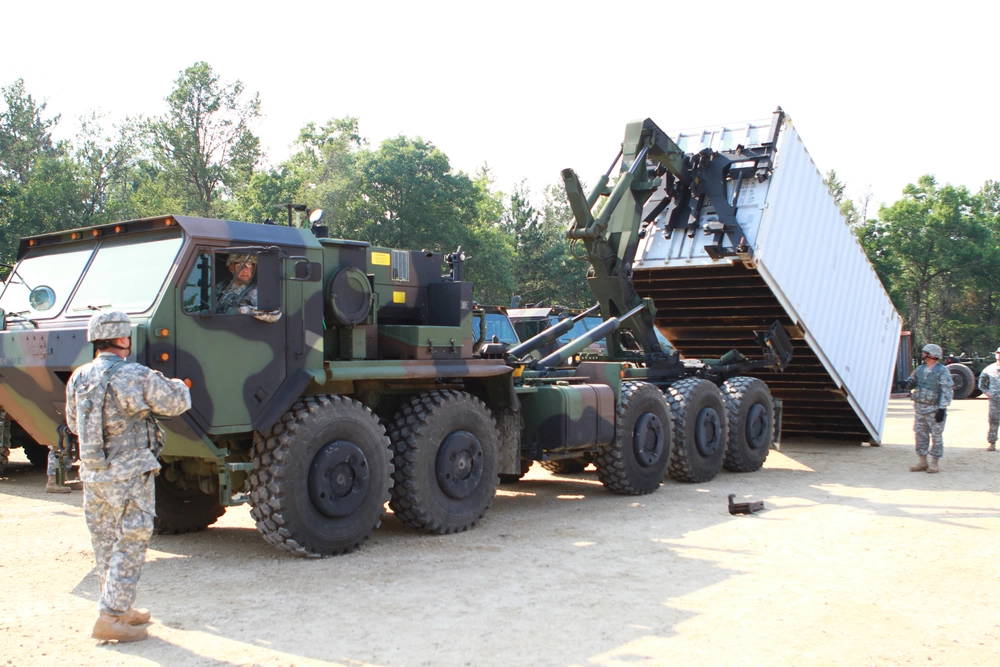 The Palletized Load System (PLS) is a logistics supply program that entered service in the United States Army in 1993. It performs line haul (long distance), local haul (short distance), unit resupply, and other missions in the tactical environment to support modernized and highly mobile combat units. It provides rapid movement of combat configured loads of ammunition and all classes of supply, shelters and containers.
Technical description
Curb weight: 55,000 lb (25,000 kg) includes flatrack
Gross vehicle weight rating (GVWR): 88,000 lb (40,000 kg)
Gross combined weight rating (GCWR):137,520 lb (62,380 kg)
Truck payload: 16.5 short tons (14,969 kg)
Trailer payload: 16.5 short tons (14,969 kg)
Truck length: 431 inches (10.9 m)
Trailer length: 327.4 inches (8.32 m) (includes trailer tongue, with flatrack)
Truck width: 96 inches (2.4 m)
Trailer width: 95.7 inches (2.43 m)
Truck height: 128 inches (3.3 m)
Flatrack dimensions: 8 ft × 20 ft (2.4 m × 6.1 m)
Fuel capacity: 100 gal (379 liters) 185 gal with optional second tank
Engine type: 500 hp (370 kW) V8 Detroit Diesel (8V92)
Transmission: Allison 6-speed automatic (5-speed forward, 1 reverse)
Transfer case: Oshkosh 2-speed with lockable planetary differential
Range: 300 mi (480 km)
Fording capability: 48 inches (1.2 m)
Air transportability: C-5A, C-17 aircraft
Cab: 2 person
Max speed: 62 mph(100 km/h)
Axle configuration: 10 x 10 (5 axles) full-time all-wheel drive
Axles: AxleTech with diff. lock and planetary hubs
Crane: 5,400 lb (2,450 kg)
Central tire inflation: 4 preset selections HWY • CC • MSS • EMERG
Manufacturer
Truck and CHU (Oshkosh Corporation – Oshkosh, Wisconsin)
Trailer and flatrack (Oshkosh Truck – Bradenton, Florida)
CROP (Summa Technologies – Huntsville, Alabama; Hyundai Precision America – San Diego, California)
The information contained on this page is unclassified, approved for public dissemination and is released under CC-BY-SA Licensing Agreement.