AeroVironment RQ-11 Raven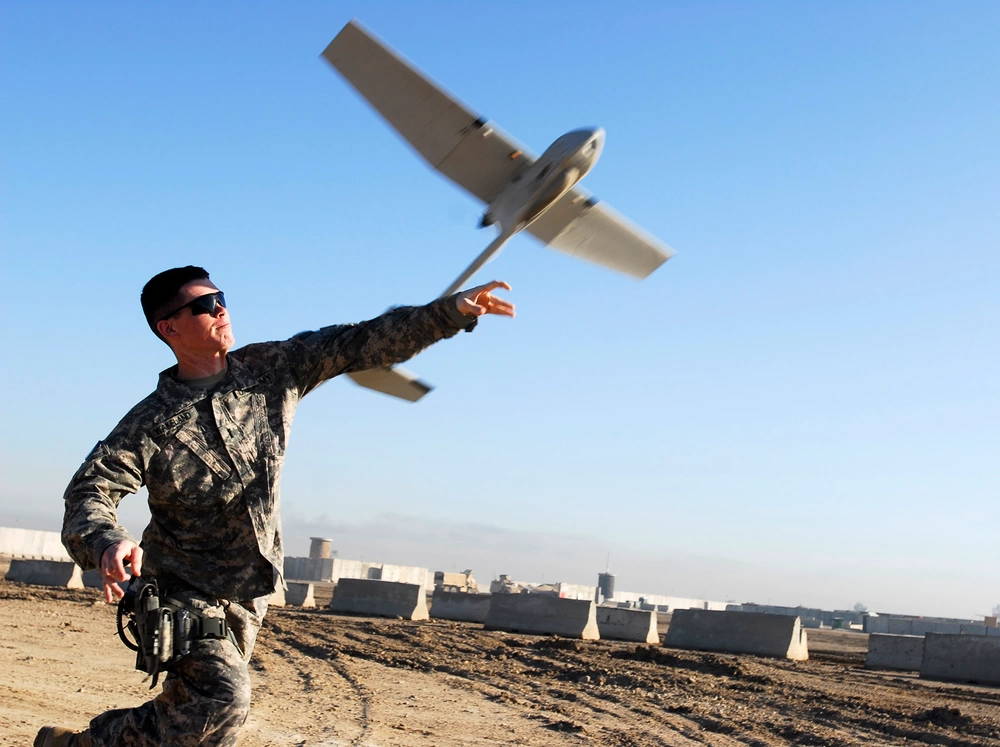 The RQ-11 Raven was originally introduced as the FQM-151 in 1999, but in 2002 developed into its current form, resembling an enlarged FAI class F1C free flight model aircraft in general appearance. The craft is launched by hand and powered by a pusher configuration electric motor. The plane can fly up to 6.2 miles (10.0 km) at altitudes of appx 500 feet (150 m) above ground level (AGL), and over 15,000 feet (4,600 m) above mean sea level (MSL), at flying speeds of 28-60 mph (45–97 km/h).
Role
Remote controlled UAV

Manufacturer
AeroVironment
First flight
October 2001
Introduction
May 2003
Status
In use on combat field
Primary users
United States Army
United States Air Force, United States Marine Corps, United States Special Forces, international land forces
Produced
2004-present

Number built

19,000+ airframes

Developed from

FQM-151 Pointer
Design and development
The Raven RQ-11B UAV system is manufactured by AeroVironment. It was the winner of the US Army's SUAV program in 2005, and went into Full-Rate Production (FRP) in 2006. Shortly afterwards, it was also adopted by the US Marines, and the US Air Force for their ongoing FPASS Program. It has also been adopted by the military forces of many other countries (see below). More than 19,000 Raven airframes have been delivered to customers worldwide to date. A new Digital Data Link-enabled version of Raven now in production for US Forces and allies has improved endurance, among many other improvements.
The Raven can be either remotely controlled from the ground station or fly completely autonomous missions using GPS waypoint navigation. The UAV can be ordered to immediately return to its launch point simply by pressing a single command button. Standard mission payloads include CCD color video cameras and an infrared night vision camera.
The RQ-11B Raven UAV weighs about 1.9 kg (4.2 lb), has a flight endurance of 60–90 minutes and an effective operational radius of approximately 10 km (6.2 miles).

The RQ-11B Raven UAV is launched by hand, thrown into the air like a free flight model airplane. The Raven lands itself by auto-piloting to a pre-defined landing point and then performing a 45° slope (1 foot down for every 1 foot forward) controlled "Autoland" descent. The UAV can provide day or night aerial intelligence, surveillance, target acquisition, and reconnaissance.
Specifications
Wing Span 55in (130 cm)
Length 36in (109 cm)
Weight 4.2 lb (1.9 kg)
Engine Aveox 27/26/7-AV electric motor
Cruising speed approx. 30 kn (56 km/h)
Range 6.2 miles (10 km)
Endurance approx. 60-90 min
The information contained on this page is unclassified, approved for public dissemination and is released under CC-BY-SA Licensing Agreement.