Russian Mil Mi-8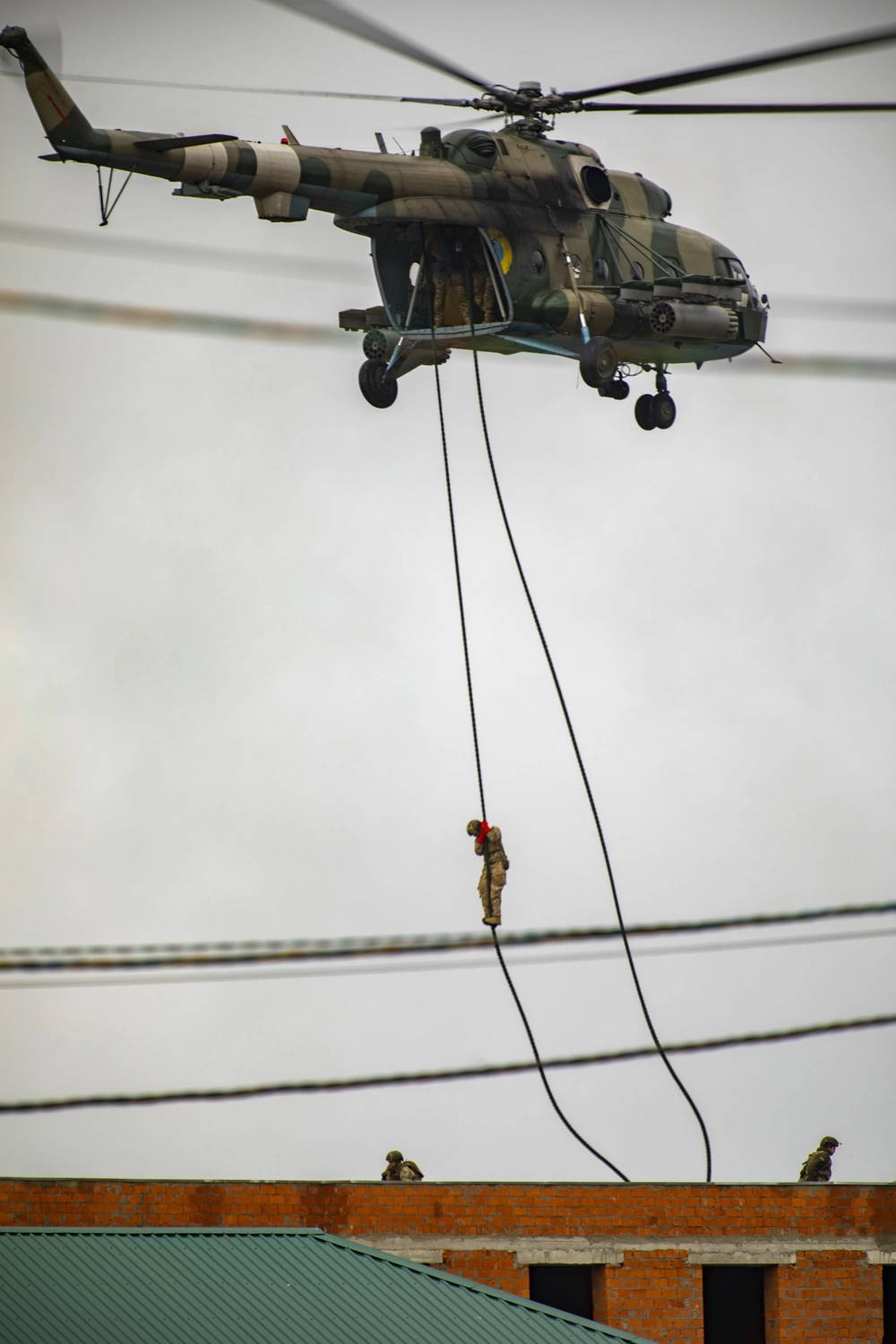 Used by US Air Force in "Aggressor" Training.
The Mil Mi-8 (Russian: Ми-8, NATO reporting name: Hip) is a Soviet-designed medium twin-turbine transport helicopter that can also act as a gunship. The Mi-8 is one of the world's most-produced helicopters, used by over 50 countries. Russia is the main producer and the largest operator of the Mi-8/Mi-17 helicopter.
Role
Assault transport helicopter
Design group
Mil Moscow Helicopter Plant
Built by
Kazan Helicopter Plant
Ulan-Ude Aviation Plant
First flight
7 July 1961
Introduction
1967
Status
In service
Primary users
Soviet Union (historical)
ca. 80 other countries
Produced
1961–present

Number built

>17,000
Variants
Mil Mi-8T/Mi-17

Developed into

Mil Mi-14
Specifications (Mi-8T)
Data from Jane's All The World's Aircraft 1992–93

General characteristics
Crew: 3 (pilot, copilot, flight engineer)
Capacity:


24 passengers or
12 stretchers and seat for 1 medical attendant or
3,000 kg (6,600 lb) on internal/external hardpoints

Length: 18.17 m (59 ft 7 in)
Rotor diameter: 21.29 m (69 ft 10 in)
Height: 5.65 m (18 ft 6 in)
Disc area: 356 m² (3,832 ft²)
Empty weight: 7,260 kg (16,007 lb)
Loaded weight: 11,100 kg (24,470 lb)
Max. takeoff weight: 12,000 kg (26,455 lb)
Powerplant: 2 × Klimov TV3-117Mt turboshafts, 1,454 kW (1,950 shp) each
Fuel max total capacity: 3,700 l (977 US gal)
Performance
Maximum speed: 260 km/h (140 kt)
Range: 450 km (280 mi)
Ferry range: 960 km (596 mi)
Service ceiling: 4,500 m (14,765 ft)
Armament
up to 1,500 kg (3,300 lb) of disposable stores on six hardpoints, including 57 mm S-5 rockets, bombs, or 9M17 Phalanga ATGMs.
The information contained on this page is unclassified, approved for public dissemination and is released under CC-BY-SA Licensing Agreement.