Russian Sukhoi Su-27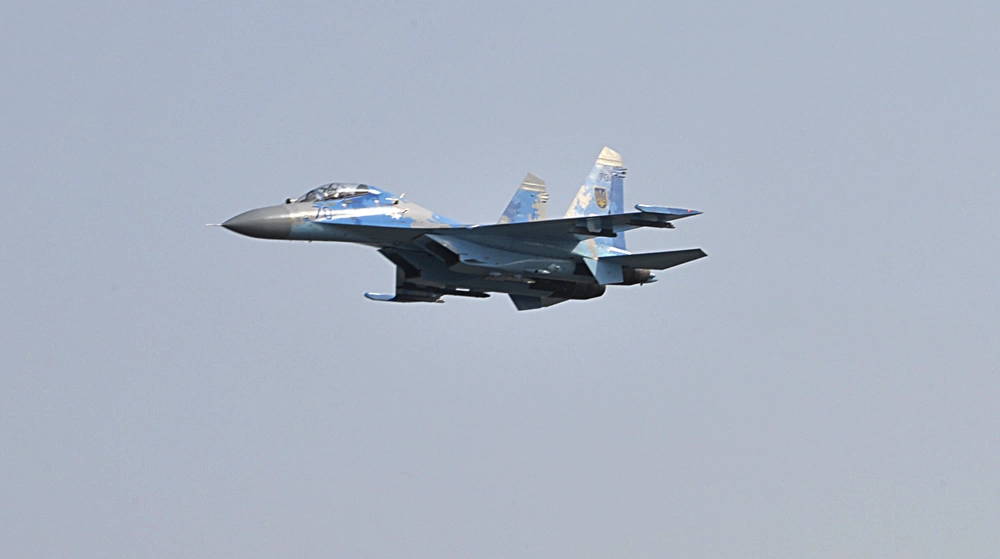 Used By US Air Force in "Aggressor" Training
The Sukhoi Su-27 (Russian: Сухой Су-27) (NATO reporting name: Flanker) is a twin-engine super-maneuverable fighter aircraft designed by Sukhoi. It was intended as a direct competitor for the large United States fourth generation fighters, with 3,530-kilometer (1,910 nmi) range, heavy armament, sophisticated avionics and high maneuverability. The Su-27 most often flies air superiority missions, but is able to perform almost all combat operations. Complementing the smaller MiG-29, the Su-27's closest US counterpart is the F-15 Eagle. The Su-27 entered service with the Soviet Air Force in 1985.
There are several related developments of the Su-27 design. The Su-30 is a two-seat, dual-role fighter for all-weather, air-to-air and air-to-surface deep interdiction missions. The Su-33 'Flanker-D' is a navy fleet defense interceptor for use on aircraft carriers. Further versions include the side-by-side 2-seat Su-34 'Fullback' strike variant and the Su-35 'Flanker-E' improved air defense fighter.
Role
Air superiority fighter

National origin

Soviet Union
Russia
Manufacturer
Sukhoi
First flight
20 May 1977
Introduction
1985
Status
In service
Primary users
Russian Air Force
People's Liberation Army Air Force
Ukrainian Air Force
Produced
1982–current

Number built

809

Unit cost

US$30 million
Variants
Sukhoi Su-30
Sukhoi Su-33
Sukhoi Su-34
Sukhoi Su-35
Sukhoi Su-37
Shenyang J-11
Design
The Su-27's basic design is aerodynamically similar to the MiG-29, but it is substantially larger. The swept wing blends into the fuselage at the leading edge extensions and is essentially a cropped delta (the delta wing with tips cropped for missile rails or ECM pods). The Su-27 is also an example of a tailed delta wing configuration, retaining conventional horizontal tailplanes, though it is not a true delta.
The Su-27 had the Soviet Union's first operational fly-by-wire control system, developed based on Sukhoi OKB's experience in the Sukhoi T-4 bomber project. Combined with relatively low wing loading and powerful basic flight controls, it makes for an exceptionally agile aircraft, controllable even at very low speeds and high angles of attack. In airshows the aircraft has demonstrated its maneuverability with a Cobra (Pugachev's Cobra) or dynamic deceleration – briefly sustained level flight at a 120° angle of attack.
The naval version of the 'Flanker', the Su-27K (or Su-33), incorporates canards for additional lift, reducing take-off distances. These canards have also been incorporated in some Su-30s, the Su-35, and the Su-37.
The Su-27 is armed with a single 30 mm Gryazev-Shipunov GSh-30-1 cannon in the starboard wingroot, and has up to 10 hardpoints for missiles and other weapons. Its standard missile armament for air-to-air combat is a mixture of Vympel R-73 (AA-11 Archer), Vympel R-27 (AA-10 'Alamo') weapons, the latter including extended range and IR guided models.
Radar and sensors
The Su-27 is equipped with a Phazotron N001 Myech coherent pulse-Doppler radar with track-while-scan and look-down / shoot-down capability. The fighter also has an OLS-27 infrared search and track (IRST) system in the nose just forward of the cockpit with a 80–100 km range.
Specifications (Su-27SK)
Data from Gordon and Davison, KNAAPO Su-27SK page, Sukhoi Su-27SK page,

General characteristics
Crew: 1
Length: 21.9 m (72 ft)
Wingspan: 14.7 m (48 ft 3 in)
Height: 5.92 m (19 ft 6 in)
Wing area: 62 m² (667 ft²)
Empty weight: 16,380 kg (36,100 lb)
Loaded weight: 23,430 kg (51,650 lb)
Max. takeoff weight: 30,450 kg (67,100 lb)
Powerplant: 2 × Saturn/Lyulka AL-31F turbofans

Dry thrust: 7,670 kgf (75.22 kN, 16,910 lbf) each
Thrust with afterburner: 12,500 kgf (122.6 kN, 27,560 lbf) each

Leading edge sweep: 42°
Performance
Maximum speed: Mach 2.35 (2,500 km/h, 1,550 mph) at altitude
Range: 3,530 km (2,070 mi) at altitude; (1,340 km / 800 mi at sea level)
Service ceiling: 19,000 m (62,523 ft)
Rate of climb: 300 m/s (54,000 ft/min)
Wing loading: 371 kg/m² (76 lb/ft²)
Thrust/weight: 1.07
Armament
Up to 6 × medium-range AA missiles R-27, 2 × short-range heat-seeking AA missiles R-73
Su-27S armament
30 mm GSH-30 Cannon, 150 rounds
6 × Medium-Range R-27R, R-27ER, R-27T, R-27ET
4 × Short-Range R-73E
FAB-250
FAB-500
RBK-250
RBK-500
S-8
S-13
S-24
S-25
Su-27SM armament
8 x Vympel R-77 advanced medium-range missile
6 x KAB-500KR and KAB-500L Guided Bombs
4 x Kh-29T/L
4 x Kh-31P/A anti-radar/ship missiles
4 x Kh-35 anti-ship missile
The information contained on this page is unclassified, approved for public dissemination and is released under CC-BY-SA Licensing Agreement.