San Antonio-Class (Amphibious Transport Dock LPD Warships)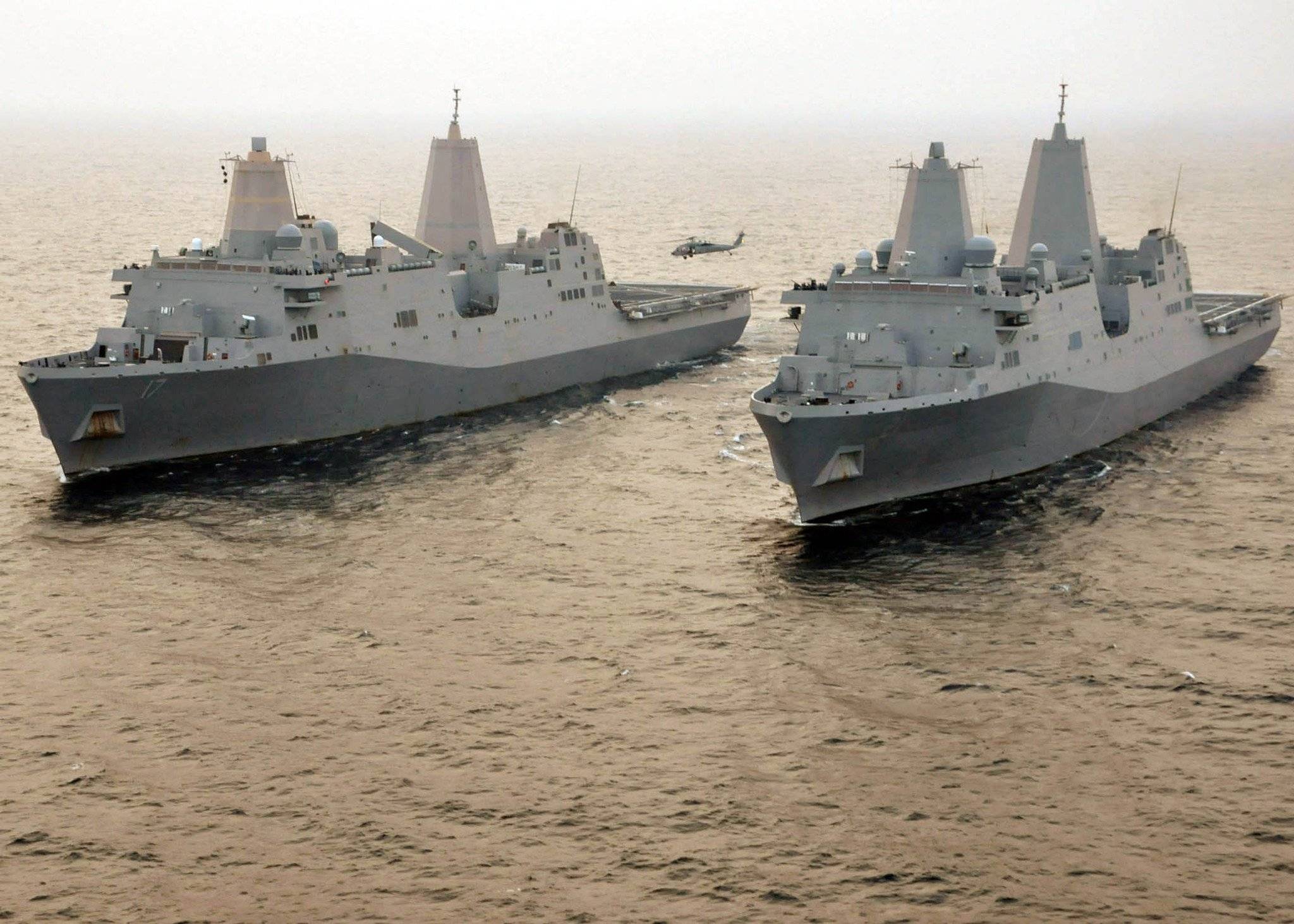 The San Antonio class is the U.S. Navy's new primary class of amphibious transport dock (LPD) warships for the first third of the 21st century. These warships are to replace the older Austin class, Cleveland class, and Trenton class LPDs, as well as the Anchorage class dock landing ships, the Newport class tank landing ships, and one class of ships that has already been retired, the Charleston class amphibious cargo ships.

Twelve ships of the San Antonio class were proposed to be built, but only eleven of these have been funded, with one cancelled as a result of budget cuts and cost overruns. Their average cost is $1.6 billion, as compared to their original target price of $890 million. As of May 2013 seven warships of this class are in service with the U.S. Navy.
Builders:
Northrop Grumman Ship Systems
Operators:
United States Navy
Preceded by:

Trenton-class amphibious transport dock,

Austin-class amphibious transport dock, Cleveland-class amphibious transport dock, Anchorage-class dock landing ship, Newport-class tank landing ship, Charleston-class amphibious cargo ship
Succeeded by:
N/A—current authorized amphibious transport dock line
Cost:
$1,602.5 million (ave. for class, FY2012)
$2,021.4 million (last ship, FY2012)

Built:
2000–2017 (forecast)


In commission:

2006–present
Building:
3
Planned:
12
Completed:
8
Cancelled:
1
Active:
8
General characteristics
Type:
Amphibious transport dock
Displacement:
24,900 t
Length:
684 ft (208 m)
Beam:
105 ft (32 m)
Draft:
23 ft (7.0 m), full load
Propulsion:
Four sequentially turbocharged marine Colt-Pielstick diesel engines, two shafts, 41,600 shp
Speed:
In excess of 22 knots (41 km/h)
Boats & landing
craft carried:
Two LCACs (air cushion); or
1× LCU (conventional)
14× Expeditionary Fighting Vehicles/Amphibious Assault Vehicles
Complement:
Crew: 28 officers, and 333 enlisted men
Landing force: 66 officers, and 633 enlisted men
Sensors and
processing systems:
AN/SPS-48G, AN/SPQ-9B

Electronic warfare
& decoys:
AN/SLQ-32

Armament:
2× Bushmaster II 30 mm close-in-guns
two Rolling Airframe Missile launchers
two Mk 41 eight-cell VLS for quad-packed ESSMs (if required)
Several twin M2 Browning machine gun turrets
Aircraft carried:
Launch or land up to four CH-46 Sea Knight helicopters, or up to two MV-22 Osprey tilt-rotor aircraft simultaneously with room to place four MV-22s on the flight deck and one in the hangar deck
Design and development
The class's increased vehicle and substantial cargo carrying capacity will make it a key element of 21st century Amphibious Ready Groups, Expeditionary Strike Groups, or Joint task forces. The ships of the new class integrate the latest in shipbuilding and naval warfare technologies to support current and future U.S. Marine Corps warplanes, and both air cushion landing craft or conventional landing craft.

The San Antonios are designed to be the most survivable amphibious ships ever put to sea. Their design incorporates state-of-the-art self-defense capabilities; and includes facilities for command and control, communications, computers, and intelligence (C4I). They also have a reduced radar cross-section designed in. Reduced operational costs and an improved capability to incorporate technological advances over their estimated 40-year service lives are also essential design objectives. The Advanced Enclosed Mast/Sensors, which enclose the ship's radars and communications antennas, characterize the ship's distinctive profile. The San Antonio class was largely designed with the metric system, specifying millimeters and meters for linear dimensions. This is the first major U.S. Navy ship class to be built this way. Most of their machinery remains in U.S. customary units.
The ships of the class can carry Landing Craft, Air Cushioned (LCACs), the Shipboard Wide Area Network with over 762 fiber optic drops, Total Ship's Training System, Integrated Bridge System, Engineering Control System, and Damage Control System all serve to ensure that sailors and Marines will be able to fully perform their expeditionary warfare missions. The San Antonios also incorporate the latest quality of life standards for the embarked Marines and sailors, including the sit-up berth, ship services mall, and Learning Resource Center/Electronic Classroom with the flexibility to accommodate sailors and Marines of both sexes as part of the crew and embarked troops.

Ships of the class
| | | | | | | |
| --- | --- | --- | --- | --- | --- | --- |
|  Name  |  Number  |  Builder  |  Launched  |  Commissioned  |  Home port  |  Status  |
| San Antonio | LPD-17 | Avondale, La. | 12 July 2003 | 14 January 2006 | Norfolk, Virginia | Active |
| New Orleans | LPD-18 | Avondale, La. | 11 December 2004 | 10 March 2007 | San Diego, California | Active |
| Mesa Verde | LPD-19 | Ingalls, Miss. | 19 November 2004 | 15 December 2007 | Norfolk, Virginia | Active |
| Green Bay | LPD-20 | Avondale, La. | 11 August 2006 | 24 January 2009 | San Diego, California | Active |
| New York | LPD-21 | Avondale, La. | 19 December 2007 | 7 November 2009 | Norfolk, Virginia | Active |
| San Diego | LPD-22 | Ingalls, Miss. | 7 May 2010 | 19 May 2012 | San Diego, California | Active |
| Anchorage | LPD-23 | Avondale, La. | 12 February 2011 | 4 May 2013 | San Diego, California | Active |
| Arlington | LPD-24 | Ingalls, Miss. | 23 November 2010 | 8 February 2013 | Norfolk, Virginia | Active |
| Somerset | LPD-25 | Avondale, La. | 14 April 2012 | Spring 2014 | | Under trials |
| John P. Murtha | LPD-26 | Ingalls, Miss. | | | | Under construction |
| Portland | LPD-27 | Ingalls, Miss. | | | | Under construction |
The information contained on this page is unclassified, approved for public dissemination and is released under CC-BY-SA Licensing Agreement.